Chocolate Recipe Your Kids (and You!) Will LOVE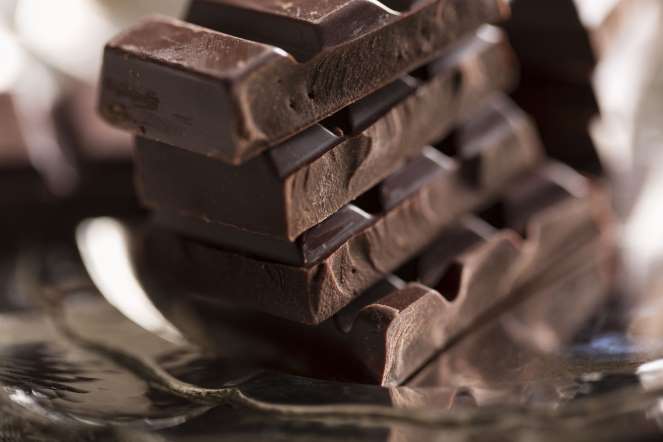 It's possible to eat chocolate and still lose fat. Remember that to lose weight, you must find DARK chocolate that contains above 70% of cocoa, with no sugar added (Most likely your supermarket has some). Only then it is blissful and fat-burning at the same time. We're not talking about the sugar bombs available in candy stores, here!
My New Flourless Chocolate Cake recipe uses dark chocolate. Very often, other recipes contain tons of refined white sugar, fat, and other ingredients you'll want to stay away from. But not mine.
Here's how I hack my chocolate cake recipes:
Eliminate flour altogether.
Eliminate white sugar and replace with a smart blend of Truvia and a bit of dark brown sugar.
Replace butter with coconut oil. Much healthier and better tasting too.
Pair the chocolate cake with yummy marinated strawberries (raspberries are also great!) to add in much needed fiber.
Use 72% cocoa dark chocolate.
This 5-step formula is pretty much what I use for most desserts in my mini-cookbook dedicated to Decadent Chocolate Desserts that make you lose fat.

Flourless Chocolate Cake Recipe

Cake Ingredients:
16 oz dark chocolate  (72-85% cocoa)
¾ cup Truvia
1/2 cup brown sugar
3/4 cup espresso coffee
1 cup coconut oil
2 tablespoons unsweetened cocoa powder
8 large eggs
1 tablespoon bourbon vanilla extract
Marinated Strawberries Ingredients:
2 lbs of fresh strawberries, washed
½ cup of balsamic glaze or reduction
Preparation:
Preheat oven to 350ºF.
In a food processor, pulse to break chocolate in small pieces. Add the sugar. Pulse until the chocolate and sugar turns into an even, sandy grain.
Pour the hot coffee slowly into the feed tube as you pulse again. Pulse until the chocolate is melted.
Add the coconut oil and the cocoa powder, and pulse to combine.
Add the eggs and vanilla, and process till smooth. The batter will be liquid and creamy.
Pour the batter into a buttered mold. Bake until puffed and cracked, about 45 minutes.
Cool on a rack. The cake will deflate. When the cake is completely cooled, cover, and chill overnight. Cut square slices.
For the marinated strawberries: remove the top and quarter strawberies. Toss with balsamic glaze. Marinate for 1 hour or more.
To serve:
Place a piece of cake on a plate. Top with marinated strawberries and enjoy.