5 Bodyweight Exercises NOT To Do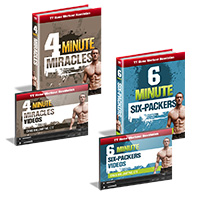 If you have a sore shoulder, bad back, achy knees, or tight Achilles tendon, then you must AVOID the 5 bodyweight exercises listed below. You'll also  discover 3 common mistakes made with great bodyweight exercises.
But first, an Italy update…I watched a couple of Italians do these "no-no" bodyweight exercises yesterday morning while at a gym called "Moving Fitness" in Pisa. We drove up from Tuscany to get the obligatory silly picture of me "holding up" the Leaning Tower (I'll share on FB soon).
Then last night, back at the hotel in Tuscany, we had an excellent dinner of wild boar ragout with chocolate sauce and mashed potatoes with raisins. Seriously, chocolate sauce on the meat and raisins in the potatoes. It's hard to explain, but it was delicious. I usually lose weight when I travel, however this trip might be the exception. We'll see on Sunday when I get home.
Today our group is heading out for 3 fun events:
1) sausage making
2) pasta making
3) an afternoon truffle hunt
So far, wild boar meat, red pepper olive oil, and Prosecco have been my 3 favorite discoveries on this trip (in addition to live Italian soccer – which is absolutely insane). Almost as insane as doing these five no-no bodyweight exercises…
#1 – Triceps dips with your hands behind you on a bench – These are terrible for your shoulder joint and rotator cuff muscles.
#2 – Jumping exercises on concrete OR if you are overweight – These will kill your knees.
 
#3 – Sit-ups & crunches & V-sits – These will cause you back problems.
 
#4 – Pushups with your elbows flared out wide – This version of pushups will cause you great grief in your shoulder joint and rotator cuff.
 
#5 – High repetition box jumps where you jump back off the box with each rep – Your Achilles will snap one of these days. Bad news bears right there!
What should you do instead?
Use the exercises in these videos for more results and less risk
Now if you've been reading TT for years, you know not to do those moves. But you might still be making the following mistakes on 3 otherwise awesome bodyweight exercises.
Please do NOT do…
1) Mountain Climbers with a rounded low-back
 
This will hurt your back just as quickly as sit-ups or crunches. You must keep your body in a straight line with your abs braced to get the best ab workout and fitness boost from this exercise.
2) Prisoner Squats with "lazy" hands
When you do prisoner squats, you need to keep your fingers interlaced behind your head, your elbows back, and your shoulder blades squeezed together. That is how you get MORE results from this move. It allows you to work your upper back without equipment. Don't be lazy like most people that just touch their finger tips to the side of their head. That's lame.
 
3) Egly Lunges
When I was in high school, this guy named Adam Piggins spelled ugly as "e-g-l-y". Ha. But it's no laughing matter when I see people doing egly lunges in the gym.
Listen, it's okay if you don't have the proper balance to do lunges. You can switch to a safer exercise such as Reverse Lunges, Split Squats, Step-ups, or 1-Leg Lying Hip Extensions.
In order to learn how to do every exercise with PERFECT fat burning technique, get my follow-along bodyweight workout videos here:
 
www.HomeWorkoutRevolution.com
You'll do each workout with me and my Certified Turbulence Trainers, Brian Kalakay, and Mike Whitfield. Not only will we motivate you to be MORE consistent, and train harder, but we'll also make sure you do every exercise perfectly so that you get more results in LESS time.
That's my promise to you.
And if you aren't satisfied, feel free to take me up on our 100% money-back guarantee at any time during the next 60 days.
Let's get you the results you DESERVE.
Start today,
Craig Ballantyne, CTT
Certified Turbulence Trainer
 
PS -"Cherish time, your most valuable resource. You can never make up the time you lose." – Kekich Credo #2
The best way to SAVE time is by cutting back on your workout time (and overcoming all of your workout excuses) by using my NO-equipment bodyweight workouts that you can do anytime, anywhere.
Get your 4-Minute Miracle Workouts here (plus 51 more workouts)
You'll never miss another workout again with this perfect fat loss solution.