I know, I know, pretty early to be calling "Email of the Year".
That said, this curiosity-based email had 'Great Success!' all the way back in January.
Open rate = 20% (really high for an old list like mine)
Click-through-rate = >50% (can't remember the last time I hit that)
EPC = Under 50 cents…however, it is:
a) A very curiosity driven email, so uninterested folks just clicked even though they probably had zero interest
b) A higher-priced product that not everyone on my list is interested in
But the big lessons are in the curiosity evoked by the text.
Model this when you want to SELL The CLICK.
And YES, you can use this no matter what industry you are in…just because the example below is about nutrition doesn't mean that the system won't work for real estate, personal development, etc.
So be smart. Realize that there are lessons that you can take from other industries and apply them to yours, right now.
Here's the email that has worked best for me in 2013.
Subject: The best DRINK for fat loss
There's a fat loss drink used by all the experts that you need to know about.
Tim Ferriss, Isabel De Los Rios, and I all use it every day. Heck, I've even sworn off caffeine for almost two weeks because of the natural energy highs this drink will give you.
Plus, it tastes great AND it tastes more filling.
So that rules out beer – LOL.
And it's not an "energy drink" packed with sugar, caffeine, and who-knows-what-other-dangerous-ingredients.
In fact, this drink is ultra-low in calories – WITHOUT artificial sweeteners – and is perfect for intermittent fasting.
These days I'm making sure to go 12 hours between dinner and breakfast, and after being up for 3 hours writing, I drink this as a pre-workout booster before my 8am training sessions.
It's literally the perfect drink for fat loss.
And no, it's not water. Nope, not a protein shake either.
But it is the most important drink you can give your body for health and fat loss.
I highly recommend it.

And you can get yours here
Easy to travel with too, and I'm taking a container on my trips to San Francisco (this week) and Tampa Bay (next week) where I'll be meeting with dozens of personal trainers, nutritionists and fitness experts in closed-door sessions.
This drink will power me through these 18-hour days and will prevent the colds and other airborne illnesses that so many other travelers get.
If only they had this secret liquid weapon on their side like I do.

Get the best drink for health and fat loss here
But hurry, you might not get this good of a deal ever again.
Drink up for health and energy,
Craig Ballantyne
********************
More thoughts on recent emails…
1) I sent two emails to my TT list for the ETR Transformation Kit.
a) The first was:
"How to conquer your inner demons (embarrassing)"
Open rate and click-through-rate were good (not spectacular, but slightly above average)
b) the second was:
"this could have helped my mom"
The second email t was resent to un-opens. I think this is a winning headline. Who wouldn't be tempted to open that.
A 9.2% open rate on sending to my un- opens is quite good.
c) both emails contained the EXACT same text.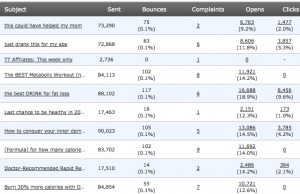 2) re: the BEST drink for fat loss
I resent almost an identical version of that email to un-opens (with addition of a joke about my dog not having a passport) with this headline:
"just drank this for my abs"
again, good curiosity getting a better than average open and click rate.
3) Bottom line on Email Marketing:
Invoke curiosity in headline and email to sell the open and the click
secondary lesson that you can't see unless you read the emails – I always try and teach someone something – or at least give them a reason to feel glad they opened the email.
For example, i received good feedback on the dog joke.
It's little stuff like that keeps subscribers around even after they've read a promotional email.
With a little extra effort you can sell and "info-tain" at the same time.
Always remember that every email you send is costing someone their time and energy to read it.
So make it worth it.
Earn their effort,
Craig Ballantyne
SUCCESS = Process goals + Outcome Goal + Action + Accountability + Support + Deadline + Incentive. Keep on Pushing!