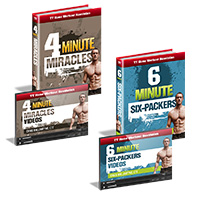 When I first met David Sinick, he looked like a 12-year old happy-go-lucky kid that better belonged behind a video game screen than a business.
Hmmm, that's also exactly how he looks now.
But he's developed fantastic skills.
By hanging around mentors like Bedros Keuilian and John Romaniello, and by making deals and getting connected with others, young David is now a force to be reckoned with in the fitness and nutrition world.
(BIG lesson in that paragraph…please tell me you caught it. Hint: Get a Mentor!)
David's going to help millions of people and is going to do amazing things in his business and life. I'm really proud of him.
Recently he hit a grand slam with a promotion for my Home Workout Revolution product. The EPC was over $2. Combined with a podcast I did for his company, he sent this email and it scored over and over again.
Here's the awesome affiliate email from David. It's a great set-up to model. – Craig
***
Hey there!
Coming at you VERY early this morning – I've been up since 3 am, ready to rock and roll.
It makes me feel like kind of a badass to be up and "working" (is this work? I love writing emails to you) this early – but the truth is, my hustle has NOTHING on the star of today's story.
Rewind to 2011.
12 year old me (Just kidding, I was 22) had just recently moved out of my childhood home of Stamford, CT, to the promising paradise of San Diego. I had just discovered the Paleo Diet, and was starting to see results in the gym (Fit Athletic Club in San Diego – amazing gym, by the way) that I had NEVER seen in my previous 4+ years of lifting.
You know, like ACTUALLY losing fat and building muscle.
And the truth is, I was feeling a little cocky. I thought I was in pretty damn good shape if I say so myself…but I was in for a rude awakening.
Enter Craig Ballantyne.
Craig, if you're not familiar, has been a prominent figure in the fitness "world" for over 10 years. He's written for Men's Health and almost every fitness magazine you can think of. He's helped – literally – tens of thousands of men and women of all fitness levels get in amazing shape with his training programs & transformation contests. And honestly – he might actually be a robot. Craig works harder than any human being I have ever met. Period.
Craig and I share quite a few mutual friends, and he happened to be in town visiting. We decided it would be appropriate for us all to go to the gym – but the weather was nice as it usually is in San Diego – and at Craig's suggestion, we decided to do a workout outside, led by him. No weights, just ourselves and the grass.
And the truth is, I balked at first – "No weights? Pssssh. Kids stuff."
Craig just smiled mischievously, and the workout began.
I kid you not – 5 minutes into the workout the only thought that was going through my head was "So THIS is how I die." lol.
Okay, maybe I'm being overly dramatic, but you get the point. It was tough. But it COMPLETELY changed my perspective on bodyweight workouts and their effectiveness.
In fact, I have now fully incorporated them into my workout routine – especially when I travel, or when my day gets so busy that I end up not carving enough time to go to the gym.
And I've gotta tell you – just getting in at least 15 minutes makes a MARKED difference in my body composition.
So let me bring this back full circle and get to the point.
1. You obviously don't need a gym or weights to get in great shape.
2. Bodyweight workouts kick ass (and can kick your ass), and are ESPECIALLY effective for beginners who are just getting in shape, or back in shape.
3. Craig Ballantyne knows his stuff. There are VERY few people I trust when it comes to fitness, and Craig is at the top of that list.
So, with all that said – I come to you bearing gifts. I twisted Craigs arm (I've really gotta stop doing that to fitness experts, I'm going to get hurt one of these days…) and convinced him to hook up Paleohacks users with a discounted copy of his new, badass bodyweight workout program – Home Workout Revolution.
Get Your Copy of Home Workout Revolution Here <— Discount Expires Midnight on Sunday!
This is Craig's best video bodyweight training program that you can do right in the comfort of your own home. Whether you're in shape or not, man or woman – the program has you covered.
If you were to decide between this and P90x – this honestly blows P90x out of the water.
So, if you're ready to get back in shape – or just want a simple way to workout at home without weights, or boring (and ineffective) cardio, this is for you. And it's on sale JUST FOR YOU – for a few more short days.
Get Your Copy of Home Workout Revolution Here <—- Discount Expires Midnight on Sunday!
I hope you enjoy the workouts – let me know how they…work out…for you! (Ha! Turbo puns!)
Talk soon,
Dave
P.S. If you haven't listened to The Paleohacks Podcast Episode #13 yet with Craig, make sure to check it out here.
P.P.S. Don't feel daunted by my near-death story of working out with Craig – the program includes 10+ beginner workouts, so if you're just starting out, you're covered. Get your copy here.
***
If you're in the fitness industry and don't know David yet, what are you waiting for?!?
This kid is going places,
Craig Ballantyne
Action Takers Rule The World