Amazing Sunday Dinner! (pics inside)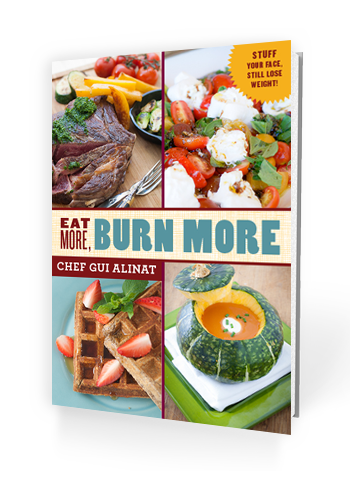 A few weekends ago the entire Ballantyne clan – including Bally! – congregated at my mom's house for Sunday dinner.
I had given her an advanced copy of Chef Gui Alinat's cookbook, Eat More, Burn More, and begged her to make Chef's famous meatloaf. She even made his addictive Crispy Sweet Potato Fries as an incredible side dish.
It was OMG delicious. Bally and I enjoyed 2nd helpings AND leftovers the next day. Now that was an Amazing Sunday Dinner, one that our entire family will always remember and cherish. Best of all, there was no guilt about eating as much as we wanted, because with Chef's recipes, you get to Eat More and Burn More.
Your family will love every single recipe in this book. In fact, they'll even be hoping you make enough for leftovers! When was the last time that happened when you were on a diet? Umm, never, right?
Chef has totally changed the weight loss game with this book. But we know you're skeptical, and while the old saying is "seeing is believing," in this case, the TRUE test is in the TASTING. So please enjoy this recipe today.
***
Old-fashioned Meatloaf
Story:
This is another ultra-fast, fat-burning recipe you'll just love because it will save you time in the kitchen. When I see recipes listing dozens of ingredients and an ultra-long preparation list I feel like giving up and doing something else instead. With this recipe, however, your meatloaf will be roasting in the oven in no time so you can focus on something else, like preparing another recipe or going out to play. Either way, you'll love this.
Quick Tip:
In meatloaf recipes, breadcrumbs serve the purpose of softening the texture of the loaf. More meat means more flavor, but the meatloaf will feel drier and chewier. The ratio of meat to breadcrumbs is important.
Active time:
15 minutes
Cook time:
1 hour
Yield: 4 servings
Nutrition: 570 calories, 25g fat, 52g protein, 33g carbohydrates, 5g fiber, 17g sugar
Ingredients:
2 lbs. 90% lean ground beef
1/2 cup unsweetened, whole-grain cereals (Ezekiel or Bob's Red Mill brands), processed into crumbs
1 egg
1 onion, finely chopped
3 tablespoons tomato paste
2/3 cup low-fat milk
Sauce:
4 tablespoons apple cider vinegar
2 tablespoons molasses
2 teaspoons Worcestershire sauce
1/2 cup tomato paste
salt and pepper to taste
Preparation:
Combine all meat loaf ingredients, place into an ovenproof dish, and shape into a log.

Combine sauce ingredients and pour on top and sides of meatloaf.
Bake at 350°F (180C) about 45 minutes to 1 hour.
Options:
You can skip the 'breadcrumbs,' or replace them with gluten-free breadcrumbs.
***
The best part about this new cookbook is that you can FINALLY eat normal foods and still lose weight. You no longer have to sacrifice social outings or family events or experience awkward moments or frustrated family members disappointed in having to eat another "Dieter's Dinner."
You can say goodbye to eating 'rabbit food' at every meal and finally be just like those slim friends of yours that eat what they want.
There's just one catch… you have to be eating meals from Chef Gui's brand new – and free – cookbook, Eat More, Burn More.
So if you want to be the NEWEST member of the Slim and Sexy Club, take advantage of Chef's generous offer and get started enjoying fat-burning versions of your favorite meals at dinner tonight.
  Claim Your FREE Copy of the Eat More Burn More Cookbook here
Enjoy an amazing Sunday dinner tonight,

Craig Ballantyne, CTT
Certified Turbulence Trainer
PS – If you're sick and tired…
…of expensive diet foods that taste like cardboard and being forced to use boring shakes as meals, then you're going to love Chef's recipes.
And if you've had enough of your friends and family teasing you because you have to eat 'rabbit food' while they enjoy REAL food at family outings and social events, then your life is going to change for the better when you get this free cookbook.
And if you're frustrated that your metabolism is slowing down with age, forcing you to eat less and less to keep the weight off, you're going to be SHOCKED at how Chef's recipes REVERSE your slow metabolism thanks to the Eat More, Burn More formula.
End your frustrations today with Chef's solution.
  Claim Your FREE Copy of the Eat More Burn More Cookbook here
Enjoy an amazing Sunday dinner tonight. Just choose from one of these classics:

Belgian Waffles                    French Toast               Huevos Rancheros


Orange Chicken           Chicken Tikka Masala          Super Meatballs


Country-Style BBQ Ribs         Coconut Shrimp        Sweet & Spicy Roast Pork


Spinach & Ricotta Lasagna         Cheesy Pizza          Crispy Sweet Potato Fries