Try This Delicious Butternut Squash Recipe!
HURRY! In only a couple of weeks, there will be no more butternut squash at the market. We'll all have to wait until next fall to cook the finest of the winter squashes.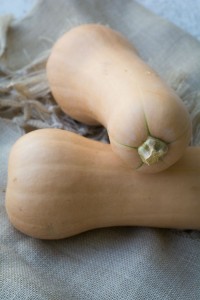 It really is too bad. The squash's incredibly sweet, dense, and buttery orange flesh is just delish when cooked right. Nutritionally, it's well-balanced with complex carbs (a great replacement to potatoes, for instance!) and low in saturated fat, vitamins A and C, and a great source of minerals.
There's only one problem, though: Nobody knows how to even get to the flesh! Here is a quick video I made to show you how to break the code:
To take advantage of the situation, I'm introducing you to one of my best kept secrets: an easy and delicious dish pairing butternut squash with kale pesto, and yes, pasta.
I have already explained that pasta is okay for weight loss providing you take the proper precautions. You can read more about cooking pasta for weight loss here, here, and here .
You see, making pesto with kale instead of basil has its advantages: it's bright, attractive, and resolutely fat-burning. It brings fiber and also cuts into the soft flesh of the roasted squash in a very unique and delicious way.
>>>Get your FREE 6 week meal plan here!
Squash should be cooked until tender. After breaking it down (see above), quickly dice it, toss it in extra-virgin olive oil, salt, pepper, and whatever spices you like (Sage, oregano, or cumin are great starts).
Then, lay it out on a sheet pan, in one single layer (that's important!).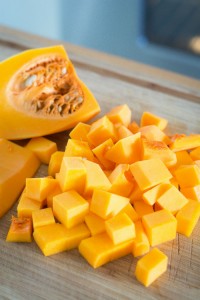 Bake the butternut squash at 350-400 degrees F until barely tender, about 20 to 30 minutes.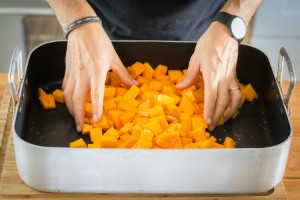 To make the kale pesto, just wilt the kale leaves until soft and bright green.
Then it's time to process the kale with garlic, nuts, salt, pepper, and a drizzle of extra-virgin olive oil to make a bright green, nutritious pesto sauce that is going to give life to your family dish.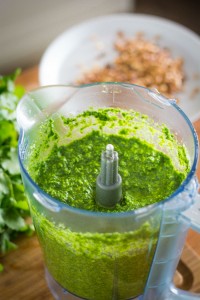 Now, to cook the pasta, follow the manufacturer's instructions, but cut a minute or two off the cooking time, so that you keep your pasta al dente and fat-burning. Also rinse them under hot water immediately after they're cooked.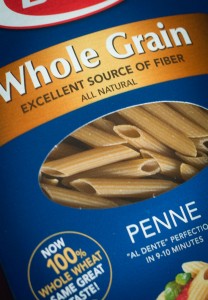 Finally, to finish this awesome recipe, mix the three elements together for an incredible, nutritious dish that your entire family will love — even the pickiest of eaters. Click on the image below for the complete recipe and instructions.