6-Minute Flat Belly Exercises for YOU!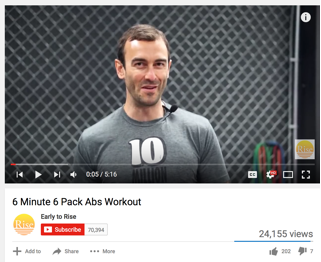 Can you believe this?
Seven people actually dislike this video!!!
How could they? Just look at the goofy grin on my face. You gotta love it.
Haha. But seriously, here's my formula for a 6-minute ab workout
3 unique moves to flatten your abs
5 exercises that tighten your lower belly
2 cool ways to hit your obliques (the muscles that lead to a slimmer waist)
Choose 1 exercise from each category listed below.
Perform each exercise for 30-40 seconds in a circuit.
Go through this circuit twice with minimal rest.
Here are the exercises:
Category 1
Ab Wheel or Power Wheel Rollouts
Stability Ball Rollouts
Kneeling TRX Fallouts (intermediate/beginner)
Category 2 – Lower Abs
Stability Ball Pike
Mountain Climbers
TRX Jackknife
TRX Single-Leg Mountain Climbers
TRX Pike
Category 3 – Obliques
Cross-Body Mountain Climbers
Side Plank
That's it!
To flatten your belly and get a slimmer waist…
Add this workout to your regular exercise schedule twice per week.
No more.
You don't need to be doing 20 minutes of crunches per day.
You'll save time – and money – with this free ab training.
Use that time to plan your nutrition and prepare better fat-burning meals.
Have fun!
Your friend and coach,
Craig Ballantyne, CTT
Certified Turbulence Trainer
PS – And spend more time focusing on your confidence…
Because with my exercises, you're finally going to get results!
That's why you must…
"Believe in yourself. You're capable of more than you think. You have more within you than you give yourself credit for." – Robert MacDonald
That's the truth!