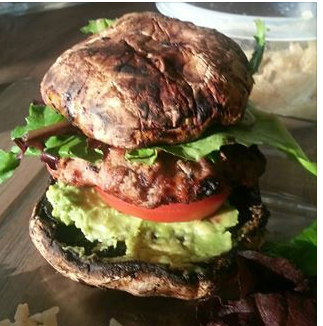 It was a dark and stormy night. Lightning crashed. Thunder roared. With trusty sidekick, Igorry the Dog by his side, Dr. Ballanstein cooked up the weirdest, sloppiest, and perhaps one of the best "monster" burgers you'll ever have…
It was a 5-napkin messy creation, unlike any burger recipe you've tried…so let me tell you how to make the 5-Napkin Mess Burger.
You see, the other day I had a crazy idea…I bought a giant chicken breast covered in a delicious Moroccan spice rub sitting in my fridge. But that night (the dark and stormy night that Toronto received a month's worth of rain in a single night!), I was craving a burger.
Of course, as you know, in my Diet Depletion plan, I promised to you there would be no bread passing my lips this month. So this is where it gets a little weird.
I know that you can make portabella mushroom burger patties, but…
…What if you used portabella mushrooms as the bun of the burger?
A-ha! A stroke of genius.
I rushed down to the grocery store and picked up two giant mushroom caps, getting back just minutes before it started raining, thundering, and lightning.
The experiment began. And to make matters even more interesting, I was also making brussel sprouts – for the first time ever – to go along with the improvised burger. As you can imagine, things started to go bad very quickly.
Within minutes I was ready to hit the panic button and completely abort the mission. First of all, cooking chicken in a skillet rarely works out for me. I usually burn the outside, leave the inside pink, and completely ruin the meal.
But perhaps it was my recent meditation sessions kicking in, as I finally had the patience to, get this, turn the heat down on the burner.
Yes, Craig, there are other settings besides "High" on a stove.
Maybe things would work out! So as I alternated between braising the brussel sprouts and cooking the chicken, I also dabbed a little coconut oil on the 'underbelly' of the mushroom caps and added them to the skillet.
I then added a little olive oil and threw in the brussel sprouts to the already crowded pan to finish them off (adding a few dashes of garlic powder and chicken rub spice for even more flavor).
After a few minutes, I held my breath, crossed my fingers and put it all together on a plate, sliding the chicken breast between the two giant mushroom caps.
Would this be an EPIC meal-time or a colossal failure?
I sat down, took a bite of the chicken-in-mushroom-bun-burger and…
…wow. It was awesome.
And messy. 5 napkin messy, as I mentioned, but still, awesome.
I cannot recommend this enough.
In fact, the same night, TT reader Cody Liccardi also made a mushroom-bun-burger and posted this photo on my Facebook page:
Amazing, right?
Just wait till you try it.
No more wheat belly when you go with the mushroom-bun-burger.
Give it a try tonight,
Craig Ballantyne, CTT
Certified Turbulence Trainer
PS – By the way…
…this is your FINAL REMINDER about the:
3-Week Fat Burning Diet Meal Plan <= Kick-start your fat loss now
Use it for maximum results along with the 5-napkin burger and you could be 5 pounds leaner by next Sunday.