4 Things You NEED To Know About Marketing in 2018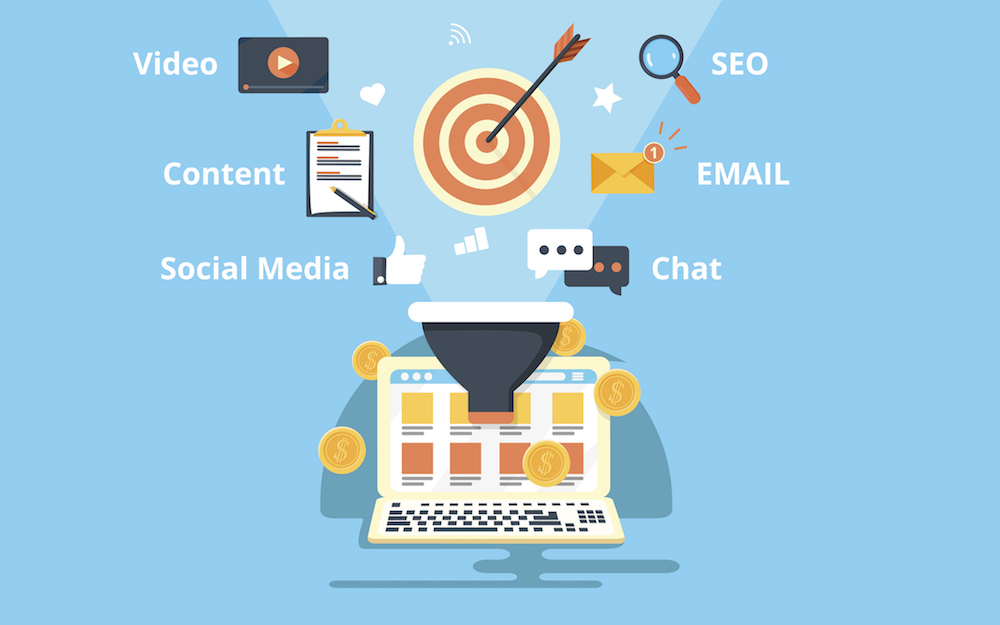 According to a 2017 poll by Square and Mercury Analytics, roughly a third of U.S. businesses now sell products or services through their own website. The number of businesses conducting online sales rises when you tack on third-party portals like Amazon and Facebook. And with the low overhead and quick build-out of online stores, is it any wonder this business model is booming?
The pitfall of online sales startups in 2017, however, is the haste with which many roll down the runway. With all of the energy put into product development before launch, few companies really invest in solid marketing—and that's a big mistake. If the end game is sustainable growth, then marketing has to be part of the equation.
Here are 4 marketing musts that small business owners (or anyone with a product/service) should keep in mind as they move from ideation to launch—and beyond:
1. Don't fall into the mindset that your product or service is not ready for marketing
There are ways to introduce your concept without offering the product/service itself. Buffer CEO Joel Gascoigne learned this with his own startup: "The lean startup movement is so widespread now that we're all encouraged to release products even earlier. It is easy to think that marketing should come when our product is perfect, but I believe we put ourselves at a disadvantage by waiting." If you wait, you have to endure a lag time while a customer base is built and your product is sitting on the shelves. If you start early, you have interested customers when the product is ready to deliver.
What to do: Build out social media pages and an informational web page. Share information on product development and feature expectations so that you build hype around what you're creating.
What NOT to do: Don't promise too much, too quickly. You're building trust with a brand-new customer base, after all, so don't spell out unrealistic release timelines or unlikely product features. If you can't deliver, your customers won't forgive you and will likely go elsewhere.
2. Build small marketing campaigns with results you can measure
Having concrete data on customer engagement and interest is how you can iterate your campaigns quickly to deliver the most bang for your buck. These campaigns can be as simple as getting new customers to your website, or taking advantage of an early-customer discount on a new product.
What to do: Low-cost social media ad campaigns on Facebook, Instagram, or LinkedIn. If a campaign is promising but not delivering the results you want, change one variable at a time (copy, image, header, audience parameters) to see if a new iteration might perform better. Facebook advertising is the probably best place to start if you're still fine-tuning your audience and are new to digital marketing.
What NOT to do: Traditional broad-stream direct marketing like flyers, mailers, business card dissemination, or print display advertising. These methods, while good for awareness, don't make sense for a company on a shoestring budget that values solid data.
With all of the energy put into product development before launch, few companies really invest in solid marketing—and that's a big mistake. If the end game is sustainable growth, then marketing has to be part of the equation.
3. Build marketing into your product
If you're leveraging an online sales portal like Amazon—or even just an easy, drag-and-drop website like SquareSpace—then make use of customer feedback right away. When you start selling, incorporate a feedback loop or a rating/review structure so that customers can respond when you're fresh in their minds. This will feel like a natural extension of the sale, and will give you incredibly valuable insight into your product pain points and strengths. You might even be able to fix these pain points on the fly!
What to do: Build a profile on Yelp or other appropriate review site and link back to your page in e-mail correspondence with customers so they have a chance to offer feedback easily. If your site/sales portal allows for reviews and comments, enable these. And be sure to respond within 24 hours to customer concerns/questions. Also, consider offering incentives for completing feedback surveys in the form of future discounts. This will help build a loyal customers and eventually, brand advocates.
What NOT to do: Don't make your feedback forms long or cumbersome. If it takes a customer more than one or two extra steps to review or comment, they're not likely to follow through. Oh—and this goes without saying, but be sure your respond to as much direct feedback as possible. A "heard" customer is a happy customer.
4. Make use of FREE online resources—especially social media
The first free resource at your disposal is social media. It's pretty much a no-brainer to build out profiles for the platforms that make sense to your brand and product/service. Use tools like Canva to create dynamite graphics and platforms like Buffer to schedule your posts on different social platforms.
Also, offer to guest blog for industry publications about the problem(s) you're solving with your product or service. Share these with friends and be sure to tag industry influencers. You can also start a free account on Medium and build an audience around content specific to your business or industry.
Attend events and conferences for free where you can network and spread the word about your new business organically. If you have some early models of your product to share, you might consider giving them to industry media with large followings so that they can use your product and write about it.
Lastly, make sure your website is equipped with an easy way to engage customers (a simple, reliable contact form will do), alongside site tracking. Free services like Google Analytics and HotJar offer not only demographic information (which will be invaluable to future sales campaigns), but also allow site users to provide concrete feedback on why they're interested in you.
What to do: Leverage social channels and be as active as possible. Attend industry events to spread the word and learn who the influencers in your sphere are. Eventbrite and Meetup will often have industry-specific events you can attend for free.

What NOT to do: Don't spend too much energy on free resources that don't get you anywhere. For example: There are plenty of sites that claim to have a large readership (and therefore seem great for a guest blog post), but keep an eye on social likes and shares of their content. If they're low or non-existent, skip them. Also, be sure to research reviews of sites and/or tools that claim to offer you more efficiency or sales. If they're low profile or unreputable, move on.
#
Above all, remember that marketing is key to your success and EVERYONE in your business is a part of it. From word-of-mouth promotions to more strategic content campaigns, your marketing is executed at every level of the company—not just in an isolated corner of the business. As David Packard (of tech giant Hewlett-Packard) once said, "Marketing is too important to be left to a marketing department."
---