4 Steps to Get a Flat Belly After 40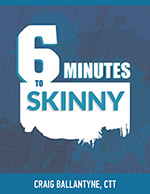 Stop! Before you do any exercise ever again…
Did you know that doing long, slow, boring cardio workouts is the fastest way to shut DOWN your metabolism as you gracefully grow older and wiser.
Why?
Cardio will cause you to lose calorie-burning muscle. Worse, you'll get weaker, unable to squat down and stand up in your garden, carry groceries from the car, or pick up the grandkids.
The good news is that your fat-burning metabolism IS under your control.
When you make the right choices, you can burn more calories and lose fat all day long at any age.
So what should you do? What's the best low-impact fat-burning solution that will make you functionally strong and keep your metabolism humming along?
The answer is found in short burst metabolic workouts.
When you pair lower body exercises, like squats or hip extensions, with upper body and core training exercises, like close-grip pushups (even when done kneeling) and mountain climbers, you gain strength, boost metabolic muscle activity, and burn more calories all day long – even while you sleep!
The 4 Steps You Must Follow Today
Step #1 in getting a flat belly after 40 => Kick Cardio to the Curb.
Step #2 in getting a flat belly after 40 => Do short burst workouts. Research also shows that 4-minutes of short burst exercise are more effective for functional aging than 30-minutes of cardio.
Step #3 in getting a flat belly after 40 => Start your day with one of my trademarked 2-minute blender drinks in the morning that give you the perfect combination of energetic nutrients and power-packed protein for lean muscle metabolism.
Step #4 in getting a flat belly after 40 => Eat more to burn more (using Chef Gui's approach of high-protein, high-fiber, healthy fat recipes)
When you use this power-packed approach each day (taking just 6 minutes in the morning), you'll roll back the clock on your metabolism until you feel, look, and move like you did 20, 30, or even 40 years ago.
It's amazing.
The right foods and exercises are more powerful, and of course, more natural, than most drugs a doctor could give you when it comes to raising your all-day calorie-burning metabolism.
This power-packed approach is how you can burn the fat at any age and get a flat belly after 40, lose the flab after 50, and stay skinny after 60.
To help you boost your metabolism I've put together the perfect solution that walks you through how to torch more fat and stay slim at any age. And it only takes a few minutes in the morning.
  Click here to get skinny after 60
  Click here to lose the flab after 50
  Click here to get a flat belly after 40
Tomorrow: I'll show you the 5 drinks (including 2 of your favorites!) that are PERFECT for raising your metabolism and keeping you slim & sexy at any age.
Taking care of you and your metabolism,
Craig Ballantyne, CTT
Certified Turbulence Trainer
PS – We also need motivation to stay strong and push on.
Never forget…
If you fall "off the wagon," cut your losses, don't worry about it, and get right back on track. Immediately. It's minor damage that can be dealt with.
If you stumble, get back up. You can't change the past. Today is another day, so take action and get back on track to your goals. Never ever give up on what matters to you.