4-Minute Tummy Toning Workouts (beginner AND advanced)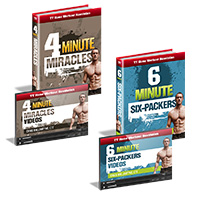 On the road again…by the time you read this I'll have been from the Farm to the big city of Toronto and then out to LA for a weekend fitness seminar followed by an off-day of surfing in the Pacific… and now back on an airplane to head home…
It was a whirlwind weekend and I didn't have much time to myself. There were too many trainers to talk to, too many amazing ideas to share, and too many great stories to tell, to hear, and to create!
So what I did was a quick 4-minute workout both Saturday morning and this morning before my flight. You can use these 4-minute fat burners to tone your tummy and sculpt your body.
The first workout changes exercises frequently just in case you're easily bored. And I mean easily, because geez Louise, it's just 4 minutes! 🙂
(The Variety pack reminds me of these little cereal box variety packs my mom would buy back in the day when we would go camping. You'd get 8 different mini-boxes of (terrible-for-your-belly) cereal. I always went with the Fruit Loops first, then Frosted Flakes…Did you ever have these?)
The second workout is more advanced. You have to push to your limits. But both work to boost your calorie burning and help you lose weight. They give you what is called Metabolic Aftershock. You'll get loads of cool info about this fat burning phenomenon this week…stay tuned for more tips!
The 4-Minute Fat Burning Workout 'Variety Pack'
1A) Total Body Extension
1B) Mountain Climbers
1C) Prisoner Squats
1D) Close-Grip Pushups
1E) Rocking Plank
1F) Alternating Forward Prisoner Lunges
1G) Burpees
1H) Cross-Body Mountain Climbers
– Do each exercise for 30 seconds with no rest between exercises.
The 4-Minute Fat Burning Workout 'Pushing Your Limits'
1A) Total Body Extensions
1B) Spiderman Pushups or Regular Pushups
1C) Burpees or Bodyweight Squats
1D) Cross-Body Mountain Climbers
– Do each exercise for 60 seconds with no rest between exercises.
Get more 4-minute workouts here
Keeping it simple to get you results,
Craig Ballantyne, CTT
Certified Turbulence Trainer
PS – Your Monday Motivation:
"Do more than is expected of you. Life's easy when you live it the hard way…and hard if you try to live it the easy way." – Kekich Credo #4
Focus on improving yourself and you'll improve your lot in life. Focus on planning ahead to overcome obstacles, rather than waiting to deal with emergencies. Be proactive, not reactive.
Always aim for personal bests and learn one new thing each day. This guarantees progress. Make it an AWESOME week!
PPS – If you are stuck in life…
…Please watch my video here – www.ANewAmericanDream.com … I will help you create your vision and find your path.