21 Top Nutrition and Diet Tips from 2014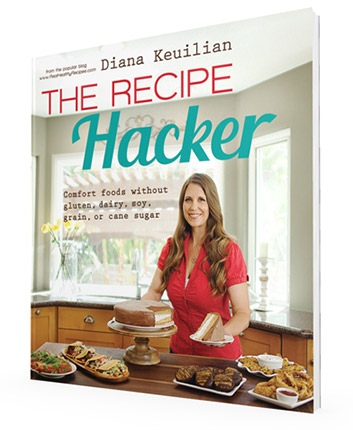 Over the last 3 days, I've been listening to the Rat Pack Christmas Album over & over at my kitchen table. I sit there and create workouts, stopping briefly to stare fondly out at the fresh dusting of snow we received here on the farm. As my northern TT readers will surely agree, Christmas is 10x's better with just a bit of snow on the ground. (But no ice storms, please!)
It also makes me smile to think of Sinatra the Sinner singing as Saint, particularly in tunes like It Came Upon a Midnight Clear. I picture him with an angelic smile…and a devilish drink in one hand and cigarette in the other.
That's almost as ironic as ol' Craiggy The Kitchen Clutz Ballantyne sending you a list of my 21 favorite kitchen tips, recipes, and nutrition secrets, but it is Christmas and you must know about these secrets. My gift to you.
My Favorite New Foods of 2014
Going gluten-free can be scary for those of us that love our breads and pizzas, but fortunately recipe hackers like Diana Keuilian are giving us delicious substitutions. We made her coconut flour bread on the weekend and it was great to get my 'fix' of nut butter sandwiches again.
Click here for Di's free coconut-flour bread recipe
Want to know how to make a nut butter sandwich even more delicious? Try adding a little raw cacao powder or even some cacao nibs. Crazy good! My next baking goal is to try Diana's gluten-free pizza crust. I've also ordered almond-flour bread, coconut-flour bread, and coconut wraps from Julian Bakery for times I don't want to make it myself.
Another amazing find this year has been the individual nut butter packs from Artisana. You can get walnut, pecan, almond, macadamia, and coconut butter in squeeze packs perfect for traveling. The Cacao Bliss raw organic chocolate and coconut spread is awesome (but has added sugar).
Treat yourself to some of these nut butter stocking stuffers here
By the way, coconut butter is much different (and better tasting) than coconut oil. Pick up a pack or a jar next time you visit Whole Foods.
Now we'll take a look at the best protein bar options out there. I'm a fan of the BioTrust organic protein bars, of course, and you'll be very excited to know that NEW flavors are coming in 2015. I've also experimented with creating my own custom snacks at YouBar.com (you get to pick and choose from dozens of ingredients) because I find Quest bars have too much junk in them (artificial sweeteners). Finally, I eat lamb, beef, bison, and turkey bars from EpicBar.com when traveling. Keep an open mind about them.
My Favorite Nutrition & Cookbooks of 2014
I'll be honest, I've spent most of my life being too lazy to cook. But it's always been a secret goal of mine to take some classes. Last night I finished the book Kitchen Confidential by Anthony Bourdain and it rekindled my interest in cooking (as well as providing a fun peek into the chef scene).
I'm going to start with a few of Diana Keuilian's amazing meals from her best-selling book, The Recipe Hacker <= grab this from Amazon as a Christmas gift for anyone that loves to cook or eats gluten-free. Next I'll get one of Bourdain's cookbooks, and then I might try The Meat Cookbook and something from one of Canada's top chefs, Michael Smith.
Should be an entertaining – and painful? – year in the kitchen for ol' CB.
Now for something completely different…
My Favorite Fat Burning Diet Rules of 2014
While 24-hour and 16-hour fasting programs have ruled the book world in the last few years, new research shows that a 12-hour fast can help you lose weight, too. I've been telling my clients about this for over a year now, and I follow this rule myself. If you're new to fasting, or if you dislike long fasts, give it a try. Just go 12 hours without eating between dinner and breakfast.
And make sure that you eat your final meal at least 2-hours before bedtime. An article in the NY Times exposed something called "silent heartburn" that is damage to your throat caused by eating big meals and drinking alcohol too close to bedtime. That leads to a 'gurgly' voice (you hear this in a lot of men over the age of 50 like my ol' buddy Frank, Joel Marion's father-in-law down in Florida) and throat damage that causes health problems.
So combine the 12-hour fast and 2-hour (or  even 3-hour) pre-bed food break into your daily meal plan and you will lose weight and improve your health.
Now let's finish with…
My Favorite Drinks of 2014
My favorite tea company is called Stash Teas. They make a potent green tea (many flavors of it, actually) and a naturally decaffeinated green tea, too. But my favorite Stash teas are Peppermint and Apple-Cinnamon (caffeine free), and the tasty (and caffeinated) White Chocolate Mocha. The latter is the perfect cold weather tea for after a morning walk with ol' Bally the Dog through snow-covered fields of the Ballantyne ranch.
Now I know what you're (sarcastically) thinking…"Wow, teas, nut butters, protein bars, broccoli, fasting…you live a real exciting life, Coach Ballantyne." *rolls eyes*
And yes, I'm getting quite tame as I approach 40. However, I still enjoy an evening cocktail on occasion.
The best drinks that don't interfere too much with your fat loss plan are wines and cocktails that use zero-calorie mixes, like the uber-boring 'vodka-soda'. But I don't always follow my rules. My favorite drink is a Black Russian with Chopin potato vodka (gluten-free, of course). I also enjoy the odd Moscow Mule in a copper mug. For wine, I was just recently introduced to the delicious white wines from the
Marlborough region of New Zealand, and with reds, I'll pretty much drink anything – and regret it the next morning :).
Finally, let's finish with a Fun Favorites list…here are my favorite restaurants of 2014. I realize this list will be pretty useless to you if you're never in these cities, but the bottom line is that you can still eat well and lose fat if you stick to quality steakhouse restaurants. Those are my go-to because you can get plenty of protein and lots of greens on the side. Just ask for steamed or lightly sauteed in olive oil. They WILL accommodate you.
My Favorite Restaurants of 2014
Fat Pasha in Toronto –  You must try the giant head of cauliflower and the rib eye steak.
Wolfgang Puck's "Cut" in Vegas – It's loud and you might find the music obnoxious, but I had a great time there.
La Casa Argentina in Prague – Yes, one of the best steaks I had in 2014 was at an Argentine steakhouse in eastern Europe. Who knew! It was great.
The Edge Steakhouse at the Four Seasons in Denver – This is my 'home' hotel when visiting the business that I own there (www.EarlyToRise.com). It's also great for the ol' Ballantyne breakfast that I eat on the road: 4 scrambled eggs, double order of spinach, and olive oil.
Il Gabbiano in Miami – What a wonderful experience! Although it's full of temptations, from the cheese to the bruschetta and bread that comes with every meal. Sebastian, our regular waiter, is one of the best in the industry.
Joe's Stone Crab in Vegas and Miami – The Miami location has the best ambiance, but those stone crab claws are amazing at both.
I'll be back in Miami early in the New Year and look forward to visits to Zuma and Prime 112. I love steakhouses!
BONUS Tip: If you want to impress someone with mail-order steak, forget about Omaha Steaks and go to www.DeBragga.com <= I love that site!
And finally, YES, I can actually cook, although it's a little dangerous and I often leave the kitchen with burn scars…
However, I can make a delicious steak…and my blog readers, like Noreen agree. She wrote: "I have made steak this way many times since the original posting of this recipe. The steak has been outstanding every time." Great to hear. Try this:
Alright, that's it. I think that was more like 31 nutrition ideas, not 21, but I was trying to keep with the Christmas song spirit. Enjoy them all!
Merry Christmas and a Happy Nutrition Year to you,
Craig Ballantyne, CTT
Certified Turbulence Trainer
PS – If you make a diet mistake over the holidays…
 
…or if you fall "off the wagon" or get off-track from your vision, just cut your losses, don't worry about it, and get right back on track. Immediately. It's minor damage that can be dealt with.
One mistake, two mistakes, three mistakes, or even more…this doesn't ruin everything. Just make the right decision next time and keep moving forward towards your goal. Stay strong. You WILL succeed. I believe in you.
And so does ol' Bally the Dog.