12 Minute Workout Revolution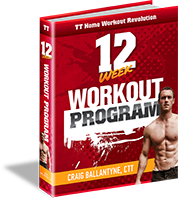 Happy Canadian Thanksgiving!
Unfortunately I'm not in Canada to celebrate… but I am going to enjoy a nice steak dinner here in Las Vegas where I'm attending a work seminar.
Oh well, Bally the Dog is back on the farm and I'm sure he'll be more than happy to eat my share of the turkey, mashed potatoes, and whatever else the Ballantyne family is feasting upon. Maybe we'll be lucky enough to get a photo of him passed out on the couch after dinner.
On Wednesday, you're going to be the lucky one. There's a very special Las Vegas Diet & Workout special coming your way, so don't miss it. Watch your email early Wednesday morning for the scoop on how the hottest bodies in Vegas stay in shape – and how can copy their moves.
Now until then you're going to stay busy burning belly fat with this new bodyweight workout below. I used this one last week when I was working at my EarlyToRise.com (ETR) office in Denver. ETR publishes the latest in health, fitness, and nutrition info to keep you slim, sexy, and fit. You probably know two of our superstar guru's, Missi Holt, CTT, and Chef Gui Alinat.
We also publish the best Personal Development articles on time management, productivity, raising good kids, and getting a better job (or making more money in the one you have). You should check out my most popular ETR article here and use that advice today to create Rules for Your Life.
One of your rules should clearly state the type of nutrition and exercise habits that you follow. For example, my health rule says:
I go to bed and get up at the same time 7 days per week (8 p.m. and 4 a.m.) I stick to my diet, avoid caffeine after 1 p.m., and avoid alcohol within 3 hours of bedtime.
That rule has kept me out of trouble and free from morning-after regrets more times than I can count! Of course, it doesn't always work… but rules are sometimes made to be broken.
Make sure you read all 12 of the rules I live by here.
Once you've set your own rules for your life, let's do that bodyweight workout I promised.
12-Minute Home Workout Revolution
*Prisoner Squats
Close-Grip Pushups (take 3 seconds to lower your chest to the floor)
Prisoner Lunges
Cross-Body Mountain Climbers (alternating sides)
Total Body Extensions
Burpees (or Jumping Jacks)
Do each exercise for 30 seconds.
Do NOT rest between exercises.
Go through the circuit up to 4 times for a 12-minute home workout revolution.
*Prisoner exercises requires your hands behind your head, elbows pulled back, and fingers of each hand clasped together… you know, just like the last time you got arrested. LOL.
With this 12-minute home workout revolution program you'll double your calorie burn and shed inches from your belly all without doing slow cardio or even stepping foot in the gym.
You can get over 51 follow-along workout videos that are just as effective as the one above in our NEW Home Workout Revolution DVD Package.
And if you're still skeptical that you can lose weight and get fit in just a few minutes per day, here's PROOF from all over America that the Home Workout Revolution DVDs really work!
"Hey! Just wanted to say thanks so much for the Home Workout Revolution. I had been looking for something I could do with my kids to teach them more about getting and staying in shape and so far they are enjoying it and ask if we are working out each day! Thanks so much for the videos they are making it so much easier for them to learn proper form than me telling them and them getting frustrated. I love Home Workout Revolution!" – Kelly Barnett
"I lost 8 pounds in 12 weeks with the Home Workout Revolution program. Really enjoyed it. I'm really happy with the fat loss (5-6%). My starting weight was 162 lbs and my ending weight was 154 lbs while maintaining my muscle." – Jim Talbert
"CB, as a public management professional, my time is at a premium. With all if the services I'm responsible for delivering on a daily basis and the cacophony of voices demanding more and more, I've little time for my family. My children are ages 6, 3, and 20 months old. As you can probably imagine, this time in their lives is not only incredibly fun but time consuming as well. The HWR systems have been one of the best investments I've made in pursuit of my fitness goals. I'm left with no excuses when some workouts take – literally – less than 15 mins. I know I can get a great workout in that amount of time. Plus, they're extremely enjoyable. Thank you." – Josh Jones
And so, to celebrate Canadian Thanksgiving with you, you're getting a very special deal on the FULL set of Home Workout Revolution DVD's.
You'll get over 51 NO-equipment bodyweight workouts and my rapid fat loss nutrition guide all delivered directly to your doorstep.
The HWR System is perfect for your busy life and hectic schedule and it's on sale today at 51% off the regular price.
Get the Home Workout DVD's sent to your house  **51% off today!**
And if you haven't sent in your success story yet, please do so. I can't wait to hear about your amazing results with this proven fat-burning, fitness-boosting, metabolism-pumping system.
Long live the Home Workout Revolution,


Craig Ballantyne, CTT
Certified Turbulence Trainer
PS – Monday Motivation Kickstarter…
Monday sets the tone for the rest of the week. Start it off the right way. Be productive, work hard, and do something to challenge yourself. And remember…
"When someone tells you it can't be done, it's more a reflection of their limitations, not yours." #truth
So if there is something you've been waiting to do, take a big step in that direction today