10 Most Under-Rated Workout Tips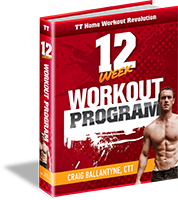 These sneaky little tips, often ignored, forgotten, or completely unknown, just might be what you need to make a fat loss breakthrough.
So, let's continue "Countdown Week" here at Turbulence Training and give you the:
Top 10 Most Under-Rated Workout Tips of All Time.
You won't find these in any issue of Muscle'n'Fiction…because these are real-world tips. Not ghost-written garbage about a steroid-user's "fake" 2-hour biceps workouts. But that's another article for another day…
Here's what REALLY works:
#10 – Shuttle Sprints
Researchers studied a World Cup soccer team and found that shuttle style sprints (short sprints with changes in direction) elevated fat-burning growth hormone levels MORE than regular sprints. That was one of the tricks and tips used in the TT Adrenaline program from Feb. 2010.
#9 – Train Up a Level
What I've found personally, and research backs me up on this, is that training with a partner that is slightly better than you always makes you train harder and stick to your plan better. Therefore, you get more results.
That's why when I combined with super-mega-awesome-celebrity-NYC-trainer, John "Roman" Romaniello to bring you the "TT Clash of the Titans" program, TT readers reported EXTRA-ordinary results. Roman and I played up a level and delivered one of our best workouts ever. (This one is only available in the vault for TT Platinum Members.)
#8 – Always Go Last
By the way, whenever you and your training partner, or you and everyone else in your bootcamp, have a physical competition (like a chin-up or push-up contest) to end a workout, always make sure you go last.
Knowing the standard to beat is a psychological trick that will help you beat the standard – and win the competition – every time!
This tip works great with my TT Bootcamp Workouts, or even in the TT Meathead programs – especially with the Meathead 100 rep challenges.
#7 – 22,000 Crunches To Burn One Pound of Bodyweight?
According to a classic statistic featured in Men's Health magazine, it would take you 22,000 crunches to burn 3500 calories (the # of calories in a pound of fat). Thus proving crunches useless for getting rid of belly fat.
That's why I've created, "TT for Abs", "TT for Amazing Lower Abs", "TT AAA Abs", and "TT for C-B-S Abs". You'll get all of the programs I've mentioned, plus over a hundred more, AND hundreds of extra workout tips when you become a TT Platinum Member here:
Get all 135 workouts for pennies here
And don't forget, you'll get all of the workouts I create for the next 12 months. (We just added the videos for the TT Summer 60 August workout.)
#6 – Deadline Addiction
Nothing drives someone to take massive action better than a deadline. That's why the TT Transformation Contests bring out the best in you (with our best TT winners losing 33-51 pounds in just 12 weeks of our contests)!
Deadlines also work really well in short workout challenges, such as the 3-minute pushup test from the TT Addiction program. It's a brilliant approach to working out…(I call it "Workout Golf" because it finally lets you compare your fitness to other people.)
#5 – Swap Out Weights to Avoid Muscle Growth
A lot of TT readers don't want to get any bigger. So here's a trick. Instead of doing three sets of eight reps for the chest press, switch to a hard pushup exercise and do three sets of fifteen to twenty-five reps. You'll still get a metabolic resistance training effect but with less of a muscle-building stimulus.
You can do this for all sorts of dumbbell exercises. If you need bodyweight exercise ideas, just watch the Home Workout Revolution program videos…you'll get full access to these as part of your TT Platinum Membership.
#4 – Use Non-Competing Supersets
Since I first introduced this term to the fitness world in 2001, smart trainers have been using this approach. You'll work your pushing muscles while your pulling muscles rest, and vice versa. It allows you to do more work in less time, thus putting a greater fat-burning metabolic stress on the body. Just another way that TT gets you BETTER results. (You'll find this all the way back in the TT classics, TT2K3 and TT2K4.)
And you'll finally get the classics in follow-along video format on September 3rd (or earlier if you are a TT Platinum Member).
Get the next 12 months of TT free here <= Sale Ends TONIGHT
#3 – Squeeze & Incomplete Reps
Back in December of 2011, I sat down with Mr. Olympia-level pro-bodybuilder Ben Pakulski and we worked out some advanced repetition methods for Turbulence Training, such as the squeezing reps and incomplete partial reps. These add tension to the muscle and enhance the metabolic response. We used these heavily in the TT Muscle-MRT program from early 2012, and again in the latest TT Summer 60 program that comes out in August.
#2 – Train Smart
The latest research I reviewed for our Turbulence Training Certified Trainer newsletter found that…
a) Running in minimalist footwear (i.e. vibrams) can lead to swelling in the bones of the feet. I've never liked these things for running, and do NOT recommend them.
b) If you're out of shape and start a program too fast, you'll get hurt. This no-brainer research comes from the US Army, and that's why I have created beginner TT programs like the TT Total Torso programs.
c) You should be able to do a side plank for at least 60 seconds per side, and a regular plank for 2 minutes straight. If you can't, you're at greater risk of an injury.
Train smart. Train hard. Train safe. Train with TT and our research-based programs.
#1 – TT Style Bodypart Blitzes
What's old is new again, and I've combined the best-of-the-best tips to create a brand new bonus for the upcoming TT follow-along videos coming out on September 3rd. You'll get the following video bonuses:
– 5-minute chest
– 7-minute back
– 6-minute abs
And many more.
Stay tuned!
Until then, enjoy all of the current TT workouts and Platinum-Level membership site access with this deal (but hurry, it ends tonight!):
Get every NEW workout for the next 12 months here
Bringing you cutting edge workouts every month since October, 2005!
Enjoy the best of the best,
Craig Ballantyne, CTT
Certified Turbulence Trainer
PS – This list only scratches the surface…
…of the incredible fat burning, muscle-building, and strength gaining resources that you'll get with a TT Platinum Membership.
In addition to over 135 TT Workouts (plus 15 more coming in the next 12 months), you'll also have full access to:
– Ask me all of your training and nutrition questions
– Get insider mindset and motivation tips that I only share with TT members
– Follow along with every single tiny detail of my personal transformation
– Network with other members that have been in your exact situation and found a way to make massive BREAKTHROUGHS
– All of the members-only videos that I create on training & motivation
You'll get all of that and more as a TT Platinum Member for the next 12 months. But today is the FINAL day to take advantage of the best deal in fitness.
Get 1-Year Platinum Access for Pennies <= Ends tonight
The price doubles at midnight, and while it's still a deal, you need to get in on the ground floor today.