Just in Time for Football: A Guac Recipe You Can Enjoy Without Moderation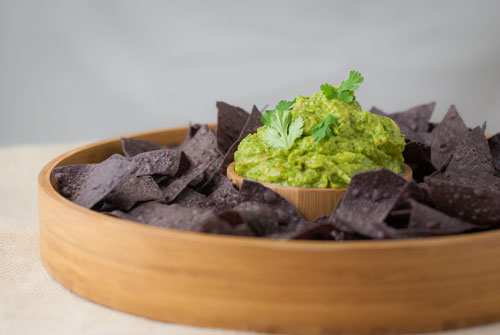 I recently showed you a simple meal plan to hit the daily-targeted amount of fiber for weight loss. But sometimes, it's hard to think high-fiber when it comes to snacking — especially on the weekends.
So, as promised, here is my delicious, full-fiber guacamole recipe, just in time for football Sunday!
Supercharged Guacamole
The world does not need another guacamole recipe. What it does need though, is a versatile, easy-to-dip, surprisingly addictive taste, packed silly with nutritious goodness.
I'm inspired by this south-of-the-border classic, and worked with no less than three superfoods: avocado, kale, and edamame. It looks the same as guacamole but, oh boy, the taste is surprisingly refreshing and deep. It's smooth, it's rich, it's full of fiber, and it's going to be your new favorite. Enjoy without moderation!
Quick tip: Choosing avocados is challenging. For guacamole, you want them softer but not too soft. The color is somewhat telling, so pay attention to the shiny, dark skin. Look for avocadoes that are plump, offer some resistance when pressing with your fingers, but still give a bit.
Active time: 20 minutes
 / Cook time: N/A / Yield: 4 servings
Ingredients:
4 Haas avocados, halved, seeded, and peeled
2 stacks of kale
1 cup of shelled edamame
2 limes, juiced
1/2 red onion, diced
1 beefsteak tomato, diced
1 tbsp cilantro, chopped
2 tsp of chili oil or hot sauce
Salt and pepper to taste
Preparation:
Remove the leaves of the kale from the stalk. Process them in a food processor with the edamame.
Add the scooped avocado pulp and lime juice. Pulse to process and transfer to a mixing bowl.
Add salt, chili oil or hot sauce. Then, fold in the onion, tomatoes, and cilantro into the kale-edamame mixture.
Let sit in the refrigerator for 1 hour and then serve.
For more healthy football snacking ideas, click here.
I'll be sharing more of my favorite recipes on EarlytoRise.com in the coming days — so make sure to check back often!