Summer Recipe (Grilled Peach Salad)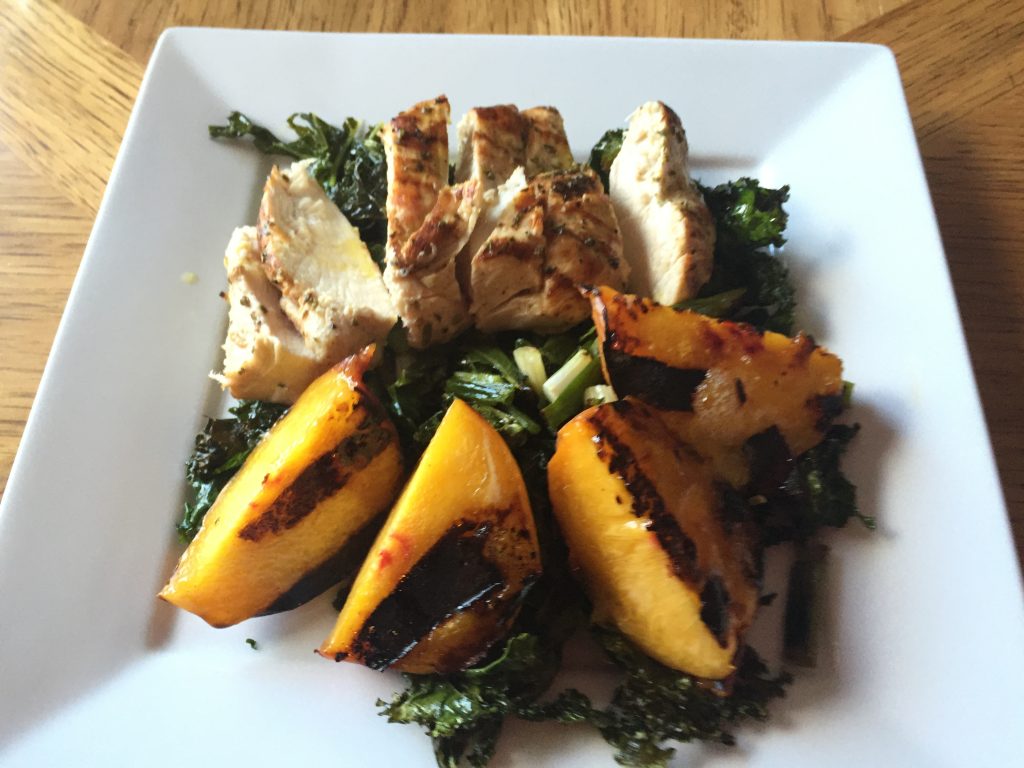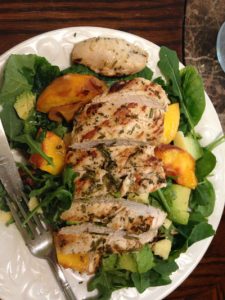 One of the great things about summer is trying out new and exciting summer recipes — especially on the grill. But I also love reviving old favorites and sharing them with you!
This week, I revisited a summer recipe favorite — mouth-watering Grilled Peach with Rosemary Chicken Salad.
It's a simple salad, but offers the perfect pairing of smoky sweetness from the grilled peaches, earthy, aromatic notes of rosemary chicken, and a tangy bite with a dollop of goat cheese and drizzle of dressing. Oh, and don't forget the nutty crunch from toasted pecans to complete the perfect bite.
Yum!
If you've never grilled fruit before it can be a little daunting. And you may be wondering what will happen.
Don't worry! All that will happen is you'll create an incredibly decadent flavor profile that will transform any meal or dessert you pair it with… so, you have nothing to fear if this is your first time grilling fruit. Give it a try and I promise you'll want to start adding more grilled fruits to your menu!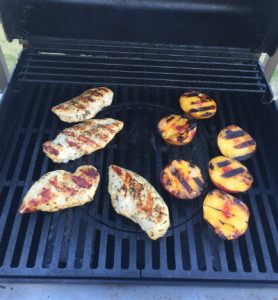 A couple of simple tips will help ensure your peaches turn out perfectly:
Always brush fruit with a little olive oil
Don't grill under too hot of a flame — you can even try indirect heat
Keep an eye on the fruit; flesh is delicate and will cook in just a couple of minutes
Cut fruit into large pieces and place directly on the grill or use a skewer for bite-sized chunks
Ok, now that you have some expert tips to help you, here's the recipe… I know you will love it as much as we do at our house!
Grilled Peach Salad with Rosemary Chicken
Prep time: 5 minutes | Cook time: 10 minutes | Yield: 2 servings
Ingredients for Salad: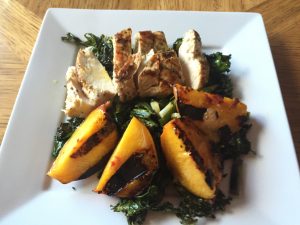 Olive oil
2 peaches, halved and pits removed
2 cups arugula
2 oz. soft goat cheese
½ cup toasted pecans
2 boneless, skinless chicken breasts, trimmed
Fresh rosemary sprig, leaves removed from stem and minced
Sea salt, black pepper, garlic powder to taste
Ingredients for White Vinegar Dressing:
4 tbsps olive oil
2 tbsps white wine vinegar
½-1 tbsp raw, local honey
Sea salt and black pepper to taste
Brush peaches with olive oil. Grill over medium fire about 4-6 minutes each side.
Preparation:
Season the chicken with olive oil, sea salt, black pepper, garlic powder, and rosemary. Grill over medium fire for about 4–6 minutes per side or until cooked through.
Assemble salad while peaches and chicken grill and whisk dressing ingredients together until combined.
Top each salad with 2 peach halves cut into wedges after grilling, and 1 chicken breast.
Drizzle 1 tbsp of the dressing over the top of the salad.
Enjoy!

More Great Salads: