QnA – Workouts Suggestions For Flabby Thighs and More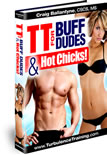 My training today will be  Hang Cleans, Deadlifts, Front Squat, and Good Mornings.  But before I start my workout I present you with today's QnA from my  facebook page.
**************
Q: I am on my final week of TT Hardcore Fatloss and aiming to do TT Buffdudes Hot Chicks next. would you require a rest period? how long should it be and what to do during those days. thanks Craig, got good results from your workouts – Oliver Ventura Liwan
Answer: Oliver – If you haven't taken a week off in 1  weeks, then just do   workouts next week of 1-  sets each.
Follow Up Q: Thanks Craig, yeah im on my 1 week. done TT Meatheads IV then TT for Abs before TThardcore – Oliver Ventura Liwan
Question: Do you work on technique or max weights across all exercises and if so what's the reps and order? – Renee Young
Answer: Renee – I use my Meathead style of training combined with Jim Wendler's 5-3-1. You can search "meathead" on www.ttfatloss.com for articles or check out Jim's articles.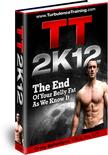 Yesterday morning, with my legs still wobbly from an intense bodyweight circuit workout performed in my hotel room, I saw North Carolina's Blue Ridge mountains for the last time.
Q: my favorite tt workouts are the ones  tt forever, and that super hero series, although IM lean and dont do it for fat loss, there the type I , that being said, can I still build muscle with these or am I wasting my time? – Adam Ortega
Answer: Adam – You would just take slightly longer rest periods and eat more.
Follow Up Q: Heavier weight? – Adam Ortega
Follow Up Answer: Adam – That's what will happen when you rest longer. You should already be using the heaviest weight you can handle. More rest = more recovery = more weight.
Q: Elevation Training mask. Useful or scam? – Wing Lam
Answer: Wing – I have no idea.
Q: Do u use any suspension equipment? If so which brand? – Wing Lam
Answer:
Wing – I  EliteFTS blast straps and the TRX. Jungle Gym is okay.
Follow Up Q: Wing Lam Thanks, love ur stuff
Follow Up Answer: Wing – Greatly appreciated.
Q: Is TT available to Aussies – Renee Young
Answer: Renee – Every country. It's here – www.TurbulenceTraining.com  Build muscle lose fat with Turbulence Training's fat loss workout. Fat loss work outs through weight training and minimal cardio. Weight training exercise will burn fat and help you gain muscle. Get rid of stubborn belly fat.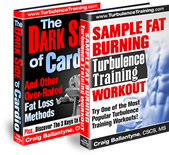 Follow Up Q: Cheers will check it out. Sounds great! – Renee Young
Q:Do you mix any kind of cardio in the workouts or on off days? – David Ortega
Q:David – I guess you haven't read my book, Just Say NO To Cardio. LOL.
Follow Up Q: No haven't sir!! You going to muscle failure or reps? -David Ortega
Follow Up Answer:
David – Reps
Q: Adam Ortega tt meat heads with the 5-3-1- you do that with all the exercises on your workouts, sounds good!
Answer:
Adam – No, read Jim's articles on how you do it.
Q: I've big, flabby thighs.. Squats seem to make them bigger. What do you recommend for ladies who want to make their thighs firm and tone? – Nuh Ilham
Answer:
Nuh – Bodyweight exercises and circuits. Check out TT Bodyweight Cardio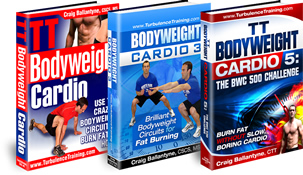 Q: Started MRT  this week. Its super awesome. How I use dumbbells for a replacement for snatch grip deadlifts? – Sherard Jones
Answer:
Sherard – Thanks so much for your feedback. Let's have you use dumbbells squats. Keep up the great work.
Follow Up Q: Sherard Jones Thanks.
Thanks! Great session, time to go play with the dog. Be back tomorrow.
Craig Ballantyne, CTT
Certified Turbulence Trainer