Fat Burning 7 Layer Dip, Get In My Belly!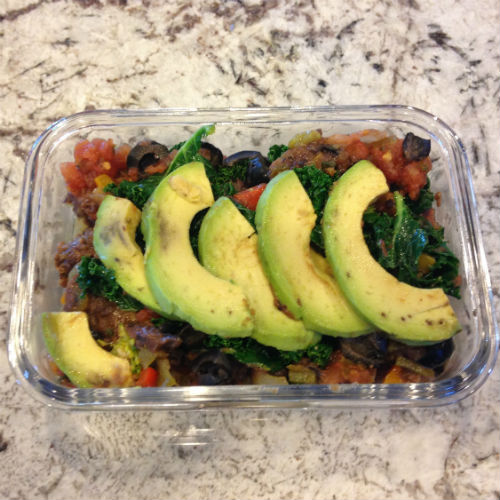 Ok, I know what you're thinking… You've had 7 Layer Dip – perhaps in copious amounts – and know that it is anything but fat burning!
But, my friend, in this case, you would be mistaken…
With a few tweaks I've turned a potential nightmare appetizer into a seriously delicious and healthy version of 7 Layer Dip that provides vital nutrients to boost your metabolism, stoke your fat burning fire and skyrocket energy!
This dip is so delicious you don't even need chips – scoop it onto thick bell pepper strips or crunchy celery stalks or just eat it right off the spoon!
Check out these fat burning ingredients: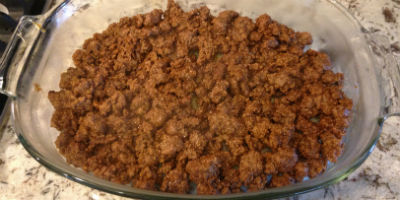 Grass-Fed Ground Beef: Though I advise against counting calories, a 7-ounce conventional strip steak, trimmed of fat, provides 386 calories and 16 grams of fat. But a 7-ounce grass-fed strip steak is only 234 calories and five grams of fat—you'll save more than 150 calories, your steak will taste better and you'll gain the benefits of omega-3 fatty acids.
Taco seasoning: Cumin, chili powder, and paprika add a warm, spiciness to this dip and are known to create heat in the body that boosts metabolism and support a healthy immune system.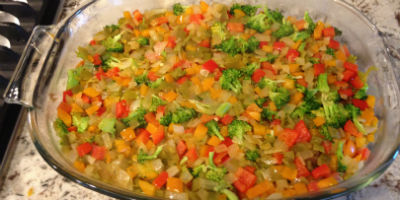 Sautéed Veggies: Vegetables contain, in addition to their fiber, an array of cool nutrients that play critical roles in the body. For example, a nutrient in broccoli called sulforaphane helps cells burn fat while onions are a good source of the antioxidant quercetin. Quercetin may help increase energy expenditure, or calorie burn, in your body while also reducing inflammation.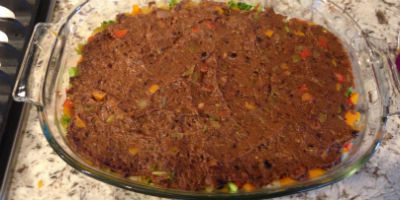 Black beans: Legumes are loaded with fiber, protein, and nutrients that stabilize blood sugar, lower blood pressure, and provide lasting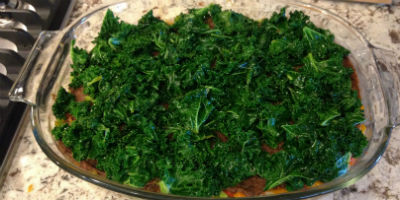 satiety to help you avoid overeating on empty calories.
Sautéed greens: Kale, chard, and spinach are rich sources of the vitamins and minerals that support overall health, digestion, immune support and tissue repair – optimal function of these activities is vital to placing the body in a fat burning state so that minerals like calcium can promote fat burning over fat storage.
Fresh salsa: Once again, capsaicin,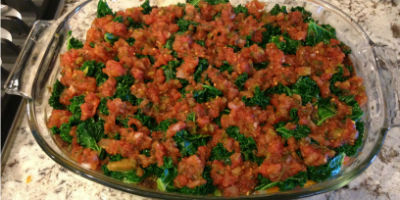 the plant compound found in peppers that gives salsa its fiery kick, activates fat-burning enzymes inside belly-fat cells, prompting the fat stores to burn themselves up. Meanwhile, tomatoes offer a nice boost of the antioxidant lycopene to protect cell walls and repel toxins.
Black olives: These tasty little delicacies have been shown to break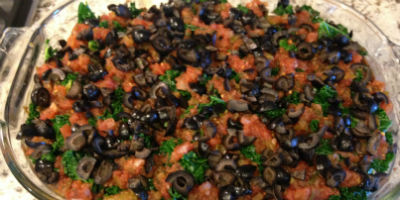 down fats inside fat cells, get rid of belly fat and reduce insulin insensitivity! Plus they boost serotonin, a satiety hormone that helps us recognize satisfaction.
Avocadoes: Avocadoes contain the best healthy fats to increase satiety and regulate hormone balance, which is key for losing fat. Guacamole is also loaded with fiber,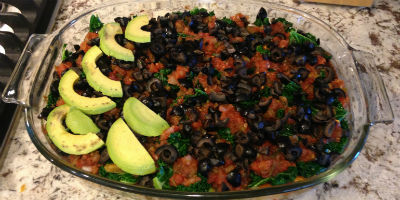 vitamins, minerals, and antioxidants… and it's delicious!
Creating delicious food that supports your health and fitness goals invites fun back into the goal of getting and staying in shape!
Missi's 7 Layer Dip
Prep time: 15 minutes | Cook time: 20 minutes | Yield: 8-10 servings
Ingredients:
1 lb. local grass-fed ground beef
I package Bearitos Taco Seasoning (or homemade – see tip box)
1 yellow onion, diced
1-2 red bell peppers, diced
2 cups broccoli florets, torn into bite size pieces or smaller
4 cups fresh greens, chopped (spinach, chard, or kale)
1 can Bearitos Refried Black Beans (or 1 can organic black beans, drained, rinsed and mashed)
3 fresh avocadoes, mashed
½ – 1 cup fresh salsa
1 large can low-sodium black olives, drained, rinsed, and sliced
Olive oil
Sea salt
Garlic powder
Black pepper
Preparation:
In a large skillet over medium high heat, add ½ tbsp olive oil and ground beef sautéing until no longer pink on the outside.
Add taco seasoning and ½ cup water. Incorporate well to coat the meat. Cover, reduce heat to medium low and cook for 3 – 5 minutes.
Chop all the veggies while meat cooks.
Layer the dip.
Layer 1: Transfer cooked beef into a large glass-baking dish. Spread evenly to coat the bottom.
Layer 2: Return skillet to medium-high heat. Add a little more olive oil. Sautee the onion, bell pepper, and broccoli until tender and caramelized. Season veggies with sea salt, garlic powder and black pepper to taste then spread evenly over the beef.
Layer 3: Spread mashed black beans evenly over the veggies.
Layer 4: In the same skillet, sauté the greens with a little olive oil and sea salt until just wilted. Spread greens evenly over the beans.
Layer 5: Top greens with fresh salsa
Layer 6: Sprinkle with sliced black olives
Layer 7: Top with fresh avocados or guacamole just before serving
Enjoy!