5 New Years Eve Party Swaps to Ring in a Healthy 2016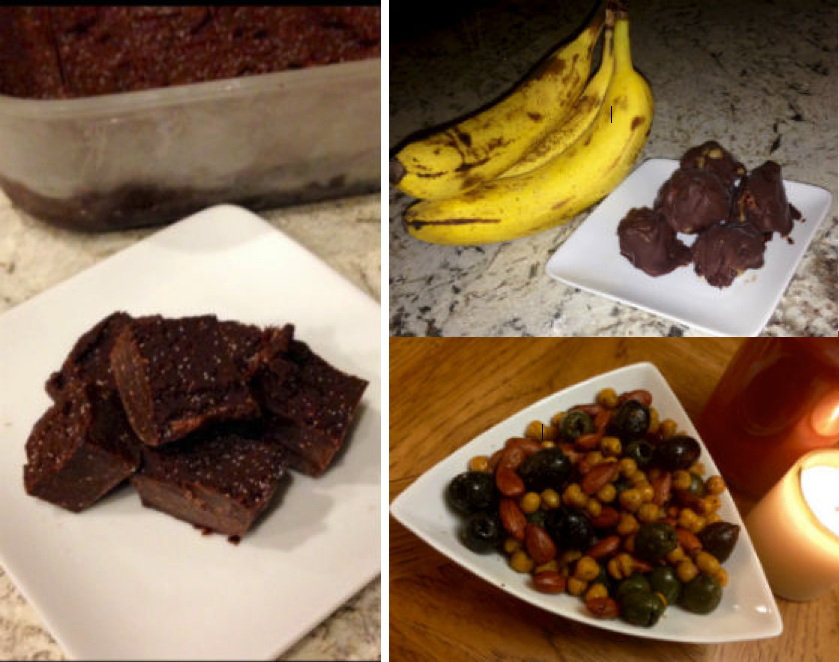 New Years Eve is a time of global celebration… the sights and sounds of merriment and good cheer meet with the tantalizing scents and flavors of traditional appetizers, drinks, and sweets delighting our taste buds and coaxing out our celebratory side.
But over the course of the evening festivities all those tasty treats begin to add up and we tend to feel like we've started the New Year off on the wrong foot — perhaps, again.
Not this year!
Waking up with major belly bloat, indigestion, and an overall sense of over-doing it is so 2015…
2016 is a New Year for a New you! And it begins well before midnight strikes!
Here are 5 easy and to-die-for-delicious swaps you can make for your New Years Eve Party this year. You won't feel like you're missing out on the celebration but you won't wake up with regret either:
Roasted Olives, Chickpeas, and Nuts
Skip the empty calories from Chex Mix, potato chips, and other bagged snacks. Instead, make your own fiber-rich, nutrient dense, and heart-healthy blend of roasted olives, chickpeas, and nuts.
Prep time: 5 minutes | Cook time: 30 minutes | Yield: 4-6 servings
Ingredients:
1 jar pitted green olives
1 cup raw almonds
1 can unsalted organic garbanzo beans, rinsed, drained and thoroughly dried
1-2 tbsps olive oil
½ tsp sea salt
½ tsp Black pepper
Zest of one lemon
1 sprig rosemary, finely minced
Preparation:
Heat the oven to 400°F. Place an oven rack in the middle of the oven.
Spread the chickpeas and olives out in an even layer on the baking sheet. Drizzle with olive oil and sprinkle with salt and pepper. Stir with your hands or a spatula until evenly coated.
Roast in the oven for 20 minutes: Stir after 10 minutes.
Add almonds to chickpeas and olives. Drizzle with a little more olive oil, sea salt, and pepper tossing to coat.
Roast 10 minutes or until desired degree of roast is achieved.
Toss the chickpeas, olives, and almonds with the lemon zest and rosemary.
Serve while they are still warm.
Cauliflower Bread Sticks with Marinara
Best Pizza Swap Ever… seriously. My mom made this at a football party a few weeks ago and I am so glad she did. Hands down, it's the best pizza swap ever.

Prep time: 20 minutes | Cook time: 30 minutes | Yield: 12 servings
Ingredients:
1 medium-sized cauliflower (riced into four cups)
4 eggs
2 cups mozzarella, shredded
1 tbsp dried oregano
4 cloves of garlic, minced
1/2 tsp kosher salt
1/4 tsp black pepper
1 extra cup of mozzarella for topping
Preparation:
Preheat oven 425°F. Line a baking sheet with parchment paper.
Cut cauliflower into florets (discard large stems) and pulse in food processor until it resembles grains of rice.
Place 4 cups of riced cauliflower (reserve the rest) in a large skillet over medium heat (or use microwave) and cook 10 minutes until tender (no water needed).
Let cauliflower cool then transfer to a larger bowl. Add 4 beaten eggs, 2 cups of mozzarella cheese, oregano, garlic, salt and pepper. Stir to combine mixture. Shape into two circles on prepared baking sheet.
Note from my mom: "I made circles about 1-2 inches high. I would make them a bit larger in circumference and about 1 inch in depth so they brown more crispy :)"  
Bake 25 minutes.
Remove from oven and spread 1 cup shredded mozzarella cheese over the top Bake 5 minutes more until cheese melts and edges are brown.
Cut into long slices and serve with warmed marinara sauce.

1-Step Spinach & Artichoke Hummus
Trade traditional high calorie, nutrient-void party dips for this delicious homemade version and add the benefits of fiber, healthy fats and a host of fat burning nutrients.
Prep time: 10 minutes | Cook time: n/a | Yield: 4-6 servings
Ingredients:
¾ cup fresh baby spinach, chopped
¾ cup artichoke hearts (canned), quartered
1 15-oz can chickpeas
⅓ cup tahini
1 tbsp olive oil
2 tbsps lemon juice
½ clove of garlic, minced
½ tsp cumin, ground
½ tsp paprika
½ tsp sea salt
 Preparation:
In a food processor, combine all ingredients and blend until smooth. Serve with fresh veggie sticks.
Cashew Butter Fudge
Avoid sugar-laden sweets with this palate pleasing Cashew Butter Fudge that won't spike your blood sugar, make you feel jittery, or turn right to fat.
Prep time: 5 minutes | Chill time: 20 minutes | Yield: ~ 42 squares
Ingredients:
1 Jar raw Cashew Butter, stirred well
1 Heaping tbsp Ground Chia Seed
6 tbsps Cacao powder, unsweetened
¼ cup Raw honey
2 tbsps unsweetened coconut or almond milk, for desired consistency only
Generous sprinkle of sea salt (to taste)
Preparation:
Blend all ingredients in a large mixing bowl with a rubber spatula until smooth.
Grease a square glass baking dish. Transfer fudge to baking dish, spreading evenly.
Sprinkle with sea salt then chill in the fridge for 20 minutes.
Cut into bite sized squares. Freeze for 30 minutes to set.
Break apart into squares. Enjoy!

Dark Chocolate Peanut Butter Banana Bonbons
Pass up ice cream that only leaves you sluggish and bloated for these yummy bites of frozen banana bliss.

Active time: 30 minutes | Freeze time: 1-2 hours | Yield: 14 servings
Ingredients:
3 ripe bananas cut into ½ -inch slices
2 tbsps natural peanut butter
8 ounces dark chocolate
Preparation:
Arrange banana slices in a single layer on a large plate or baking sheet. Freeze for 1-2 hours.
Puree frozen banana slices in a food processor or powerful blender until the mixture is creamy and smooth*
Add the peanut butter and puree to combine
Scoop ice cream into ½ tbsp sized balls and place into mini-muffin tins. Freeze for 20 minutes.
Melt the chocolate over very low heat in a small saucepan.
Coat each ice cream ball with chocolate. Refreeze for 1 hour. Enjoy!
*Note – if you have a hard time creating a creamy consistency, you can add 1-2 tablespoons of milk to help puree the banana slices. Make sure you use a powerful food processor or blender!
*****
And now for the libations — alcohol is a part of most people's New Years celebration and for many, that is not going to change.
However, you can make a few simple adjustments and develop a game plan to enjoy a safe, fun, and hang-over-free evening.
Limit your number of drinks and incorporate refreshing, flavored water between each alcoholic beverage.
Choose 2-3 glasses of a really good red wine over mulled wine, sangria, or other drinks with added sugar. Savor the wine over the course of the evening.
Choose 2-3 vodka cocktails using fresh lemon, lime, or other citrus along with a splash of sparkling water. It's a light refreshing drink that's not too sweet, slows down how fast you drink it, and helps keep you mindful of your goals.
New Years Eve is a time of celebration and cheer offering thanks for the year that has passed and all it has taught us. New Years Day is met with hopeful anticipation for all that is to come — Have a safe and happy New Years!