4 Minute Miracle Workouts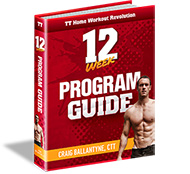 Friday, snowstorm permitting, ol' CB (i.e. me) is going to jump in his rented Chrysler 200 and drive to Lapeer, Michigan to film 20 brand new Home Workout Revolution programs. I'll be filming with Brian Kalakay, Certified Turbulence Trainer and HWR co-star, at his totally amazing gym. If you've done the HWR workouts, you know how great it looks (especially in that Burpee challenge workout where I get my butt whoooped).
We're going to be filming 20 brand new, follow-along, NO equipment workouts, including:
Fourteen "4-Minute Miracles"
Six "6-Minute 6-Packers"
Both of these are free bonuses that we're adding to the complete HWR program, and all HWR members (or "revolutionaries", as I call them) will get the workouts for free when they are edited.
But what is a 4-Minute Miracle?
Well, it's a workout that you can do anytime, anywhere, that puts the maximum metabolic stress on your muscles to crank up the TURBULENCE that causes post-workout calorie AFTERBURN. This metabolic combination is what changes your body. And it all happens thanks to the Ultimate Fat Loss Key – DENSITY.
Here's an example of a 4-Minute Miracle:
1A) Narrow-Stance Bodyweight Squats x 20 seconds
1B) Hold the bottom Squat position x 10 seconds
Repeat two more times, then without resting, go to:
2A) Spiderman Pushups (alternating) x 20 seconds
2B) Mountain Climbers x 10 seconds
Repeat one more time, then without resting, repeat 1A & 1B three more times until 4 minutes is up.
Looks too easy? Sounds too simple?
Trust me, it's not. And frankly, aside from 4 straight minutes of kettlebell snatches or running as fast as you can (neither of which are a good idea), there's not much else that comes close to that bodyweight circuit.
NOTE: You can make it easier by skipping the 10 second squat hold and the mountain climbers, and by using a regular or kneeling pushup.
You'll love the fourteen 4-Minute Miracles we film for you this weekend. It's my goal to make these as challenging as humanly possible for you to get amazing benefits in just 4 minutes.  And remember – this is based on scientific research. A group of crazy Canadians compared this 4-minute style of bodyweight training against 30 minutes of slow cardio, and found that the 4-minutes of bodyweight moves were:
Just as effective at building aerobic fitness as the slow cardio
MORE effective for building muscle endurance
Reported as being much more fun by the subjects
No surprises there.
So skip the equipment, ditch the cardio, be safe, save money, and get amazing results with the Home Workout Revolution System.

www.HomeWorkoutRevolution.com
You'll follow along with me and two other Certified Turbulence Training as we instruct you on proper form for safe and effective workouts. (And YES, there are 10 beginner workouts.)
Here's some great feedback from users…
"Four days into the program, my wife and I are sore…but the good kind of sore. We realized that working out at the gym is more sitting down than really working out and doesn't really use all the muscles HWR does. Our core muscles feel great and it reminds me to improve my posture.
"With many of the 12 minute workouts, there's zero excuse to not throw it in before dinner. Who doesn't have time for 12 minutes? No extra travel time, no weights. I walk in, change my clothes and get at it before even sitting down. The best part. After getting our heart rate up, we end up doing it a 2nd time or moving to an abs workout for twice the fun. Love that bell!"
– Jeff Schneider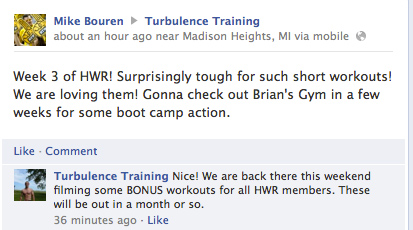 Join the Home Workout Revolution  that is changing the fitness industry.
Get your follow-along bodyweight workouts here
And we'll be sending you some MIRACLE workouts soon.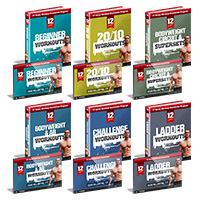 Train hard but safe but hard,
Craig Ballantyne, CTT
Certified Turbulence Trainer