3 Home Gym Essentials That Won't Break the Bank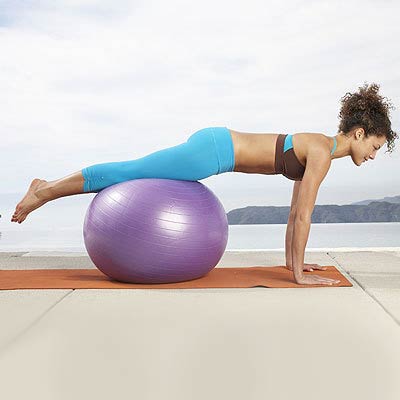 The gym may have a lot of cool machines and intriguing exercise equipment to play with, but in reality, how much of it do you really use?
In the time it takes to drive, park, stow your stuff in a locker, and get your workout started, you could be done with your home workout!
Creating a home gym is easier and more budget friendly than you may think. Plus it's a time-efficient way to ensure you get your workouts in —the effort of driving to the gym is one of the biggest deterrents for exercisers.
In fact, a survey by IHRSA (International Health, Racquet and Sportsclub Association) found that 50 percent of members said that they stayed with their current gym based on the convenience of its location…
…What's more convenient than your own home?
If you're ready to say goodbye to a 50/50 chance you'll get to the gym or if you're ready to expand upon your current home-based bodyweight workouts, in my opinion, there are only 3 Essentials you need to get started.
The 3 Home Gym Essentials:
Dumbbells of varying weights – dumbbells are a versatile tool that add load and intensity to every exercise. They help you build muscle and learn to control your body against gravity. Ideally you'll have at lease 3 different weights to choose from providing appropriate load for various exercises.
Beginners may want to start with a lighter set of 5 lbs., 8 lbs., and 10 lbs., while more experienced exercisers may be able to choose a wider range of weights.
Advanced exercisers will be able to handle even higher weights and will know the appropriate increments for their needs. For example, depending on the exercise I can range from 8-lb. to 55-lb. weights!
Hex dumbbells typically sell per pound so a 15-lb. dumbbell will cost $15.00 – but Walmart and Amazon have great deals on rubber coated Hex dumbbells for sets of 2.
A fit ball – a good quality fit ball will range from $20 -$40, but is worth every penny. It will serve as your platform for all supine (lying face up) exercises, as well as many core and lower body exercises like planks, pushups, crunches, ball squats, lunges, hamstring curls, and bridging.
Make sure to choose the correct height – when fully inflated your knees should be bent to 90 degrees with feet flat on the floor while seated. Ensure the one you buy is "burst-resistant". The following are some good quality brands made to last:

Duraball
Fitball
Nautilus
Black Mountain

An exercise mat – a good mat to support your neck, back, hips, knees, hands, or forearms in all the various positions you may find yourself in during workouts is a must. Protect your joints and the bony areas that are sensitive to pressure so you can focus on proper form and muscle engagement rather than how the floor is digging into your spine!
Some yoga mats may be fine (and will serve a dual purpose) but I find for interval and weight-training workouts a heavy non-slip mat with more cushion is preferable.
Everything outside of those 3 pieces of equipment is bonus material…
It will expand your exercise variety, accelerate your fitness, and challenge your body in new ways to keep things exciting — but if you're just getting started at home this is all you need.
But wait, there's more… One More!
Now, there is ONE simple piece of equipment that I didn't mention.
I can attest to the transformation in strength and fitness since I've used it on a regular basis. The best part is, it will help you chisel out those coveted 6-pack abs!
A pull-up bar is one of the most simple pieces of equipment that yields incredible physical transformations when employed with consistency — and it is typically easy to find or install in your home.
In my brand new neighborhood, which is still being developed, there are already four different places to find a pull-up bar. Parks, jungle gyms, and recreation centers all provide the perfect place to practice your pull ups. An at-home option is to install one in your workout room or over the door frame.
Make sure you investigate your door to ensure it's sturdy enough to hold — here's a great resource to check out: http://easybuypal.com/learn/doorway-pull-up-bar-guide/
So, all-in you can spend less than $125 to get your home gym outfitted with the 3 Essentials – 3 sets of dumbbells, a Fit ball, and a mat. Here's an example from my own experience:
Dumbbells – $81 for a set of 8 lbs., 15 lbs., 20 lbs. from Wal-Mart
Fit Ball – $25 from Black Mountain on Amazon
Mat – $18 from Walmart
That's $124 for some high quality products – I know super-thrifty shoppers can find even better deals to bring the price down.
As you build your home gym here some great extras to collect over time:
For Flexibility and Recovery:
Foam Roller
Yoga Mat & Blocks
Yoga Strap
For Strength, Power, Functional Balance and Directional Change
A sturdy step up box or old coffee table
Gliding Discs
Bosu ball
For cardio intervals:
For progressive resistance, greater range of motion, exercise assistance, or rehabilitation:
Monster Bands
Exercise bands
For motivation and form awareness:
Creating a home gym is a simple way to take control of your fitness. You can create a space you enjoy so you look forward to working out and can't imagine skipping a day of fun and invigorating movements that boost your energy and make you feel engaged in life!