What You Need to Know Today: January 26
Good afternoon, Early Risers!
Here's what you need to know
TECH
Facebook's best-kept secret is a second website. You know your friend who's been threatening to delete Facebook since 2008 but never does? Well, your friend is running out of excuses. The, I would delete Facebook but I still want to keep in touch with friends, excuse is no longer valid now that Facebook's best-kept secret is out of the bag.
Twitter is afraid to sell, "bok, bok, bok." Is Twitter CEO Jack Dorsey chicken to sell or lazy? According to Re/code Twitter has stopped showing ads to some of its most valuable users. "Sources say Twitter made the move in an attempt to get some of its VIP users to stay engaged with the service." This strategy is on par with laying down across a puddle and telling the girl you've been in love with since middleschool to walk on your back in attempt to win her affection. I can't imagine any self-respecting CEO would endorse this move. Especially when the alternative is… what? An ad-free platform where power users pay a small monthly subscription fee to join? This is a classic wussy move out of desperation.
The 'Donald' (not that Donald) made a really hard solitaire app. Who better to "endorse" your app than Winston Churchill? "Former US defense secretary Donald Rumsfeld is launching a mobile gaming app based on an obscure version of solitaire that Winston Churchill used to play," says Quartz. The most diabolical version of solitaire is back.
CAREER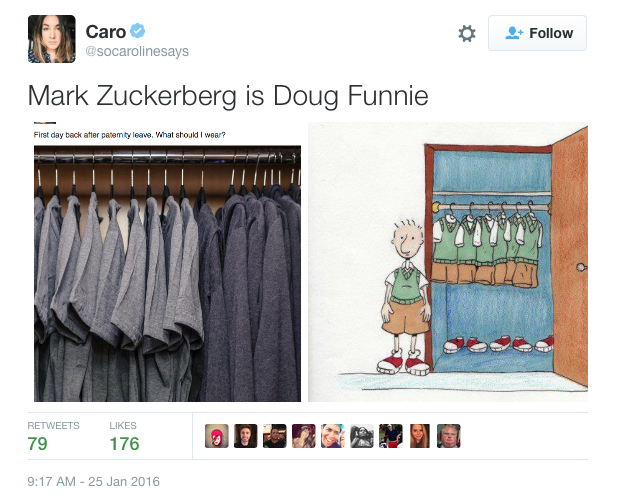 Who wore it best? If you follow Mark Zuckerberg on Facebook, then you probably saw Zuck's recent closet pic. This pic alone will keep American Apparel afloat for the next two quarters as wannabe-tech disruptors buy the uniform. But should you buy into the uniform? The answer is no. First, I think it's fair to assume anyone reading this newsletter already knows why Zuckerberg wears only one outfit — It's the same reason Steve Jobs only wore black turtlenecks and dad jeans, and Obama only wears navy or blue suits. Hint: willpower. But, unless you're already in a position of power, here's why dressing like you're still in college is a bad idea for getting ahead.
Turning mistakes into millions $$$. Netflix and windchill? According to The Daily Dot Tinder saw a surge in swipe rights during Storm Jonas. How is this news? It's not, it's good marketing. Tinder CEO Sean Rad is a wolf in sheep's clothing. He knows exactly how to say the wrong thing at the right time and oddly that's what makes him the perfect CEO for his millennial-targeted business. The Hustleprofiled the controversial CEO here. You won't want to miss this.
LIFESTYLE
The sleepwear struggle is NOT real. I'm calling BS on this — anything to cash-in on the sleep trend. But what do I know? I'm just a guy who sleeps in his boxers. Female Daily Brief readers what do you think? Drop us a line either in the comments or by hitting reply to this email telling us if the sleepwear struggle is real.
Take a look inside a millennial-branded hotel. Zip. Zap. Zig. Zag. Mmm. If McDonald's had a commercial for its Children's Play Area, it might look like the Hilton's "brand essence" video for their new hotel chain Tru. I'm not sure what millennial focus group the Hilton consulted with, but I don't know any millennial who would voluntarily want to stay at a place like this. And what's with the "No desk" policy Hilton? At first this sounds compelling, "No hotel check-in desk," I thought. "Great, everything is done online." Unfortunately, that's not the case. There is literally no desk in your room…
#NOWYOUKNOW
The Biggest Sundance Deal Ever Happened 
The Birth of a Nation which premiered Monday afternoon in Park City to multiple standing ovations, has been picked up by Fox Searchlight at the Sundance Film Festival for $17.5 million, The Hollywood Reporter confirmed. Full story.
Do you like this newsletter? Please send it to a friend! If you don't like this newsletter, please send it to an enemy. If you have questions or feedback, hit "reply" to talk to me.
Did someone send you this? Get your own copy of The Daily Brief sent straight to your inbox every weekday. Click here.
Check out what you missed in the last Daily Brief here.