What You Need to Know Today College Edition: September 14
Good afternoon, Early Risers!
Here's what you need to know
TECH
Why we crave cool? Apple announced today that customer demand for the iPhone 6S and 6S Plus are through the roof! You can bet the guy sitting next to you in calc is probably jonesing for a new iPhone. But can you blame him? In studying the brain, economists have found that when we consume products from status brands, it actually gives us a way to create social networks, friendships, and alliances, says PBS. Paul Solomon reports on why we crave cool?
+ 25 apps college students shouldn't live without.
++ The one app you need to AVOID Freshman 15.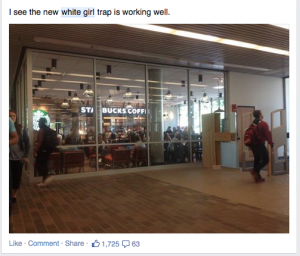 University of Guelph Campus Library Starbucks, 2014
#WhiteGrlProblems. "In 2010, the writer David Oliver Cohen and two collaborators created the Twitter account White Girl Problems, which chronicled the musings of the fictional Babe Walker. It was meant to be a tongue-in-cheek 'platform for our grievances,' said Mr. Cohen, 35. Since then, Babe and her issues ('Why do I always feel fat after I eat a banana?') have inspired two books and yielded a movie deal (a third book is to be published next year). A wine, White Girl Rosé, was introduced over the summer, and about 120,000 bottles have been sold since July. Mr. Cohen lives with his wife, Cristi Andrews, 35, an actress, and their children, Penelope, 5, and Hal, 3, in the West Village" (NYTimes). What I found most surprising about Cohen was that he follows an Early to Rise writing ritual. Read about Cohen's day-to-day, here.
CAREER
What is the point of college? "One vision focuses on how college can be useful — to its graduates, to employers and to a globally competitive America. When presidential candidates talk about making college more affordable, they often mention those benefits, and they measure them largely in dollars and cents. How is it helping postgraduate earnings, or increasing G.D.P.? As college grows more expensive, plenty of people want to know whether they're getting a good return on their investment. They believe in Utility U. Another vision of college centers on what John Stuart Mill called ''experiments in living,'' aimed at getting students ready for life as free men and women." (NY Times) With less and less tenured faculty, the latter vision of college is diminishing. Read more.
Here's what predicts success in college. "Graduates fared better if, during college, they did any one of these: developed a relationship with a mentor; took on a project that lasted a semester or more; did a job or internship directly connected to their chosen field; or became deeply involved in a campus organization or activity (as opposed to minimally involved in a range of things)," says Frank Bruni. Find out how to measure a college's value.
Two types of knowledge. "After receiving the Nobel Prize in Physics in 1918, Max Planck went on tour across Germany. Wherever he was invited, he delivered the same lecture on new quantum mechanics. Over time, his chauffeur grew to know it by heart: 'It has to be boring giving the same speech each time, Professor Planck. How about I do it for you in Munich? You can sit in the front row and wear my chauffeur's cap. That'd give us both a bit of variety.' Planck liked the idea, so that evening the driver held a long lecture on quantum mechanics in front of a distinguished audience. Later, a physics professor stood up with a question. The driver recoiled: 'Never would I have thought that someone from such an advanced city as Munich would ask such a simple question! My chauffeur will answer it.'" Hah! This story from Rolf Dobelli's book The Art of Thinking Clearly, perfectly explains two types of knowledge in this world. Farnam Street Editor, Shane Parrish, explains both types well, here.
+ Must-read books for people in their 20s/college students.
LIFESTYLE
The real reason we need to stop trying to protect everyone's feelings. "A Rutgers student has proposed putting trigger warnings on The Great Gatsby. Robin Thicke's song "Blurred Lines" was banned on many college campuses for promoting rape. Last year, Wellesley students created a petition to remove an art project featuring a lifelike statue of a sleepwalking man in his underwear in the snow because it caused "undue stress." … There's that saying: The road to hell is paved with good intentions. When it comes to censorship, one might say that the road to thought and speech control is paved by people trying to protect other people's feelings." Ryan Holiday reveals how the media is manipulating are feelings about certain sensitive issues.
The ONE thing you need to do every day to be successful in college and life. "When I catch myself falling into this trap and despairing how far I've veered from some pristine but ultimately impossible ideal for my day, I've found it helpful to remember a simple heuristic: judge your day on how well you executed your productivity process, not the details of what you actually produced." Cal Newport explains why process trumps results for daily planning.
#NOWYOUKNOW
Three-time NBA MVP and Pro Basketball Hall of Famer Moses Malone died Sunday in Norfolk, Virginia, at the age of 60.
What you probably didn't know was Moses was the first basketball player ever to bypass college and go straight from high school into the NBA.
Know someone who would benefit from reading The Daily Brief? Send this.
Check out what you missed in the last Daily Brief here.