How I Used a Podcast to Create Two Best-Selling Books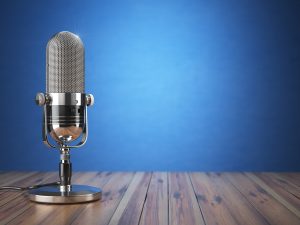 When I first created my podcast-into-book service, I used it for myself.  It "wrote" my book Cutting Edge Marketing Magic for me, with 18 amazing guests — including the CEOs of marketing firms who handled the NFL, AT&T, and MTV (folks I otherwise never would have gotten in front of.
Then it got me in front of 47 Public Relations professionals for my PR segments (which is the content for my upcoming Public Relations Marketing Magic book).
My 6th book, Market Domination for Podcasting worked the same way, and got me in front of 21 top podcasters whose audiences are in the millions. That's when I knew I was on to something, and started offering this service to other clients.
But let's back up a second and start at the beginning. What is podcasting and why do you need it?
Basically, a podcast is a radio show on your phone. There are many places to listen to them, but iTunes is the 800-pound gorilla in the space.
There are over one billion people listening to podcasts right now, and by 2020 that number will triple to 3 billion listeners. Why? Because of a deal with every major car manufacturer, the iTunes podcast interface will come built into your car. That's a lot of potential prospects for your business.
Why wouldn't you do a radio show instead?
Radio is expensive, and it takes time to build an audience. And because radio is too broad in its reach, there is no way to segment to just the people you want. That means you pay for all the people the show could reach, not just for the people for which your show is actually meant.
Radio is a spray and pray machine-gun approach, while podcasts are a sniper rifle with a laser scope fired by a Navy SEAL. Podcasting is also cheap in comparison to traditional radio, and it takes only 20-30 minutes a week.
What about the technology?
That's the best part. You don't need any fancy equipment or expensive studio setup.  All you need is a phone, or free video chat software.
Who do you interview?
A good place to start is with your own clients. When you interview them, they will share it with their social media followers and friends, thereby improving retention. If you feature your clients on various podcast episodes, telling their success stories, and they start getting more exposure, they will love you even more for putting them on the show, and will want to stay longer.
You could also interview centers of influence that would then share the show with their networks, thus generating referrals for you.
You could interview prospects you want as clients, and in the process build a relationship with them in a way nothing else can.
Once you've interviewed some clients you'll want to get in front of your ideal referral sources, A++ level potential clients, people you look up to and admire, people you want to be mentored by and learn from, and anyone else you want to get your foot in the door with. You could interview these people and pick their brains on the air.
It will help make you famous to the people you want to be famous to. It increases your visibility (remember, over 1 billion people are listening to podcasts now), and your credibility (it makes you a published author without the hard work of writing).
What do you do next?
Turn your podcast into content! If you do a video interview, the video goes to YouTube. Then the audio goes to iTunes as your audio Podcast. The transcript turns into a blog post, social media content, and a chapter in your book on the topic.
Then when you have the book published, you hold a book launch party where everyone in the book comes out and signs copies of it (and they bring their clients with them).
Define your goal
Begin with the end in mind. Why are you doing the show and turning it into a book?
Do you want more exposure? More referrals? More Leads? More A+ Clients? Or all of the above?
Then determine who is your ideal guest. What clients would tell the best story about you? Who could be a great referral source? Who do you want the show and book to be about?
Those answers will help inform the topic and theme of the show.
This year, Scott Hallman, who has spoken at GKIC events, came to us looking to get in front of his A++ potential clients, the CEOs of some of the best companies on the Inc. 500. Within 3 months we had gotten him interviews with 23 Inc. 500 CEOs for his podcast and book.
"I have done in depth interviews with each of them for the podcast and the book, and started relationships with them in a way I never could have before, Scott says. "I can't wait to be a household name to the Inc. 500."
(Editor's note: To get a free download of Seth's new book, Market Domination for Podcasting, and access to a live training where you'll learn his step-by-step process, go here.)