How to Use Goal Setting to Get What You Want
In today's video, it's time to roll up our sleeves and get down to business. You'll discover the uncanny story of how one specific goal that I set in 2003 finally became a reality this year. But first, you'll learn how to use two simple goals to get what you want out of life.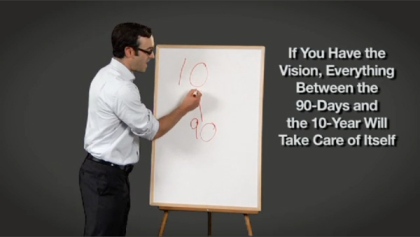 You'll finally learn how my opportunity to get involved with Early to Rise came to be. It's a story that still amazes me every time I tell it.
You'll also get a lot out of the quick little goal setting session, so make sure to be as specific as possible when you start applying the tips in today's video. Don't hold anything back. And keep this information on hand to review on a regular basis. Get this done and you'll be well on your way to achieving your American Dream.
In the next video, we're going to completely change things up and dive into three very personal daily habits that I have and do every day. It's an intimate look at three things you can implement in just a few minutes each day, that will have a tremendous impact on your success and give you a life well lived.
Until then, we'd love to hear from you about your big goals in the comments section below today's video. Don't be shy. Remember, if I hadn't have shared my big goals with my business coaches and with people in my network, I wouldn't be writing to you today.
Don't miss today's video – please watch it here and have your say.
Sharing your goals with other positive people will help bring them about faster. Get your goals out there and attract people into your life that will help you make them a reality.
Craig Ballantyne