The #1 Deadliest Email Marketing Mistake of 2018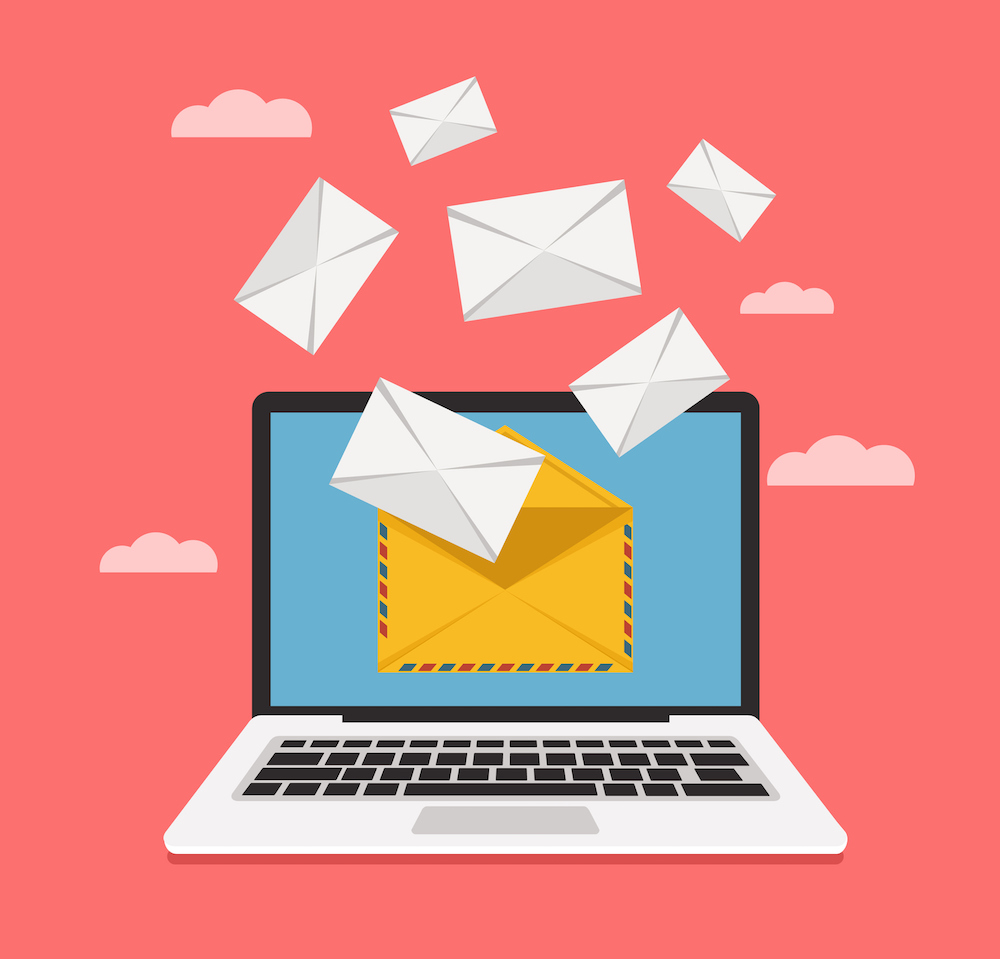 Can I be honest? 
Your business can probably be making 20-40% more money by the end of today. 
How? Not with Facebook ads. Not with the latest overly-complicated marketing funnel. It's much simpler than all of that. You can raise your revenue today with an email.
After growing my company from $11,000 to over $800,000 per month in nine short months, I've discovered one truth: Email is king. Yet most businesses send emails that leave money on the table. 
Why?
The reason is that most businesses focus on whispers. This is deadly. See, whispers are tiny details. These details drain your time and your energy without any significant boost to your bottom line.
So no, the secret behind a winning email marketing campaign is not in your subject lines. It's not in your open rates. It's not even in your click-through rates. 
The secret is showing up like no one else in your reader's inbox.
In other words, WHAT you say in an email is far less important than WHO is saying it.
Let's break down an example so you know exactly what NOT to do: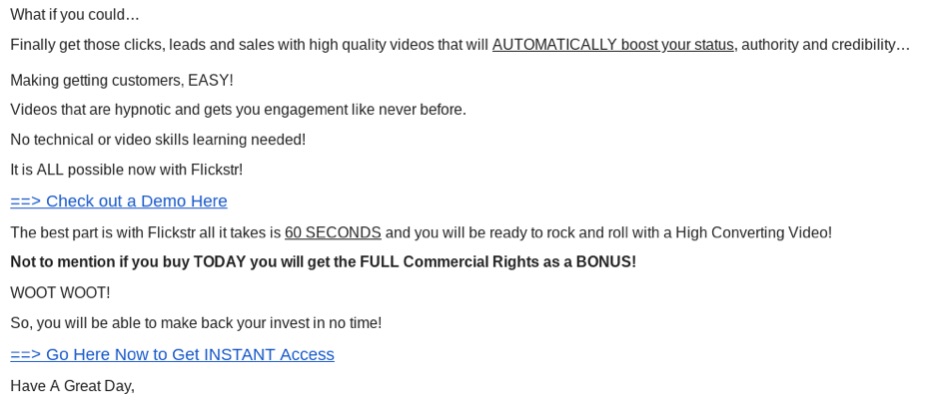 The sales copy is good, right? But here's the problem: Does this email seem like it's from a trusted advisor? Or from a slick salesman trying to make a quick buck? 
Think about it. How do you decide what to buy? Do you read ratings on Yelp? Do you peruse Amazon reviews? Do you ask friends and family for recommendations?
You seek advice from a trusted source. Your readers are the same!
At the end of the day, if you want your leads to open your emails ready to buy, you need their trust. You earn that trust by having your reader's best interest at heart.
Are you putting your readers' interests, fears, hopes, problems, and success front and center? Or are you hard-selling in every message you send?
When you put your readers first, you'll see everything from your open rates to your revenue increase. Your readers will feel known, comforted, and entertained. The result? A monsoon of sales each time you write an email and click your "send" button.
Here's an example of how I do this: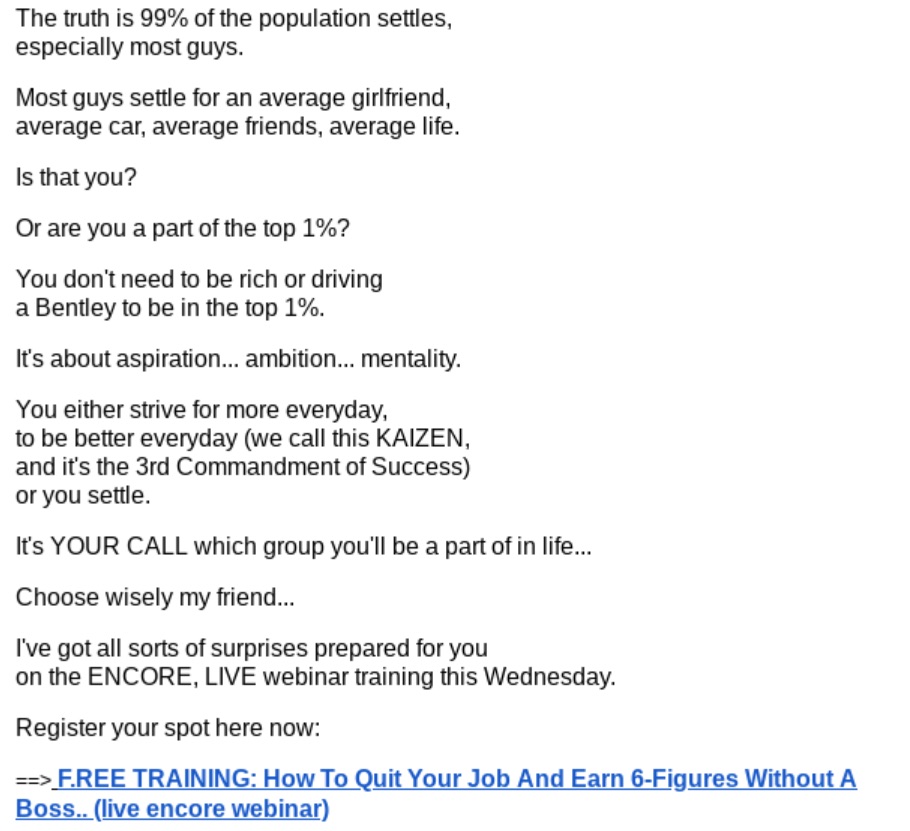 Did you notice I'm not giving my readers any content?  I'm not telling them how to earn 6 figures because content is everywhere today. 
This is true for your niche, too. Your readers have the option to read a book, go to a blog, watch a YouTube video, and so on if they solely want content. 
You have to offer them something above and beyond content—unique value from a trusted source. Here's how you do that:
1.Make your readers feel known.

 
In the example above, I tell my list that I understand the frustration of being in a society that settles for average when you're wildly ambitious. I let my readers feel known and they love me for it.
2. Challenge your readers.
What type of people challenge you in your life? Personally, people who challenge me include lifelong friends, my longterm girlfriend, and my mentors. Can you see how challenging your readers through email allows you to make sales AND appear as a trusted mentor?
3. Help readers imagine their success. 
Again, it's key to know what your readers want. In my email above, I asked myself, "Why does my customer want the solution I'm providing"? 
For example, in my situation, I show people how to shatter their income goals through email. Why they want to shatter their income goals is never to simply make more money. A reader may want to pay off a mortgage in full. Or he/she may want to travel with their spouse to Italy. They may even want to buy a Ferrari.
The more specific you are, the more your reader can see, feel, hear, and even taste their dreams.
If you're the business that lets your readers experience their dream life, makes them feel known, and challenges them to grow, then your emails will make tons of money each and every day.
#
We can both agree that email is king in the realm of online marketing. I know, everyone says social media (notably Facebook advertising) is where the money is. Yet here are the facts: 
Email is three times bigger than Facebook.

 

There are about 2 million Facebook accounts and over 6 million email accounts.

 

Sending an email is free.
It doesn't matter if you sell services, coaching, or low-cost products like ink cartridges. The sooner you start sending these emails, the faster you'll see your profits grow. 
#
Tell me in the comments below: How will you use email marketing to grow your revenue today?