Summer Recipes (Perfect for July 4th)
On July 4th, we celebrate our independence from the British Empire.
This American holiday is a very special day for all Americans. And indeed it is for me. Maybe because I used to live in Philadelphia, where the Declaration of Independence was adopted on July 4, 1776. And also because I became an American just two years ago, and I don't take this lightly.
Whatever your plans are for this year's July 4th, I'm sure it will involve gathering with family and friends. And I'm sure it will also involve food.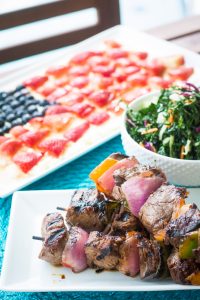 Today I wanted to share 3 recipes, and a bonus video for a dessert which I call Red, White, and Blueberry. You'll have fun putting it all together and impress your friends and family as you gather for 4th of July.
My first recipe is Marinated Kebabs with Soy and Ginger. I have talked about marinating before in this article and in my Masterclass. Soy, ginger, and extra-virgin olive oil is always a great marinade to give flavor to meat, especially beef.
Once the beef cubes have marinated, I skewer them and they're ready to grill.
[Chef Tip Alert] Make sure you soak your bamboo skewers in water for about an hour, so that they don't burn when you grill them.
When you grill, make sure you preheat the grill and control the heat (medium high) so that your meat has a chance to build a nice golden brown crust, but does not burn.
My next recipe is as healthy as it gets and as traditional as it gets. It's a twist on coleslaw. Same thing, although I add a lot of black kale to boost fiber and nutrient intake significantly, so that you can burn fat, even on holidays.
Make sure you thinly slice the kale. It will look nice and pretty.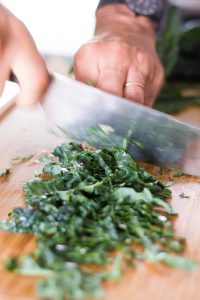 Finally, my last recipe looks like this: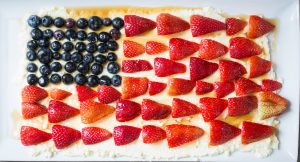 Because it's so easy to make, I wanted to share with you a fun, bonus recipe so you can do it. Even better, do it with your children if you have any; it's a fun activity.
Let me wish you a happy Fourth of July. Remember to reflect on our armed forces who each and every day guarantee our independence. Gather together with family and friends and take good care of them, as well as your body. More importantly, don't take anything for granted.
To your success,