Search Engine Optimization Is Easy
About a year and a half ago, a family friend started a business selling women's active wear. She had no website — and no plans to create one.
She sold her goods by driving door to door, visiting every gym she could find. She was doing okay. But the time and effort — not to mention gas — she was putting into it was crazy.
Her products were great, and the people who purchased them were always happy to buy from her again. But her only follow-up with them was by phone. She worked out of her tiny two-bedroom house. And because she couldn't afford to have someone else handle order fulfillment, there were so many boxes piled up that you could hardly walk through the house without tripping over one.
I thought to myself … "If she had some way to reach her customers WITHOUT running all over town, she could seriously improve her sales."
I offered to help her set up a website and bring her business to the Internet. And because she had limited funds, the main business-building strategy I recommended was to drive free traffic to her site using search engine optimization (SEO). (Actually, even if you have a big budget, free traffic is always best in my book.)
She finally agreed. And BAM! She is now selling about $10K per month on her website. She has even picked up a few wholesale accounts from big-name national gyms. And that doesn't include the phone orders she is still taking.
Needless to say … she no longer drives anywhere to make sales. People find HER on the Web, quickly and easily.
If you have a brick-and-mortar business you want to take online — or if you want to start an Internet business from scratch — here's how I helped my friend …
I developed a VERY simple shopping cart for her website, using www.OSCommerce.com  as her e-commerce platform. OsCommerce is free software that you can easily install to run your own online store. It is used on over 1 million websites, so it's been tested thoroughly by many Web professionals. (Just perform a search for "Powered by OSCommerce" and you'll see.)
Then I taught her how to enter in her products. And I taught her how to input product descriptions using targeted keywords for SEO. (I just taught her the basics.) And before long, her website began getting free SEO traffic. In fact, she started getting it quicker than even I expected.
Let me show you what I mean. (I've got her permission to do this, of course.)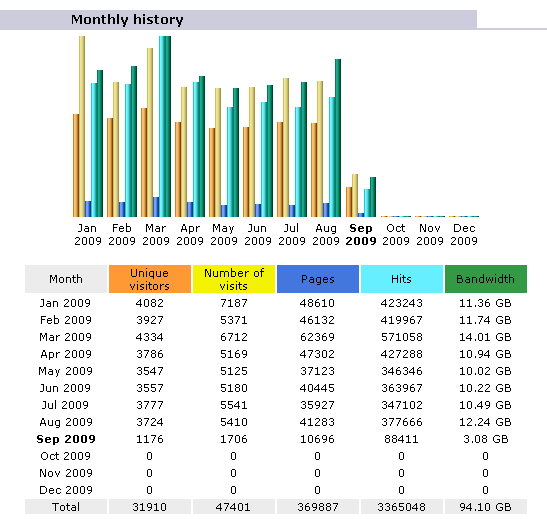 As you can see, she's been getting a lot of free traffic from the search engines.
And 99.9 percent of her traffic is for the "targeted" keywords she's used on her site: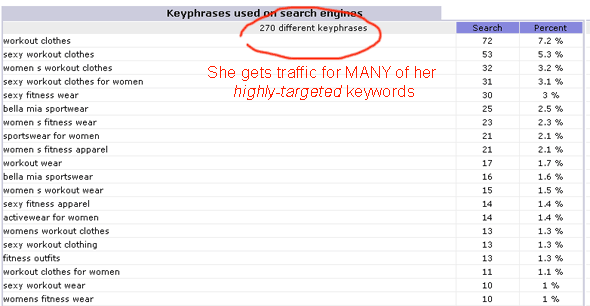 Here are some of the tips I gave her to get that traffic:
1. Make sure the name you enter for each product on your site includes some of your keywords. If, for example, my friend enters a pair of low-cut workout pants, she might name them something like "Sexy Women's Workout Pants."
2. When you write a description for each product, insert keywords close to the beginning of the copy.
3. If a product comes in different colors, enter each one individually. This creates more website pages, because each product has its own page in the system. (And for SEO, the more pages a site has, the better.) The trick is to make sure you have different product names and descriptions. They can be close, but not using the exact verbiage.
Search engine optimization is the main technique I used to help my friend get free traffic — but not the only one. Another technique that worked really well for her was to build outside links to her website. In particular, I showed her how to find forums and blogs related to her niche. And I taught her how to post her opinions, ideas, and comments on those sites — and link her postings to her website.
Even if a site doesn't "officially" allow you to include your link, you can usually find a way to sneak it in. For example, here's a comment she posted on a website dedicated to health and fitness:
"I was working out one day and my fat thighs were tearing at the seam, so I thought it was time to buy new gear. I found a great place (www.bellamiasportswear.com), and they had some of the hottest outfits I've seen in a while."
Not only did she get her link in, she did it as a third-party recommendation. And that kind of testimonial is probably the best advertising there is.
By the way, it's important to post useful content on these websites. Don't just "hit and run" with your site address. Join the conversation.
Throughout the learning process, my friend absorbed the tidbits of information I gave her. Even though she had known NOTHING about the Internet, she merely followed my simple instructions and kept plugging away.
Eventually, she felt ready to manage the website on her own. And she did great.
Now, she's gearing up to open two websites in different (but related) markets: one for men's workout wear and one for nutritional supplements.
And to think … before I stepped in, she had never realized how easy it is to make a fortune on the Web.
She had the right attitude. She was willing to learn a boatload of new skills. She pushed forward even though she was unsure. And she was well rewarded as a result.
You can do it too.
If you're not interested in learning the technical skills, not a problem. There are many freelancers out there who can do just about anything you need for a very reasonable fee. (Because they work from home, they don't mind charging less than you might expect.)
Bottom line: You really can't afford to sit back and watch others make their fortunes simply because you don't dare take that first step.
Like any other business, marketing your product or service online takes a little time to set up. But the financial and personal freedom you'll enjoy makes it worth it.
The time is NOW folks!
P.S. There are many resources out there that can help you — and you should take full advantage of them, if you can. I know of one, for example, that is tailor-made for those who want to start their own online business. No previous experience necessary. Find out more about it here.