Never Eat A Boring Meal Again – I Love this 3-Step Formula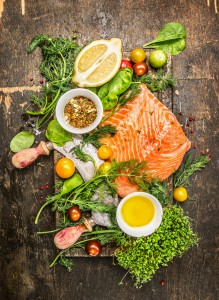 Inspired by a recent post from my colleague, Chef Gui, I decided to play around with his 3-step formula to create some fun dips, dinner toppers, and snack spreads of my own…
Chef is an incredibly creative and passionate food writer, author, and Master of the Kitchen – he's always whipping up amazing, healthy, delicious meals that I can't help but drool over.
I love how he demystifies the preparation and cooking process – making it simple and inviting. What a gift!
If you haven't seen his article sharing his 3-Step Formula to Whip Up Any Dip or Spread, you need to check it out. It's such a simple way to get inspired in the kitchen – you'll transform your go-to meals by topping them with fun new flavors!
Here are some of the experiments I have created that received rave reviews from the family…
Lemon-Zested Ricotta = whole milk ricotta + Lemon zest + sea salt & black pepper. I put this on my roasted kale salad and sunny side up egg (omg was that good!)
Roasted Kale Salad with Sunny Eggs & Lemon Zested Ricotta
Active time: 10 minutes | Cook time: 10 minutes | Yield: 2 servings |
1 bunch fresh kale, leaves torn from the stem into small pieces
½ pound fresh Crimini mushrooms, cleaned and sliced
1 red bell pepper, thinly sliced into 1-inch strips
2 whole carrots, washed and grated
¼ cup fresh green peas
1 lemon, zest reserved
1 cup whole milk ricotta cheese
2 eggs
sea salt
black pepper
garlic powder
Roast the Veggies:
Heat oven to 400 degrees.
Place mushrooms on a small roasting pan or glass baking dish. Drizzle with 1 tablespoon olive oil; sprinkle with sea salt and garlic powder then toss well to coat.
Place torn kale leaves on a large roasting pan. Drizzle with 1 tablespoon olive oil and sprinkle with seas salt. Massage kale with hands (I use nitrile gloves) to soften the kale and coat with oil.
Roast the mushrooms and the kale for 8-10 minutes or until desired degree of doneness. Make sure the kale does not burn.
While veggies roast, prepare other ingredients:
Season the ricotta with the zest of one lemon, ¼ teaspoon sea salt and ¼ teaspoon pepper. Mix well then set aside.
Heat a skillet, add a little olive oil and toss the peas into the pan. Sauté for just 2 minutes. Remove and set aside.
In the same skillet, add a little more oil if needed then crack open two eggs without breaking the yolk. Cook until desired degree of doneness (I like a fully cooked white but a runny yolk).
Assemble the salad:
Place ½ the Kale onto a plate (or in a large bowl)
Add mushrooms, carrot, bell pepper, and peas
Top with ½ cup of Lemon Zested Ricotta
Finish with a Sunny Egg
Enjoy!
Avocado, Lime & Basil = fresh avocado + lime juice and fresh basil + sea salt & black pepper
Dipped with grilled shrimp, cucumber, carrot, and bell peppers sticks (another winner!)
Herbed Walnut Butter Crumble = walnut butter + crushed fresh thyme + maple syrup, cinnamon and sea salt
Topped onto fresh pear slices (okay- I'm serious when I say this tastes like a pear crumble!)
Chef's Quick 3-Step Formula has helped me to think outside the box and infuse my favorite go-to meals with even more flavor and variety. I'm having so much fun in the kitchen again!
Click here to check out his 3-Step formula so you never have another boring meal again… Cheers!
In Love & Gratitude,

Missi Holt