Make the Jump From Employee To Entrepreneur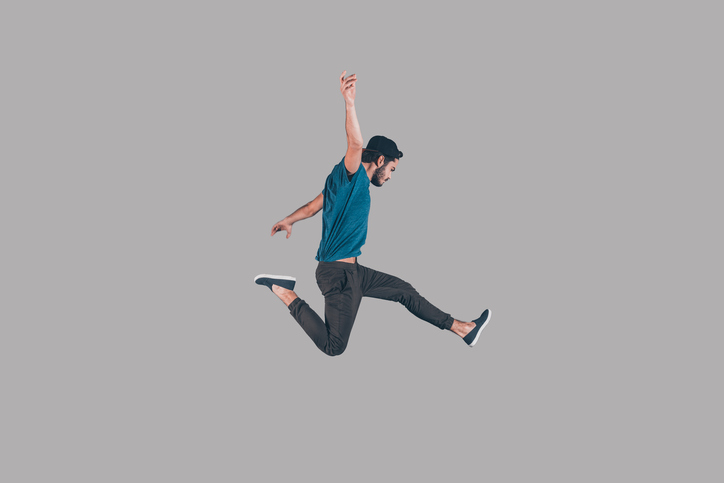 Making the decision to jump from employee to entrepreneur full-time and go "all in" on my own business was one of the hardest and most rewarding experiences of my life.
After working in corporate America for over 15 years, I started my own business, ezClocker. One of the biggest challenges I faced was transitioning from the structured environment of an employee to my new flexible lifestyle as an entrepreneur.
The adjustment was hard.
While I always thought I was in control of my time, I often felt like I wasn't actually in control at all. If you're bootstrapping your company like I was, you're likely wearing many hats – for example, you're the one creating the product, talking to customers, and doing the marketing – and it can be overwhelming.
Back then I felt like I was the only one struggling with this career transition, and then I attended a conference that included a fireside chat with broadcast journalist Soledad O'Brien.
She discussed how hectic her schedule had been when she worked for CNN. She would wake up at 4 a.m. every day in order to be at the studio before 6 a.m. Then she wouldn't get home until 5 p.m. or 6 p.m. in the evenings. After spending time with her family and doing chores, she wouldn't get to bed until 11 p.m. or midnight, and then she'd prepare to do it all over again the next day.
Although she admitted that her schedule was crazy back then, it was still a schedule which she followed and didn't have to create herself or even think about.
Today O'Brien has her own media production company, so she gets to make the rules. But she also has the responsibility of setting the priorities for her day and constructing her own schedule. And it turns out that this is sometimes even more challenging and overwhelming than working for a demanding company.
What O'Brien said really hit home for me.
Back in my corporate job, my schedule for most days was already set. Team meetings were scheduled, projects had due dates, and we knew when busy season was going to come and how long it would last. In addition, I didn't have to worry about marketing campaigns or customer support because we had teams dedicated to that. All I had to do was focus on accomplishing my own tasks.
Eventually, I got better at being my own boss. Here's some advice that helped me transition from employee to entrepreneur:
Take Care of Your Finances
Fear of running out of money and not being able to provide for yourself or your family is one of the biggest reasons people stay at their current job. To conquer this fear, you need to save as much money as you can before making the jump.
But how much is enough? When I was an employee I faced this problem. Do I save enough money for one year? Three years? To help me make a decision I wrote down all of my major monthly expenses – rent, food, cell phone bill, car insurance, health insurance, etc. – and I created a goal to save enough to cover two years' worth of expenses.
Why so much? Because no matter how much you estimate things will cost, you'll inevitably discover that your new company or product takes longer and costs more than you expected.
If you don't have enough savings to cover your expenses for two years, plan to work a few contracting jobs to pay the bills while you reverse roles. Instead of working full time and focusing on your startup on the side, work full time on your startup and use your nights and weekends for contracting jobs. Taking care of your finances will reduce stress so that you can focus on building your company.
Build Your Support Team
Being an entrepreneur is a lonely journey sometimes, especially if you've worked most of your adult life as an employee. You often don't realize how many other entrepreneurs and friends are employees. It can be hard to relate.
You'll need to build your support team by surrounding yourself with like-minded people. Join entrepreneur organizations, attend relevant events, and think about utilizing a co-working space. If you don't have an organization for entrepreneurs in your town, consider joining an online group.
In addition to networking with other entrepreneurs, you need mentors for support and advice. When you first start your business, there'll be no shortage of people giving you their words of wisdom – friends, spouses, parents, you name it! Take all that advice with a grain of salt. And when you do choose to listen, be certain it's from a qualified person who's "been there, done that," like a mentor or fellow entrepreneur. Because watching Shark Tank does not make your friend an expert!
Manage Your Time
Time management was one of the most difficult challenges I faced in my transition from employee to entrepreneur. I've found that the following techniques helped me get more control over my time:
Utilize your calendar. Kevin Kruse, the author of 15 Secrets Successful People Know About Time Management, interviewed over 200 ultra-successful people, including 7 billionaires, 13 Olympians, and a host of accomplished entrepreneurs for his book. He says that most successful people don't use a to-do list. Instead they schedule everything on their calendar. According to Kruse, utilizing your calendar to schedule tasks allows you to free up your mind, since you now have a plan for how to address each of your must-do tasks. You can use the calendar to allocate time for things like meetings, writing, exercise, or even time with family and friends.
Build daily routines. Leigh Michaels, the prolific author of more than eight romance novels, once said, "Waiting for inspiration to write is like standing at the airport waiting for a train. Conditions to produce one's craft are rarely ideal, and waiting for everything to be perfect is almost always an exercise in procrastination." The idea here is that you need to work on your craft every day, even if you don't feel inspired. Build daily routines to help you get organized and reduce stress so that you can achieve this. After leaving my corporate job, I got into the routine of waking up every day around the same time, even on weekends, so that my body would get accustomed to it. This allowed me to focus on ezClocker all day without getting tired. I also take breaks throughout the day during which I'll either do a workout or take a walk in the park and listen to a podcast to de-stress and re-energize.
Use technology. With all the apps and websites on the market today, there's really no excuse not to use them to help you save time and be more productive. Tools like fm help you focus, Workflowy manages your to-do list (if you decide you need one), Sleep Cycle helps you get a better night's sleep, RecurPost helps with Social Media automation, and Asana aids with project management – just to name a few!
Transitioning from employee to entrepreneur is a huge challenge and it can be intimidating, but with the right mindset and a plan, you'll discover strengths and capabilities you never knew you had. As David Viscott said "If you have the courage to begin, you have the courage to succeed."