My Kids' Favorite Pizza Recipe
This is a recipe I am proud of: The Fat-Burning Pizza. It's just an absolute favorite for my children and the rest of my family, and I'm sure yours will also be amazed.
That recipe has allowed many of my clients and readers to indulge in a great tasting pizza, and still lose stubborn belly fat. That's really amazing!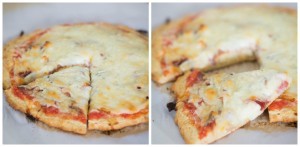 It wasn't easy to engineer, though. You see, every time you try to hack recipes that contain flour, you have to proceed with caution, and experiment with trial and errors.
[Chef Tip Alert] Never substitute flours if you don't know what you're doing.
You see, my Fat-Burning Pizza uses a smart blend of coconut flour (Here's my favorite one on Amazon)
and whole-grain wheat flour (Get my favorite one here)
. Coconut flour is great because it is full of fiber (fat-burning!) and also decreases the overall glycemic index of the entire dish. Whole-grain wheat flour also has more fiber than regular white flour, but still offers the natural "elasticity" of real pizza dough.
So you get the best of both worlds for your pizza-loving family and friends: the look, taste and feel of a real pizza, without putting on the fat.
First, let's start by mixing all the dough ingredients together.
The texture is like a very soft, very moist dough. Almost like a batter. I place it in the middle of a pizza pan lined with parchment paper. And then spread it out with a spatula.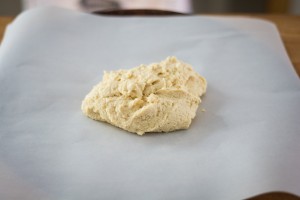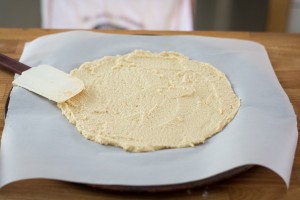 After cooking for 20 minutes at 375 degrees F, the dough is cooked and lightly browned around the edges. I usually top mine with light Parmesan cheese, lean prosciutto, basil, and anchovies, but you can add your toppings of choice. Just make sure the layer of tomato sauce is thin.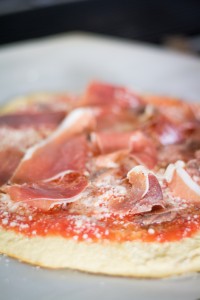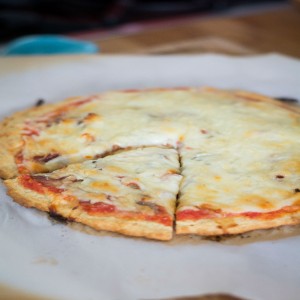 Get the Downloadable Recipe Card Here!
Let me know how your family loves it!

Editor's note: Please note that the first edition of Eat More, Burn More had a typo in some ingredients of The Fat Burning Recipe on page 177. You can grab the updated recipe here.