How YOU Helped Santa Save Christmas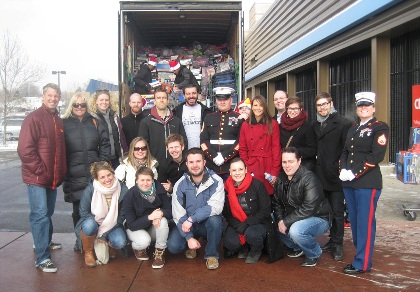 Woo hoo!
I have great news to brighten your already amazing Christmas season!
Here at Early To Rise YOU helped us raise a record $102,173 for the Denver Toys for Tots Marines charity toy drive. With this money, over sixty ETR team members, friends, and family visited three Wal-Mart stores and purchased over 5,000 toys for Denver area children. It was an incredible day.
But why Denver? That is where ETR headquarters is located. But it's likely that your local metropolitan area also has a Toys for Tots drive by the Marines. Search Google for a contact number where you can get in touch and make a donation. It's not too late.
(And why Wal-Mart? I know some scrooges are asking this. The reason is we get the most toys for the money at Wal-Mart. And it's all about helping as many kids as we can.)
You helped Santa save Christmas for these kids. You, yes YOU, have helped make this a magical Christmas morning for a child in Denver that otherwise would have went without a toy. As an ETR reader and customer, your support has helped fund a magical Christmas morning for thousands of needy children.
When you wake up and rub your eyes tomorrow, likely a little exhausted from late Christmas Eve celebrations or from a young'en that got you up a little too early to open presents, let a smile spread across your face knowing that some child, somewhere in Colorado, is playing with the toy that you helped Santa deliver to them.
The Toys for Tots drive was so successful because it was about Living By Example. Our ETR Core Value states:
"An ETR member exudes the principles of EarlytoRise.com at all times, especially when representing ETR. We rise early, manage our time and energy, and are dedicated to a life well lived. We are, of course, not "all work and no play". Time is made for the finer things in life, enjoyed responsibly."
This is our third year being involved with Toys for Tots. The first year began as a simple afternoon shopping trip for Matt Smith and his children in 2011. Matt had read about the toy drive in the Denver paper, and heard that it was falling far short of its goal. He picked up his son and daughter from school one day and took them to Wal-Mart. There they met a couple of Marines and the Smiths filled up two dozen shopping carts with toys to donate to the cause. It was a wonderful experience for his kids, and he knew that he had to do it again, but in a bigger way.
For 2012, Matt invited all of us at ETR to join him, along with many more of his friends and business colleagues. We combined it with the ETR Christmas party and through everyone's donations we were able to buy $60,000 worth of toys. This year we wanted it to be even bigger and better than ever. We set a lofty goal of $100,000, and we knew it was going to take extra effort.
To kick-start our efforts, Bedros Keuilian and I arranged to have a one-day Mastermind meeting with ten entrepreneurs. Each attendee invested $1000 to work with Bedros and I that day, and together we were able to raise $10,000 for the toy drive. We were off to a great start.
We also went to our friends at BioTrust.com, BeyondDiet.com, JasonFerruggia.com, and to our friends that couldn't make it, such as Barry Dunlop all the way over in London, England. These kind and generous folks all sent in donations, ranging from $1000 to $15,000 (thanks BioTrust!). Young Daniel Woodrum, a trainer and nutrition expert in Charleston, South Carolina, sent in $600 – all from the proceeds of his recent cookbook product release. People were digging deep. It was so wonderful to see.
In addition, over thirty-five friends and colleagues flew or drove to Denver for the big day, Saturday, December 7th. We boarded buses at 9am and drove off to our Wal-Mart stores. There we were met by Marines and a local rugby team to help load our toys into giant trucks. Five thousand toys is a lot of Hot Wheel cars, let me tell you!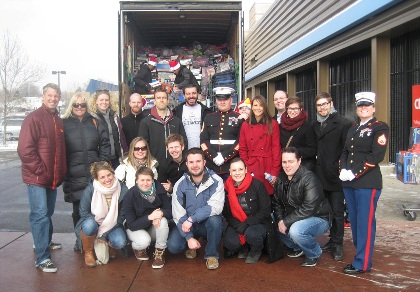 Three hours later, by the end of our shopping sprees, we had reached our goal. The final tally, delivered that night at our Christmas party, was $102,173. At an average of $20 per toy, that brought us to just over 5,000 toys. Picture that! There are five thousand little munchkins that will have a smile on their faces tomorrow, all because of you.
Matt Smith and I thank you from the bottom of our hearts for your support. Your help means more to us than you can ever imagine.
Our annual Toys for Tots Drive blossomed into a massive event in the Denver community. We are growing something big and meaningful here, and we are barely scratching the surface. Our goal is to raise $250,000 in 2014, and I believe we could hit $1,000,000 in the 2017 TFT drive. Hopefully that will completely eliminate any empty children's hands and hearts on Christmas morning in Denver.
You probably can't appreciate the impact your donation will have on the kids. If you donate your time to a charity, you know how wonderful it feels to lend a helping hand. You can't put a price tag on it.
And yes, I know, the purpose of charity is not to gain recognition or to do good deeds for our own happiness, but the truth is that we need to remind others to seek out opportunities to help. We can all give a little more back, and if you can, why wouldn't you? T'is the season, after all.
Next year the party will be even bigger and better. I've already lined up several more partners, and thought of three ways to raise more money through our coaching programs and a Black Friday sale on ETR's best resources. Who knows, in a few months time I might need to set our 2014 goal even higher. After all, I want to stay on Santa's "Nice" list. Judging by the photo below, I did okay this year. 😉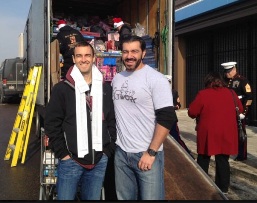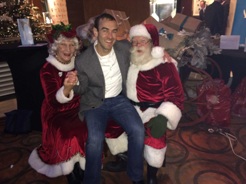 Bedros Keuilan and I with a full truck    Ol' Craiggy on Santa's good list
Thank you again, from the bottom of our hearts.
Merry Christmas to you!
[
Ed Note:
Craig Ballantyne is the editor of Early to Rise (
Join him on Facebook here
) and the author of Financial Independence Monthly, a complete blueprint to helping you take control of your financial future with research of proven methods in your career, in your business and in your personal life. He has created a unique system to show gratitude and appreciation to stay on track for these goals each and every day.
Click here to follow the exact 5-minute system you can use to improve your life.
]