How to Have the Perfectly Productive Day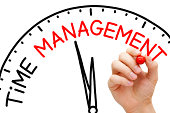 In the movie Groundhog Day, Bill Murray plays Phil Connors, an arrogant weatherman covering the annual Groundhog Day festivities in Punxsutawney, Pennsylvania. After a freak storm strands Connors overnight in the small town, he wakes up to discover that he is destined to relive Groundhog Day over and over again.
Upon realizing he is the only one aware of this time loop, Connors spends days learning languages, pulling off the perfect heist, and eventually trying to romance his co-worker, Rita, played by Andie MacDowell. Despite getting off to a terrible start and being slapped in the face by Rita, Connors eventually learns from each repeated date to turn his Groundhog Day eternal recurrence into a source of personal improvement until he is finally able to break the curse.
While there is no chance you'll ever find yourself stuck in a literal time loop like Connors, you might feel as though you are living through your own personal Groundhog Day. Each of your days is jam-packed with activities. Your to-do list never gets finished. And worse, you know that you're going to wake up tomorrow and have to deal with same vicious cycle over and over again.
But it can get better. Just as Phil Connors found, you must use every mistake as an opportunity to improve. I also live in a Groundhog Day time loop, but mine is filled with perfectly productive days, thanks to my Amazing Productivity Paradox System.
Each of my days, no matter where I am in the world – including this morning, where I'm writing you at 5:07am from my friend Joel Marion's home office near Tampa, Florida – is practically perfect with productivity. And by the time you read this article, I'll have made more progress working on my business than most people will make in a month. That's the difference between working with a system and making it up as you go along, and the difference between having more freedom in your life or more frustration.
It all depends on what I call the Productivity Paradox that states, "The More Structure You Have In Your Day, the More Freedom You Will Have in Your Life".
At first glance that doesn't sound right. How can adding structure, having more rules, and being strict with yourself add up to more freedom?
Best-selling author, Paulo Coelho, agrees with me, saying, "Discipline and freedom are not mutually exclusive but mutually dependent because otherwise, you'd sink into chaos." Eric Barker's research also bears this out. He recently concluded, "Reliable, effective creativity is built on orderly foundations. To be truly creative, you have to be brave enough to be boring."
When you have rules and discipline, and you are brave enough to be boring in your workday, you will get more done. You will be able to leave work on time, not just caught up, but actually ahead of the calendar. You will bring home less baggage, more energy, and full focus for your family.
You CAN have the perfect day – every day. You can finally overcome overwhelm in your life. Today. Tomorrow. And every day.
It all starts with my 5 rules that deliver more structure into your life. Embrace the Productivity Paradox.
Rule #1 – It all starts NOW & the night before
Create and work off lists every day. Never sit in front of a blank computer screen and ask yourself "what should I do now?" Make a list of everything you need to do today. Put the HARDEST thing on the top of the list and get to work.
Rule #2 – Maximize your tomorrow through better sleeping tonight
Listen to the free call (at the link below) and review my article on better sleeping habits here.
Rule #3 – Institute Work Rituals & Routines
Living the Early To Rise lifestyle is the right way to live. A review of the most productive people in history agrees with this way of working. According to best selling author Daniel Coyle, "Do your most important work right after you wake up. Almost to a person, the people in this book accomplish their best work first thing in the morning. This is no accident: our brains function best after sleep, when it's spent hours churning on the problems of the previous day."
Rule #4 – Earn Freedom From Structure
I operate off the same script every day, starting early to maximize my magic time so that I work on my most important priorities at a time where I can naturally triple my productivity compared to my slower times of the day. Amongst other key variables that I explain in my free system at the link below, you must identify, foster, and ruthlessly protect your magic time to get more done and have more freedom.
I'm sure you will recognize the great truth in this, one of my favorite Kekich Credos:
"Life's easy when you live it the hard way…and hard if you try to live it the easy way."
Choose wisely.
Rule #5 – Use these Freedom Fixes immediately
If you're stuck on how to get better, I'll show you seven simple tricks that you can use to become almost instantly more productive. These Freedom Fixes are quick and easy to do, and most cost nothing at all. You don't need an expensive time management seminar – or even a cheap iPhone app – to be more productive. The Freedom Fixes are right there, freely waiting, at your fingertips.
Those are the rules the Productivity Paradox system. It will inject more freedom into your life, and it all starts with having more structure. Sticking to the system will help you get more done, making more money, and help more people – but all within fewer work hours. You will literally work less, but better, being more focused and efficient, and you'll spend less time transitioning through the junk. That means you'll have more time for your loved ones, for your health, and for your hobbies.
This systematic mindset has guaranteed me a life of freedom. Today, you'll discover every single amazing component of my system that allows me to have awesome productive days every day. Each morning the system ensures that I'm working to get closer to my goals and my big vision of helping 10 million people transform their lives. This system – and the rewards that come with it, have allowed me to visit – and work from – over 20 countries all over the globe, while making millions of dollars doing business with my friends, and also, frankly, becoming a better person along the way.
I was born to share this proven system with you. That's why I'm here…to help you achieve more results in less time with less stress, all while improving your health and giving you more time and freedom to spend with your family, friends, and hobbies.
Visit the link below to discover my secret, "Productivity Paradox". I created a free audio and report for you. There are no strings attached. It is my (late Ballantyne's Day) gift to you for being an ETR reader. Thank you for taking action on this plan. Please let me know how it helps you. This is a simple solution that proves you can get more Freedom through having more Structure in your days.
As the ancient stoic philosopher Epictetus once said: "Your nobler self cannot wait any longer. Put principles into practice – now. Stop excuses & procrastination. This is your life!" This is your life. This is your day. Make it your best day ever and grant yourself a life of the greatest freedom through structure.
Click here to listen to a complete walk-through of my Amazing
Productivity System
"Thank you Craig. I implemented some of your suggestions in the "Best Day Ever" recording. And I honestly did have one of my most productive days ever." – Adam Steer
Let me know your feedback in the comments section. Thank you!
[
Ed Note:
Craig Ballantyne is the editor of Early to Rise (
Join him on Facebook here
) and the author of Financial Independence Monthly, a complete blueprint to helping you take control of your financial future with research of proven methods in your career, in your business and in your personal life. He has created a unique system to show gratitude and appreciation to stay on track for these goals each and every day.
Click here to follow the exact 5-minute system you can use to improve your life.
]