How to Have an Amazing 2016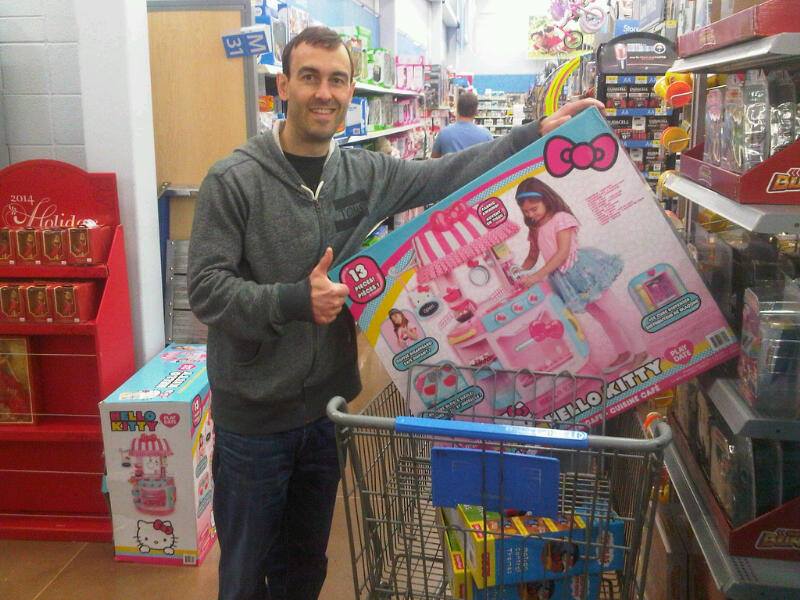 Every December my company, Early To Rise, invites our family and friends to Denver for a charity event called Toys for Tots. The United States Marine Corps have been running this program since 1947, and we've been involved for 4 years.
It all started when Matt Smith, my business partner at ETR, read an article that the Denver TFT drive was short 30,000 toys. Let that sink in for a minute. This isn't a small problem. Every year the Marines need 96,000 toys just for Denver!
After reading that article, Matt and his children, Max and Bella, went to a local Wal-Mart and bought hundreds of toys. It was a wonderful experience for his kids, and he knew that he had to do it again, but in a bigger way.
The next year ETR made an event out of it, and our group bought over $50,000 of toys. Last year we bought $125,000 of toys. Every year it grows.
This year we had friends and family flying in from Bangkok, England, Canada, and all over America. We visited three Wal-Mart stores and purchased over 7,500 toys for Denver area children. It was an incredible day.
But the only way we can do this is thanks to you. Your support of ETR is the only way we can pull this off, and it means the world to us.
TFT shopping with my mom & sister
You made this a magical Christmas morning for a child that otherwise would go without a toy. And if you donate your time to a charity, you know how wonderful it feels to lend a helping hand. You can't put a price tag on it. And yes, I know, the purpose of charity is not to gain recognition or to do good deeds for our own happiness, but the truth is that we need to remind others to seek out opportunities to help. We can all give a little more back, and if you can, why wouldn't you?This year we also held a Once-in-a-Lifetime Business Seminar where Matt Smith and Jeff Schneider revealed the secrets to hiring, planning, mentoring, and most importantly, investing time and money into growing your business and funding your lifestyle.
I was very grateful to those who traveled so far to be with us, including Barry Dunlop from jolly ol' England and Rob Hanly from Bangkok. Next year the party will be even bigger and better. After all, I want to stay on Santa's "Nice" list. Judging by the photo below, I did okay this year – at least with Mrs. Clause! 😉
Mrs. Clause being naughty…
One last lesson… this all started because four years ago an unknown author wrote an article about how the Denver Toys for Tots drive was short by 30,000 toys.Little did that author know that Matt Smith would read that article and then recruit his friends and family to make huge donations each year.
That author threw a pebble in a pond, and from that pebble the ripples were sent outward.
And you can do the same with the work you do in your website business.
There's an old story…
A child walking along the beach sees dozens of starfish stranded on the sand. He picks one up, carries it over to the ocean, and puts it in the water.
A grizzled old man watches and says to the child, "Whaddya doin' that for kid? It ain't gonna make a difference!"
"But it makes a difference to this one," the child said as he returned another stranded starfish to the water.
It makes a difference.
Every article you create encourages someone to transform their life.
Every product you sell moves someone to change their life.
Every toy we donate puts a smile on a child's face and hope in their heart.
Every action we take, every difference we make… matters.
Every… single… one.
So on days when you only make one sale, or when you make a Facebook post or Youtube video and it only gets a few comments or Likes, just remember, all that matters is that it still made a difference for at least one person.
What you do matters. It really does, and that's why we really do what we do.
Thank you from the bottom of our hearts for your support.
Your help means more to us – and to the people reading and watching your content – then you can ever imagine.
So How Will You Measure 2016?
How did yesterday go? How did the week go? How did 2015 go?
Was it good, great, or disappointing? What were your victories? Disappointments?
Make a list of what went right. Figure out how to replicate those. Make a list of what went wrong. Identify how to overcome these obstacles in the future.
Now… how will you measure your life in 2016?
What matters are your family and friends, the people you'll help, the experiences you'll enjoy, the reputation you will build, and the legacy you will leave.
2016 will not be measured through the number of tweets made, emails read, or Youtube videos watched… and certainly not through how many petty arguments you win.
Life is measured by what really matters. Be clear on what does, and make it count.
When you pour love and energy back into your community, it comes back to you 10-fold. That's not why you do it but that's what happens.
So what are you doing today that make things better for someone tomorrow?
Focus on what matters, do good things.
Weigh what really matters against what you know you will regret. Overcome the seduction of short-term pleasures to build your long-term legacy.
Get up earlier tomorrow. Meditate on these questions as the sun rises.
Close your eyes and breathe slowly and deeply.
Let calm come over you as your stress dissipates.
You have no real worries. You have everything you need.
Now shift your thoughts to your end point of "the game."
How much is enough?
What do you really need?
What will you regret if you do not do it?
How does this knowledge change how you should act today, and daily?
Make the right changes & right decisions for your right life – right now!
Craig The Godfather Ballantyne
"Nothing wins more often than superior preparation. Genius is usually preparation." – Kekich Credo #73