How to Find the World's Best Assistant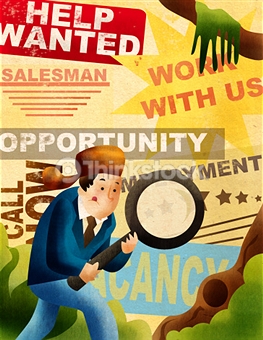 A few years ago I ran a simple ad on Craigslist here in Toronto that attracted some great resumes. The ad was for a role as my assistant, or perhaps more appropriately named, "My Apprentice".
That was how my current Director of Marketing at Turbulence Training entered into the TT World.
She started out doing errands, while at the same time being given plenty of great materials (some of my own as well as Frank Kern's products) to study. She was a masterful apprentice. Her skills grew rapidly. Today she's a big part of my business.
But she's very busy with tasks that aren't worth her time.
And so once again we were back out looking for a new TT apprentice. But we didn't go to Craigslist this time, we went to YOU (and the people on this email list).
After all, very BIG changes are underway at TT. (More details on that soon.)
I put together an even better ad based on one that was put together by Matt Smith, my business partner at ETR.
You are free to model this ad. I know it will help you find an amazing assistant, I mean apprentice, in your business as well.
Make sure you include plenty of detail, with lots of exclusionary descriptions and tasks so that you weed out the people that would just be a waste of your time.
Be very clear in your communication. That's the key. Why get 1000 crappy resumes when you can get 7 great ones.
Put it out there…and you'll find who you need.
Here's the ad that went out from my Director of Marketing:
***
Help Wanted:  You're Not Applying for the Pay
Six years ago I applied to a similar job ad for this same company. Today, I'm the Director of Marketing, and now looking for my own apprentice. If you're looking for an opportunity to learn while getting paid (all be it, not very much), then read on.
Here's the situation…
I'm working on a lot of projects these days, some of which just aren't worth my time but need to get done – that's where you come in.
You're a go-getter who is equally capable of running around the city for errands as you are in designing cool-looking graphics of inspirational quotes for our fan pages (if you have zero design skills and no eye for design then you're probably better off looking elsewhere).
You should also know that I have high expectations. You'll be given responsibility and while you'll be taught and mentored, I don't have time to babysit. Just as important, you must be organized and extremely detail-oriented. I also don't have time to read novels. Efficiency is essential.
All in all, you'll get pushed to your limit, forced to improve, drawn out of your comfort zone, and will experience a priceless education.
If you're interested in being my Apprentice, here's what you need to know:
I'm looking for a driven and ambitious individual. This opportunity isn't for 99.99% of people…but if you're the 1% of the 1%, you'll know it.
We're looking for someone to join the Turbulence Training world as my personal assistant – someone who has a fitness background (preferably), but most importantly, someone who wants to help spread the Turbulence Training message to the world.
You have to be dedicated to our 10 Million Mission. You have to have a deep desire to see people improve their lives. This truly is an opportunity to "leave a dent in the universe", as Steve Jobs once said.
So what's in this for you?
Like I said earlier, I once applied for this same position, and now I'm the Director of Marketing.
Essentially, you'll experience an opportunity to enhance your education at a rate not possible on your own, whether it's studying at home, learning from Craig Ballantyne or someone else on our team, or behind-the-scenes insights that other experts allow Craig to share with just us.
Plus, you'll have the opportunity to help a lot of people and make true impact on the world, while joining a team of the most positive, high-energy, value adders in the fitness industry.
The PERFECT person for this position sees this as the opportunity of a lifetime.
So if you are…
A fast learner
Impeccably organized
Incredibly productive
Results-oriented
Punctual
A great communicator, both written and verbal
A sponge when it comes to learning
Positive and personally powerful
Creatively gifted, with an interest in Photoshop, Illustrator, InDesign and Typography (not required, but an asset)
A driver (you'll have to do errands all across the city)
…then this opportunity is perfect for you if you're willing to bring the right attitude to it.
How to apply:
1) In a cover letter, explain why you're the right person. You have one page, single spaced, 12 point font, Times New Roman font, to make your case. Send me a two page essay and it immediately goes in the trash.
2) Include a 1-page resume. One page. I'll let you guess what happens if it's 2 pages long.
3) Fax your two page total submission to 1.xxx.yyy.zzzz
Compensation:
This will depend, but you won't be overpaid. Remember, this is an Apprenticeship, NOT a regular job. But we will pay the right amount for the right person.
Before I go, here's the bottom line:
For 99.99% of the "average folk", it's too much work, involves a foreign concept called 'learning', and fails to provide enough security. So be it. It's not for them anyway.
Turbulence Training only wants exceptional people.
We only want the 1% of the 1%.
So tell me why, in detail, YOU are the right person for this position along with your financial requirements.
*****
Thanks to the ad, it looks like we've found a couple of really, really great new apprentices for Turbulence Training.
They are going to take off a lot of low-value tasks from my daily to-do list. This will free up time for us to dramatically move the business ahead.
That's the power of the written word at work again.
Use this ad and make more money,
Craig Ballantyne
"Before you are a leader, success is all about yourself. When you become a leader, success is all about growing others." – Jack Welch