How to Be as Happy as God's Right Hand Man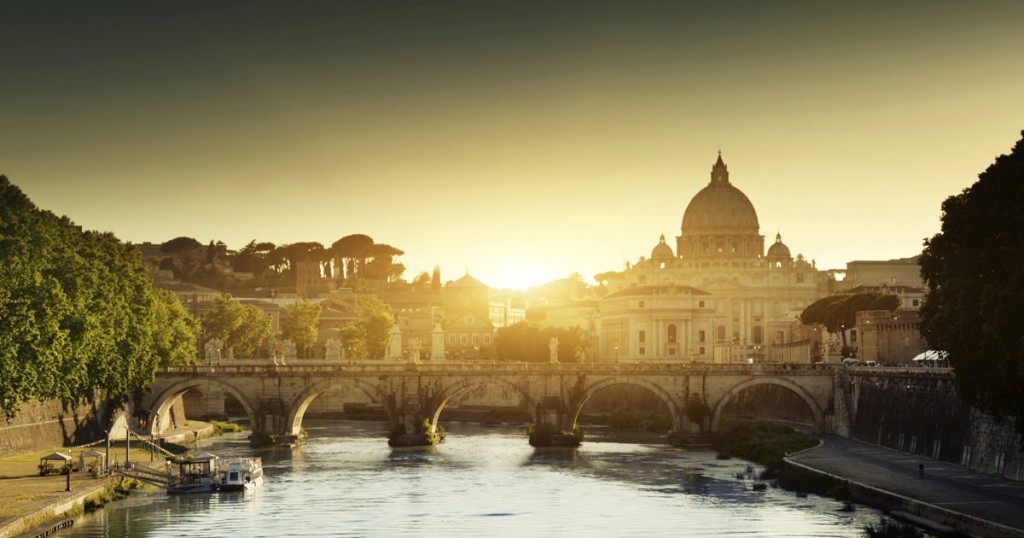 On my last day in Rome, I woke up early in pursuit of a religious experience. I finished my morning readings and set out on a rare run across the Eternal City. My plan was to arrive at the Vatican steps at the same moment as the sunrise, hoping for some sort of epiphany, or at least a memory I would never forget.
The streets were deserted as my short jog took me from the Hotel de Russie across the Via Tomecelli and past Castel Sant'Angelo. In a few minutes I was running down the wide and barren Via della Conciliazione up to the Piazza S. Pietro in front of St. Peter's Basilica. I found myself across from an empty, chained-off square, as though I were in an apocalypse movie and the only man left on earth. I took the opportunity of solitude to, forgive me Father, do a pushup workout on the street corner as I waited for the sun to rise above the top of the surrounding buildings.
But I was not alone. There was one other man already awake.
The old man's alarm goes off at 4:45 each morning in his humble room in St. Martha's House. He has always been an early bird, waking up when the streets are empty and the world outside still dark. This secret, being Early to Rise, allows him to have 'two mornings' so that he can fit more into his day.
That he gets up early is not as surprising as his decision to forgo living in the large, beautiful Renaissance-decorated Apostolic Palace apartment overlooking St Peter's Square. He has instead chosen a modest, and less private, three-room flat in the dull-looking St. Martha's residence tucked behind a gas station. For Pope Francis, this was no sacrifice. It is simply how he lives. Called a workaholic and a man of the people, the Pope prefers fewer worldly distractions and more opportunities to spend time with people at St. Martha's.
He begins each day with prayer and meditation from 5am to 7am in preparation for morning mass, where he'll speak mostly to Vatican staff and select visitors. He greets them all with hugs or handshakes, and when mass ends, he moves to the back of the church to pray. Then he gets up and talks to more people, this time outside of the chapel.
Breakfast follows at 8am in the common room of St. Martha's. He sits at the same table for breakfast, lunch and dinner, but never eats alone. He loves to talk and joke with guests. From his days in Argentina, he has always loved being with people, listening to their problems, and offering wise counsel.
After breakfast his morning is a blur of meetings and public ceremonies. When he breaks for lunch around 2pm, he also takes time to answer letters in his private office. There is little in the room, just a statue of Our Lady of Luján, patron saint of Argentina, a crucifix and a statue of St. Joseph sleeping. He makes phone calls to those whose letters have moved him. On Sundays he calls friends in Argentina, including some of the prisoners he once converted and remains in touch with. After lunch he takes a short siesta.
The rest of the afternoon brings more meetings, finally ending at 7pm. Then it is time for dinner, self-served from the buffet at St. Martha's, followed by prayer, reading, and then bedtime at 10pm. It is a full schedule, and some worry about his health, but the power of his organized routine provides him great productivity. "He plans his work, and works his plan," as Dr. Nido Qubein would say.
His colleagues claim that Pope Francis does not take a vacation, not even in the slow summer months of Rome. "It's something he links back to his time as the Archbishop of Buenos Aires, where a lot of people couldn't really take a vacation. He knows it's a privilege not everyone can enjoy," said one of the Vatican staff members.
Pope Francis has quickly become as well liked as the popular Pope John Paul II. He recently drew 6 million people to a mass in Manila. He is a tireless worker, a man of the people, a devoted Catholic, and a man that seems at peace with the world.
However, even the Pope is not always happy. He misses Argentinian food. He longs to go for a walk around Rome, but"cannot venture outside of these walls".  But in the grand scheme of his duties, that is just fine with him. Pope Francis is fulfilling his mission, building his legacy. He knows that with great power comes great responsibility. That outweighs his wishes for an easy day, a holiday, or a day to walk freely about Rome. He knows that his work will never be done, but he does it tirelessly, sometimes thanklessly, and always diligently.
He does not pursue happiness. I doubt he's read the latest bestsellers devoted to "how to be happy". He's too busy reading a book that matters to him, one that will long outlast the latest happiness fad. I don't know if Pope Francis has ever read Epictetus, but I think he would appreciate the teachings of the Ancient Greek Philosopher.
Epictetus, translated in the Art of Living, said, "Freedom and happiness come from understanding – and working with – our limits. Begin at once a program of self-mastery. Stick with your purpose. Do not seek external approval. Do not worry about anything outside of your control. The only things you command are your thoughts and actions. We choose our response. Stop aspiring to be anyone other than your own best self: for that does fall within your control."
"Once you have determined the spiritual principles you wish to exemplify, abide by these rules as if they were laws. How long can you afford to put off who you really want to be? Your nobler self cannot wait any longer. Put your principles into practice – NOW. Stop the excuses & procrastination. This is your life! The sooner you set yourself to your spiritual program, the happier you will be. The longer you wait, the more you will be vulnerable to mediocrity and feel filled with shame and regret, because you know you are capable of better. From this instant on, vow to stop disappointing yourself. Decide to be extraordinary and do what you need to do – now."
The Pope's life seems just fine with him. He knew what he was getting into, and he's after something bigger than just "feeling good"."My life is as normal as I can make it," he says. He controls his morning, he wins his days, he conquers the chaos, and he concentrates on what counts, which for him is the people, their happiness, and their salvation.
Listen, the Pope can't have it all, and you can't either. And that's okay. Be grateful for what you have. Stop aspiring to impress others. Stop desiring to influence external events or gain external objects that are beyond your control. Stop procrastinating on living the life that really matters to you.
For me, there was no epiphany that morning, but one that has come a few months down the road. I have come to realize there will always be someone richer, better looking, smarter, and yes, happier, than me. It is the same for you. Get over it. Move on to a life of virtue, a life of self-improvement, self-mastery, and becoming your nobler self. "The sooner you set yourself to your spiritual program," says Epictetus, "the happier you will be." That is what Pope Francis has done. That is what we should do as well.
[
Ed Note:
 Craig Ballantyne is the editor of Early to Rise (
Join him on Facebook here
) and the author of FIM, a complete blueprint to helping you take control of your financial future with research of proven methods in your career, in your business and in your personal life. He has created a unique system to show gratitude and appreciation to stay on track for these goals each and every day. 
Click here to follow the exact 5-minute system you can use to improve your life
.]