Free Traffic for Your Website Business
Back in December of 2008, one of my friends gave me the website name, www.KettlebellWorkouts.com as a Christmas gift.
Seriously. That's a 6-figure gift right there.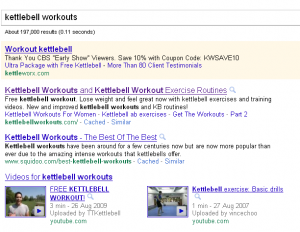 Thanks to the keyword-rich domain name, we now have the #1 ranking for "kettlebell workouts", and that sends us about 480 visitors per day.
So obviously a keyword rich domain is extremely important, but that's not the #1 tip I want to give you today.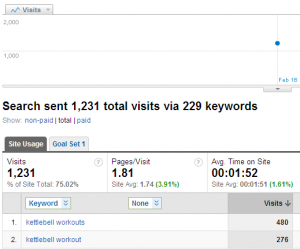 Instead, I want to talk about the site set-up.
In the past, when I didn't really know better, I created all of my income-producing sites to be "static" pages, mostly with the salesletter as the home page.
Eventually I'd add a ton of content to internal pages, but these days, that's not the best approach for getting search engine traffic.
Fortunately, I did right with www.KettlebellWorkouts.com by:
a) Setting the homepage as a blog (using wordpress)
b) Setting the sales page as an internal page
According to my SEO expert, Rick Porter, here's why this is the best approach:
"Currently the trend with Google is that it loves pages that are constantly updating with new content. There are also some other factors in the algorithm such as how much time someone spends on the page, repeat visitors, and bounce rate.
"If you setup the main page as a blog you would certainly get ranking bonuses for people sticking around longer.  Static sales pages are getting tougher and tougher to rank."
Plus, with a little more SEO work from Rick, he promises me that we'll soon have an 'indented double listing' at the top of the page.
That means your blog link will show up first, and right under it will be the link to your sales page.
And if you add some keyword rich videos to youtube with quality backlinks going to the video, you can have one of those on the first page of the search as well.
And if you watch that kettlebell workout video, you'll get proof that I'm a total dork.
So that's the best way to set up your site.
a) Set the homepage as a blog (using wordpress)
b) Set the sales page as an internal page (click "Get The Workouts" to go to the sales page)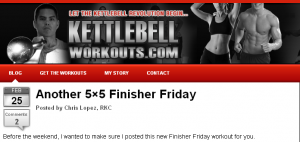 Tomorrow we'll discuss choosing the right keywords for your site.
Oh, and I'll be sending out a link to my website privacy interview with Simon Black later this week too.
Follow those simple steps for more traffic,
Craig Ballantyne
"Give away everything you know & it will come back to you many-fold."