I'll be honest, I don't know anything about FB ads.
Fortunately, Rick Mulready does. (Rick is one of the entrepreneurs joining Matt Smith and myself at our Denver Mastermind this weekend. And since Rick is an action taker, he also sent me this article I wanted to share with you. You can learn more from Rick here.)
 3 Reasons You Can't Ignore Facebook Advertising
By Rick Mulready
If you build it they will come.
The majestic Kevin Costner once heard this advice in the movie "Field of Dreams."  When he heeded it and built his baseball field, the team and fans came, just as that creepy whisper through the cornfield promised.
When it comes to building your business online, however, it's a bit more difficult than following the advice of talking cornfields.
You don't put up a website and create a product only to have readers and customers magically appear. Don't we all wish it were that easy?
Craig tells us all the time that the basis of building an online business is to consistently create great content, give tons of value to our audience and build relationships.
It also doesn't hurt to at least have a basic knowledge of SEO to organically generate traffic from Google.
There's another strategy, though, that I think also has its place in building a site's audience and selling more products/services.
Facebook advertising.
I know, I know.
Paying for traffic to your website tends to have a bad rap.
It shouldn't, though, and I'm going to give you three reasons why I believe you should consider including Facebook Ads in your marketing strategy.
Reason #1: If Facebook Were a Country, It Would Be the Third Largest
There are over 800 million potential customers (yes 800 MILLION!) on Facebook today, more than half of whom are active on the site every day. This number continues to grow and some estimate will reach one billion later this year.
Reason #2: The ability to target your exact niche audience
The unique ability to target ads to your exact niche audience out of these 800+ million users is what separates advertising on Facebook from other forms of paid traffic.
Like it or not, Facebook takes all the info in your personal profile, what you post for status updates, what you write on your friends' Walls, the groups you're part of, etc… and uses it to target ads to you.
Scary, I agree, but as a marketer we can use this to ensure we are putting our ads in front of only those people who can most benefit from our product
or service.
What's Craig's #1 step in his blueprint to making $100K online in 12 months?
Identify your best customer.
Hopefully you have a picture in your mind of who this ideal person is because you MUST understand this prior to starting your advertising on Facebook.
A great way to get your Facebook ads in front of this person is through "Interest targeting."  It gives you the ability to target people who have demonstrated an interest in your niche in some fashion.  You can also target people who are Fans of well-known people in your niche.
Have a website where you teach a unique method for learning guitar?
You can put your ads in front of 20-35 year old males and females who have an interest in guitars, like live music, go to Guitar Center and are fans of Jimi Hendrix.
Reason #3: Create word-of-mouth promotion for your product or service
People are generally more likely to do something if someone they know and trust makes a suggestion to them.
Facebook's "Sponsored Stories" ads allow you to easily create this word-of-mouth promotion.
You've seen ads like these on your Facebook page, right?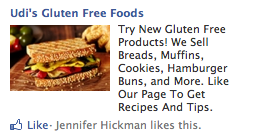 These ads let you promote the actions that people take when they connect with things like your Page, app you've created, or event that you've set up — all within an ad.
They broaden your reach by allowing your fans to help their friends discover your brand and connect with your business.
You notice in the ad example above that I can see a friend of mine has "Liked" this product. Thus, the word-of-mouth promotion.
I'm only scratching the surface here of what's possible with Facebook advertising but hopefully you can see that smartly leveraging Facebook ads can be a very effective compliment to your marketing strategy.
With the massive audience that Facebook provides, and the unique and precise targeting that only Facebook gives you, plus the awesome word-of-mouth promotion, Facebook offers one of the most efficient, cost-effective forms of marketing on the Internet.
Have you tried Facebook ads?
If you haven't yet tried them, I want to help.
I've put together a great FREE guide where I walk you step-by-step through the exact way to set up your own campaign and I explain each step along the way.
Consider it a road-map to conquering Facebook advertising.
By the time you finish reading it, you'll be creating and running your own campaigns.
To download the FREE guide, simply click here: IRockPaidTraffic.com 
Rick Mulready created I Rock Paid Traffic to help online entrepreneurs and small businesses grow their businesses through Facebook advertising.
You can check out his free instructional videos here.  You can also stay up-to-date with the constant changes on Facebook by joining his Facebook community (Facebook.com/IRockPaidTraffic).