Creative Ways to Make Money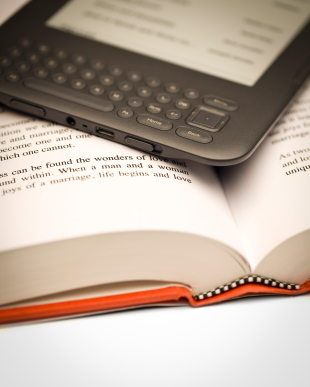 Joe Konrath was turned down by every publisher he contacted so he decided to self-publish his book as an eBook at the Amazon Kindle store. He started in April 2009 and by January 2010 was making $2,300 a month. A year later, in January 2011, he jumped to a whopping $34,000.  In the first three weeks of January 2012 he had already done a mind-blowing $100,000! And he's just one of many of the new breed of successful self-published authors.
Fine and good you say, but there's no way for you to participate in the Kindle revolution because you can't string two sentences together. Not to worry. There's more than one way to skin a cat, and at least four ways to create an eBook without writing a word of it.
Public Domain
Public domain books are works that are no longer subject to copyright. The copyright has expired, either because of age or because it wasn't renewed, and that means it is available for everyone to use that work. It's in the public domain, so it is "available to the public."
"Moby Dick", for example, the classic work by Herman Melville, is one of the millions of books that are in the public domain.
You can use the book as is or you can create some new content from the old work. You therefore create what's called a "derivative work". The hugely popular Disney stories like "Sleeping Beauty", "Snow White", "Pocahontas", "Pinocchio", "Aladdin", "Robin Hood", etc., those are all derivative works. Disney took a public domain work and then created some new content from the old content. And from that came a derivative work they could copyright and claim as their own.
Using public domain works are a quick way to create an eBook but two notes of caution:
Amazon has specific rules about public domain books and what you need to do to get them accepted so follow the rules.
You need to know the rules about public domain and about copyrights, because copyright infringement is a serious, serious matter. There are a lot of free resources on the web that are easy to follow and understand but do take the time to study them.
License It
Don't want to go the public domain route? How about licensing an existing book that's not yet in Kindle format and paying the author part of the royalties you collect. There are nine million print books at Amazon and just over a million Kindle books so that means there are almost eight million books that haven't been converted (and that doesn't count the millions more that aren't even at Amazon).
Of course, some of those print books are published by major publishers and they're not likely to license their books to you. But there are many older books by major publishers that were published before eBooks so the publisher didn't purchase the e-rights from the author. Those authors are prime candidates for licensing, as are the authors who self-published their print books and don't yet have a Kindle up (it's usually because they don't understand how simple it is to convert a print book to eBook).
Thinking you have to go through a lot of books to find the right candidates? Maybe so, but the biggest gold mine in Alaska goes through 33 tons of material to produce an ounce of gold, and they've been happily doing it for years!

Commission It
OK, so you're looking for another way. You can always go to eLance.com, oDesk.com or one of the hundreds of other sites where freelancers hang out and have someone write an eBook for you. For as little as a couple of hundred dollars you could have a 10-15,000 word eBook on a hot topic.  Many print books run 65-75,000 words and more but if you're producing "how to" information for a niche audience they're looking for a quick read with specific information. As long as they close the eBook with the feeling they learned some new and valuable information you'll be fine with the shorter format. I currently have four "Top 10 in Category" eBooks at the Kindle store that I produced in this fashion.
Speak It
When all else fails, just "speak your book." I've done it. It's a piece of cake, and for some people it's the best way to do it.
You could do a teleseminar if you currently have subscribers or an audience. Or you could have someone interview you. Just write down the questions on your topic that are related to the "who, what, when, where, how and why." And of course have the interview recorded.
Or you could interview someone else. If you're going to interview an expert you've got to make sure they allow you to have the rights to your interview but many people will.
You can create an outline and record a presentation like you were speaking to an audience. I did that once. I sat down one Saturday morning on my sofa with an outline and recorded the audio, "How I Created a Six-Figure Income Giving Away a Dead Guy's Book." That started out as an audio and an outline.
We then edited the audio and created audio CDs out of it, and we sold those. A couple of years later we said, "Hey, we've got the CDs. Let's make a book out of them. So we had the audio transcribed. I had an editor (again you can hire freelancers at elance.com, etc.) put it in an organized fashion, and we created an eBook out of it. That easily produced eBook is today a long-time top seller in the "Home Based Business" category at the Kindle store.

Now What?
eBook sales DOUBLED in the past year and it's now a $3 billion-dollar a year business! But that's not the big news. Experts project it to TRIPLE in the next four years (Jupiter Research).
So the big question you should be asking yourself is not how you're going to do it. I've answered that for you. The big question should be WHEN?
How about NOW!
[
Ed. Note
. Evicted from his home in 1996 and his last car lost to repossession a year later, Vic Johnson's story has become an oft-quoted source of inspiration to the more than 300,000 subscribers he serves worldwide. He is the author of a number of best selling books, some of which have been translated into Japanese, Czech, Slovak and Farsi. He has appeared in numerous video programs with Bob Proctor, Jim Rohn, Brian Tracy, Denis Waitley and Mark Victor Hansen, among others. If you're ready to succeed like Vic,
then watch this video to find out more about how you can do it
…]