Best Delta 8 Carts
Best Delta 8 THC Carts
Delta 8 THC Vape Cartridges
Buy Weed Online
Best Delta 8 THC Gummies
THC Gummies
Best THC Gummies
Best Delta 8 Gummies
Area 52 Delta 8 THC Gummies
#1 Deep-Frying Hack: Delicious Coconut Shrimp!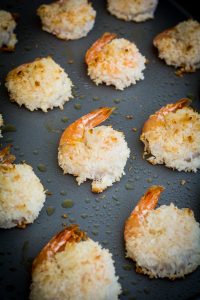 If you haven't had coconut shrimp before, it's basically shrimp rolled in coconut and "fried" to a delicious crisp.
I say, "fried" but we don't fry here. Frying usually involves canola or other scentless oils (Avoid!) and in an in-kitchen test, I found that 10% of the frying oil stays with the breading and ends up in your body. Not good.
If that wasn't enough, deep-frying usually involves white flour and breadcrumbs, and that too is something you don't want — unless you love gaining a ton of weight. Yikes!
Instead, you're going to use my deep-frying hack, and it's the same technique I showed you for hacking fried chicken. It's very easy to do and so delicious that nobody will find out it's fat burning. For you though, we're talking the best of both worlds: The flavor and texture of deep-frying, minus the associated guilt.
So, how do we hack coconut shrimp?
Easy. First, I replace nasty white flour with a high-fiber, fat-burning flour: coconut flour.
Then, instead of breadcrumbs, I use unsweetened shredded coconut, which is available in health food stores. It's important that you not use the sweetened coconut that is usually reserved for baking cakes. Sweetened coconut has way too much sugar.
Click here to get my favorite unsweetened coconut on Amazon
Note that this recipe is also gluten-free.
Next, I proceed just like I did for my hacked deep-fried chicken, dipping jumbo shrimp into the healthy batter, then in the shredded coconut, then laying them out on a sheet pan in preparation for baking.
Shrimp tell you when they're done: they change color. So it's only a matter of a few minutes in the oven before they become golden-brown and yummy.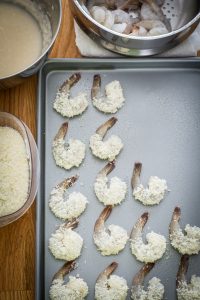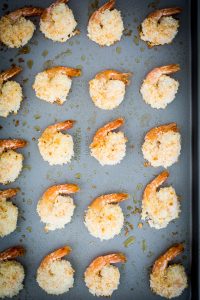 That's it! Done. You may want to make a dip to go with it, and for that, please use my 3-step formula to whip up any dip.
Maybe this calls for a honey-dijon dip, or a Greek yogurt with cayenne pepper and lime juice. It's easy to make up your own with my foolproof technique.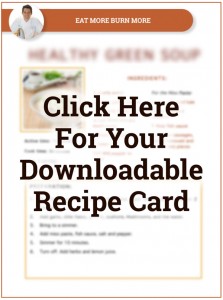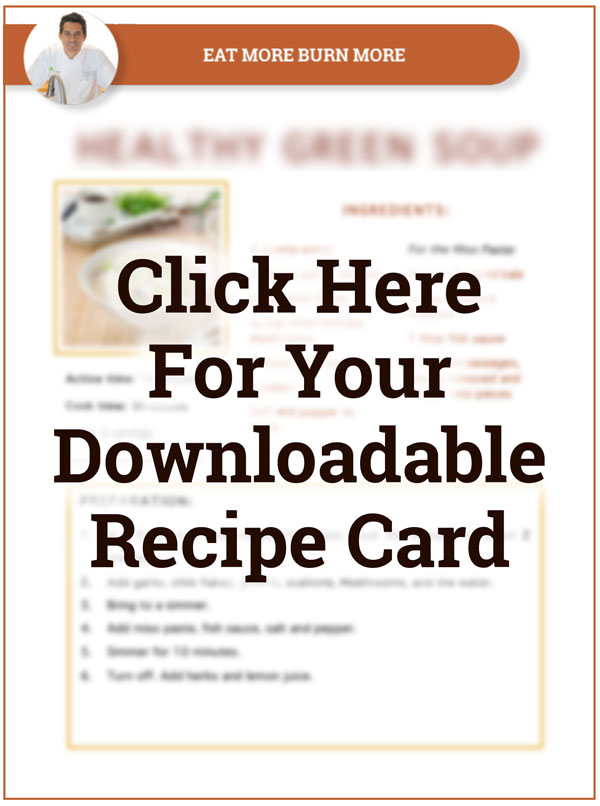 It also goes very well with tropical fruits. That's another opportunity for you to stock up on healthy fruits like kiwi, pineapple, mango, or papaya.
Want 100 MORE recipes like this?! CLICK HERE
One more thing: this is party food! So you can make this today (if you're still searching for your perfect Memorial Day meal), for the 4th of July, or for any holiday where bite-sized appetizers are needed. Beware though, these will go fast — your guests will absolutely love these beautiful shrimp!
Make a ton of it.
To Your Cooking Success,