Surprising Food Superstitions From Around The World
ITALY: DAB SPILLED WINE BEHIND YOUR EARS, LIKE PERFUME, FOR GOOD LUCK
When Italians spill wine, you'll inevitably see them dab it behind their ears. Admittedly, this can have the effect of making you smell like a bit of a wino, but your good luck will make up for it. If you have the good fortune to travel to Italy this summer (or plan to attend an Italian dinner party), this is a great way to send a discreet signal that you "get" the local traditions.
CHINA: DON'T YOU DARE PUNCTURE FISH SKIN!
You will not see someone use chopsticks to flip over a whole cooked fish in China — if they puncture the skin, it means a ship will wreck.
ITALY (& OTHERS): WARD OFF BAD LUCK WITH A TOSS OF SALT
If you're like me and you tend to spill everything, you might like to know this: If you're like me and you tend to spill everything, you might like to know this: If you ever spill salt on a table, make sure you throw it over your left shoulder to get rid of bad luck!

RUSSIA: HOW TO STAY SINGLE FOREVER
My favorite spot at a dinner party is always the corner seat. But, if I was single and at a dinner party in Russia, I would never be seated at my preferred spot. Why? Because it means that I would remain unmarried forever. (Not necessarily a bad thing. Just saying…)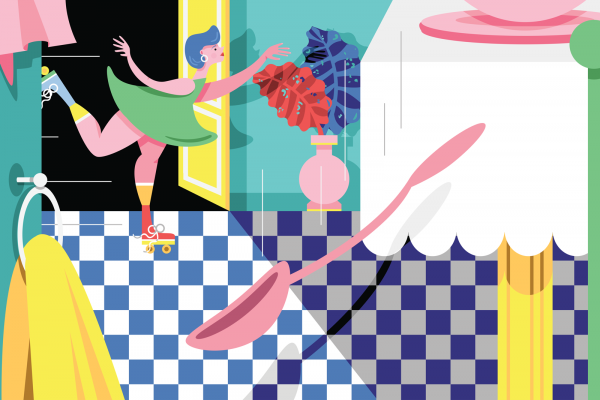 RUSSIA: THAT FALLING SILVERWARE HAS A SECRET MESSAGE
Also in Russia, a spoon falling to the ground is a signal that a woman is going to visit your house.
 
CHINA: WHY EIGHT IS GREAT
In China, it is considered good luck to have eight plates on the table during a dinner party. My Chinese colleague explained to me that it's because the word for eight in Cantonese rhymes with "getting rich."
MEXICO, RUSSIA, ITALY, & ELSEWHERE: DO THIS & EXPECT A FIGHT
Okay, here is a widespread superstition that my family and I take VERY seriously: NEVER, EVER pass salt hand-to-hand — it means you will fight with the person and it also brings bad luck. If someone asks for salt, place it in front of them and remove your hand quickly.
CHINA: WHAT LEFTOVER RICE MEANS FOR YOUR SKIN
In keeping with the theme with not wasting food, the Chinese say that however many kernels of rice you leave in your bowl will correspond to the number of freckles and moles on your face. Having freckles and moles is not considered desirable in China; in fact, they have a word for it — dòupí — meaning "bean curd skin." (This is probably a good time to mention that I have 86 moles on my body — yes, really.)