5 Common Traits of Top CEOs
If you're looking to launch a business in the coming year, or want to grow your current venture, it pays to look at those who have "been there and done that" for inspiration and ideas.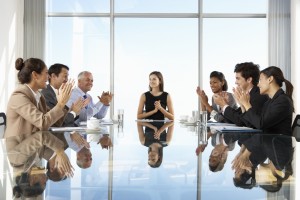 Indeed, when you examine some of the top CEOs from around the world who have led their companies to massive success, you'll see that they have a variety of personality traits in common.
From resilience, vision, and a focus on customers, to the ability to delegate, communicate effectively, and hire the right people, successful business managers continually show how to operate at a top level. If you're keen to emulate their achievements, here are five common traits that leaders need to have in order to get big results in business.
Good Communication Skills
One of the most important qualities of a good business owner or manager is the ability to communicate well. Take a look through the history books and you'll see plenty of evidence that demonstrates that the best leaders are renowned for their people and communication skills; they're able to get their point across clearly, rouse teams, convince skeptics, and portray their passion.
To become the best CEO (like those mentioned here), you can make sure you are adept at clearly explaining and breaking down business goals and your overall vision to your staff, investors, journalists, and the like. You should also use the energy and passion you have for your company to motivate your team, perk them up during testing times, and inspire their productivity and creativity. As a leader you will also need to be able to clearly communicate the projects that must be taken on, and the results being targeted for each one so that there are no misunderstandings.
Get updates on living the good life delivered to your inbox.
While you may worry that you need to be an extrovert to display this skill, this is not actually the case. In order to communicate well, leaders actually need to listen to those around them and make them feel heard — communication is a two-way street, after all. If you struggle to get your instructions and convictions across as well as you'd like, consider attending a specialist corporate communications program where you can really hone your skills.
The Ability to Delegate
Another particularly important trait that a successful CEO demonstrates is the ability to delegate. When you're running a company it's easy to get caught up in even the most mundane tasks, particularly when the project is very important to you and you're worried about someone else not taking the care you would.
While this is an understandable concern, it won't help you out over the long term. In order to grow your business and turn it into the venture of your dreams, you must surround yourself with the right people to help you get there. Rather than wasting your time on simple tasks that could be easily delegated, you should focus your efforts on the big picture, and the areas where you can really make a difference to results.
Part of this is about knowing how to hire the right candidates for each role. Bring on board people who are smarter than you, more experienced in the various areas of business required, and committed to the company, and you will have a recipe for success.
Resilience
Being the leader of a business has many potential benefits, including mental stimulation, the excitement of growing an organization, working with a team of people focused on the same goals, and even monetary success. However, there are always plenty of challenges along the way too.
Being a CEO often involves long hours of work, continual problem solving, the need to make difficult decisions, and the ability to "keep on keeping on" no matter what. This is where having a resilient nature can come in handy.
As a leader you must be able to take on board quite a bit of stress day after day, while not letting the pressure adversely affect your team. If you feel that you struggle to cope well with stress, it is a good idea to learn some relaxation and other techniques which you can use to offset the pressures of the job.
Vision
Successful CEOs must also have a strategic outlook on their business so that they can steer the company in the right direction, and make course corrections as needed. As the leader, you are the keeper of the firm's vision. You need to be clear on the short-term and long-term goals and projects that must be achieved; be able to spot opportunities and changes in the market; and notice when the company is being distracted by ideas that don't actually align with the vision. To help you stay on target, it pays to book strategy sessions into your diary at least every business quarter.
Customer focused
Lastly, the best CEOs understand that a business is nothing without its customers. As such, you should always have a focus on your company's potential and current clients, and never forget that business operations should, at the end of the day, be about satisfying the people who part with their hard-earned cash to purchase your products or services. Constantly listen to what customers want, examine what could be improved, and come up with new and better ways to solve their problems for them.Written by Cher ZavalaAbout the author: Cher Zavala contributes content on a variety of subjects to a number of high-quality websites.