5 Best Cuts of Beef for Weight Loss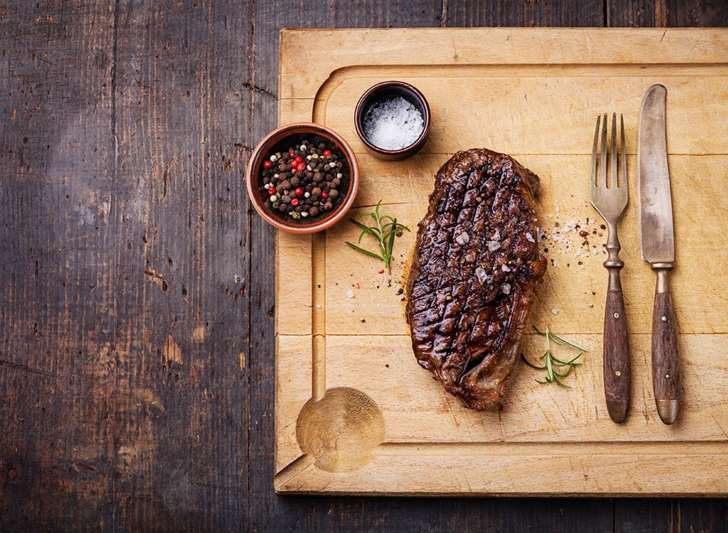 1. Sirloin Tip Side Steak
We've written about this great cut before, but in case you missed our post on what to eat for flat abs, you should know that steak can be a part of a balanced diet—really!
If you're looking to lose weight, choosing a leaner cut like sirloin tip side steak can help—it has significantly less fat and saturated fat than some other popular steak cuts, like rib eye, but still packs plenty of protein to keep you full and satisfied.
It's even been shown that lean meat like this steak can have a thermogenic effect, meaning some of the calories in that lean meat are actually burnt off while your body digests.
2. Top Round Steak
Another lean steak cut, top round is a great option when you're craving red meat but still want to make a smart, healthful choice. It's lean (only about 7 grams of fat per cooked serving, according to the USDA), but still flavorful—and, even better, it tends to be tenderer than some other lean cuts of beef, so you don't need to marinate it or do a lot of prep work prior to cooking. And lean beef in particular, like top round steak, not only helps you keep your fat intake in check, but also helps lower blood pressure when consumed regularly, according to a recent study conducted by a team at Penn State University. A food that can aid weight loss and help keep hypertension under control? Yes, we'll take some of that, please.
3. Eye of Round Steak
Another steak cut that contains less fat and saturated fat than more popular picks.
Cut back on those processed, refined carbs and incorporate the less fatty meats here into your regular diet, and you just may see the results you've been waiting for. Eye of round, though, can be a little tougher than the two options above, so marinate it for optimal flavor.
If you're going to go this route, choose oils with good-for-you fats, like olive oil, and something less caloric to complement it, like lemon juice or vinegar, that will boost the overall flavor of the meat and help tenderize it. Choose vinegar, and you'll get additional help slimming down: Consuming a food containing the mouth-puckering ingredient lowered body weight, body fat and triglycerides in obese subjects, a 2009 study found.
4. Bottom Round Steak
Much like the steaks listed above, bottom round is lean (a cooked portion contains about 8 grams fat, according to the USDA). It can also be a little on the tougher side, since it comes from the posterior part of the cow (a part of the animal that gets a much better workout than, say, its stomach, where flank steak comes from).
Marinate and prepare it as you would an eye of round for best flavor and tenderness.
5. Fillet Mignon
Board-certified nutritionist and food coach Dana James, MS, CDN, CNS, BANT, AADP, suggests going for a pricier cut of meat if that's an affordable option for you. "Fillet mignon is the leanest choice, but also the most expensive." So, this may not be an everyday option, but as a special-occasion meal it's a great way to indulge without expanding your waist.