17 Grilled Chicken Recipes to Make This Summer
CHICKEN UNDER A BRICK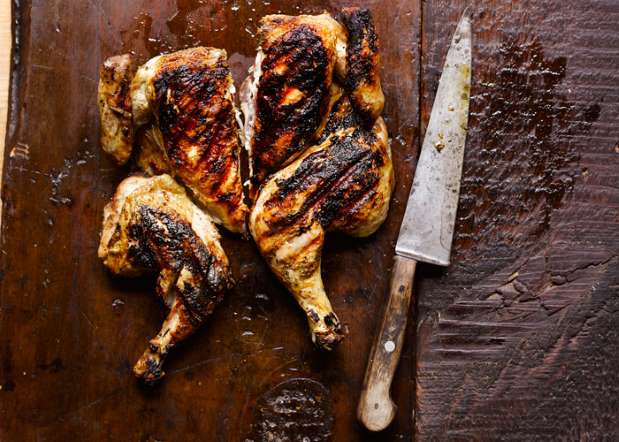 Make sure to wrap the bricks in foil.
Like burgers and dogs or a rack of ribs , grilled chicken is a rite of summer. Whether skewered, flattened, brined, spiced, or upended on a beer can, there are lots (and lots) of ways to do it right.
GRILLED CITRUS CHICKEN
A little citrus goes a long way.
(You can get a free 6 week meal plan here. Download it now)
GRILLED AVOCADO, SCALLION, AND RED ONION
Yes, you should absolutely be grilling your avocadoes in addition to the chicken.
BEER-CAN CHICKEN
There's quite a bit of lore surrounding beer-can chicken, and for good reason. Just look at that burnished mahogany bird. The steam from the brew flavors the meat and keeps it moist. The can props the chicken up, so it roasts evenly–no scorching, no flipping, no stressing. And you get to drink some beer. We're believers.
SAMBAL CHICKEN SKEWERS
Kebabs get a bad rap. (Decades of alternating zucchini coins and cherry tomatoes can do that.) But this Asian take, with a spicy, sticky glaze, makes for a very convincing comeback.
GRILLED CHICKEN TACOS
Chicken breasts aren't the only cut sold skinless and boneless. Thighs are, too. They're fattier than breasts, which means they're more flavorful; plus, they're less expensive. Put them to work in any fast weeknight preparation, starting with these spiced tacos.
BARBECUED CHICKEN
Avoid rookie mistakes when it comes to barbecuing. If you apply the sauce too early, it will scorch. And most bottled sauces are too sweet, which is where this vinegary version comes in.
HERBED GRILLED CHICKEN WINGS
The seductively high ratio of skin to meat is what makes wings taste good, and grilling takes full advantage of that. This herb marinade is bright and summery, and light enough to let the skin get nice and crisp
THAI GRILLED CHICKEN WINGS
The tangy dipping sauce is great with pretty much any grilled meat. Keep it on heavy rotation this summer.
MOROCCAN CHICKEN BROCHETTES
Dark-meat chicken is the best for grilling: Unlike lean breasts, thighs have plenty of fat, so they won't dry out.
GARLIC-AND-ROSEMARY GRILLED CHICKEN WITH SCALLIONS
Make sure you keep your grill at a steady medium-level heat; if it's too hot, the chicken will char without cooking through.
GRILLED CHICKEN WINGS WITH VINEGAR AND CHILES
These wings are hot, sweet, and tangy.
GRILLED CHICKEN WITH ARUGULA AND WARM CHICKPEAS
Chicken thighs are appealingly fatty, but this can sometimes cause flare-ups when grilling. Bank the coals before igniting so that you have a cooler side, and move the chicken there if needed.
GRILLED CHICKEN WITH BOARD DRESSING
Sprinkle the cutting board with chopped herbs dressed with oil and citrus zest before setting the meat on top to rest. The cooked protein will absorb the herbs' aroma.
GRILLED CHICKEN SALAD WITH GARLIC CONFIT
This is totally doable for weeknight grilling.
LEMON-CURED CHICKEN
Applying the rub to the chicken ahead of time infuses it with flavor.
CURRIED CHICKEN SANDWICH
Burgers aren't the only grilled things we want to eat with our hands. Thanks to a flavorful brine and a supershort cook time, sandwich-friendly boneless breasts take on a whole new life between two slices of bread.