7 Tips All Working Parents Should Know and Use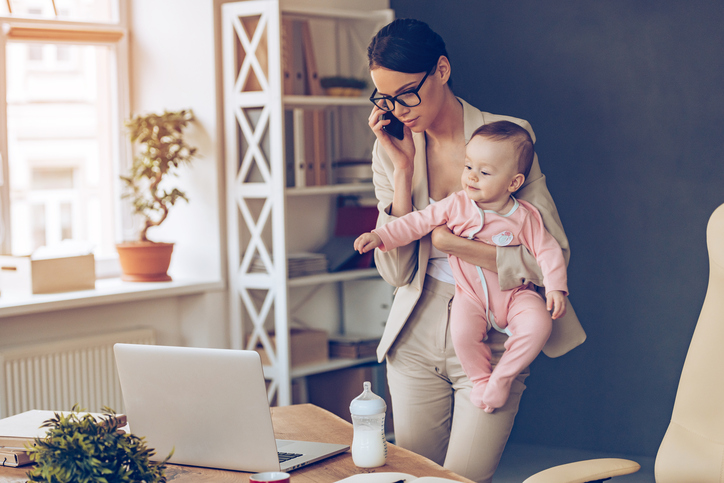 Strategies to achieve balance as a working parent.
"You've lost it!" my cousin yelled at another. Hearing the commotion, I went to find out what the reason was. "She wants to start working, leaving her child at a daycare," she continued yelling. "How foolish is that!" I looked at the other cousin, who seemed helpless.
Conceiving a mini-me can be one of the biggest blessings in a couple's life. Given the fact that so many couples struggle to conceive, the joy of being all set to welcome your little bundle is special. However, once the child arrives, there are many decisions that are not so simple. From deciding the baby's name to clothes, food, and medicines, as parents, your endeavor is to ensure that every decision you take is the right one. (No pressure!)
One such crossroad parents find themselves staring at is whether mothers and fathers should start working and if they do, when should be the right time. It's a topic that is discussed and debated, with many people belonging to the old school, believing that a working parent is a bad parent (especially mothers). There are many parents who themselves sacrifice their aspirations to stay at home and take care of their children.
However, no choice makes a parent a bad parent. Being a stay-at-home mother/father works for some while balancing work and parenting works for others. Before making the decision on if and when to re-enter your career, here are a few things that can give you clarity on how to make that choice.
Financial stability: The first question you should ask yourself is whether you are financially stable. While most fathers get back to work after a brief paternity leave, there are very few cases when a mother discontinues her maternity leave early. Either way, if a parent has to decide, understand how financially stable the family is. With children comes extra responsibility, a part of which is financial. So, the decision on whether a parent should resume work depends a lot on this factor.
Situation at home: This is slightly different from the financial aspect. If a couple has multiple children, then one parent staying at home could make a world of a difference.
Work requirements: Depending on how tight the situation is at home, your job schedules also play a role in helping make a choice of whether to stay at home or resume the life of a working parent. If the timings are not flexible or if you feel the work stress is too much and will impact your quality of time with your children, then you might consider working remotely from home, or retiring to take on the huge task of watching over your children full-time.
Your goals: This is the most important aspect. If you are a career-oriented person, nothing should stop you from choosing your career. However, if you feel that your children take the cener stage of your life and nothing else is more important than being with them, the choice is absolutely clear.
Now that you know HOW to make that decision, let's take a scenario where you choose to be a working parent. Even though it does have its advantages, being a working parent can be tough… and that's just being honest. With workload and children to worry about all at the same time, here are a few ways in which you can find a balance and master the art of juggling (and succeeding in) both.
1. Switch on-switch off
It's important that when you are at work, you concentrate on what you are doing, but once you are back at home, your children deserve your time and attention. So, switch on your professional mode when you are at work, switch it off when you are back with your children. No exceptions or late-night calls during dinner.
2. Set your workplace goals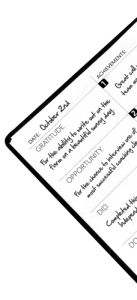 At work, work out your goals and plan a clear way to reach them without compromising your family life. Work towards achieving these. Also, when you are planning, give yourself some buffer time or "breathing space" that makes you a priority just as much as your job and children. As the saying goes, you can't pour from an empty cup.
One approach that makes this easier is using a Gratitude Journal in the evenings. This one from Early to Rise will give you prompts and structure to make this a daily practice.
3. Talk it out with your management
There's almost nothing a dialogue with your team and managers cannot resolve. If you feel that your work stress is bogging you down, talk to your management and explain your perspective and your position. This will ensure that your colleagues have your back when your children need you.
4. Day-care
As working parents, day care centers are a saving grace. However, in excitement and hurry, do not make a hasty choice. Conduct thorough research before you zero-in on a place where your children can be left while you are away. Read reviews, talk to parents, and always make sure that you can watch over so that you don't have to be worried at work unnecessarily.
5. Cash in on the weekends
Weekends are for quality time with your children. Plan getaways and activities that keep your children engaged with you and make it fun for them. Involve them in many of the activities that you do such as cooking, cleaning, etc.
6. Say no to smartphones
When you are with your children, avoid using your smartphone, and make them stay away from theirs too. Working through the week means you miss having moments with each other, so when you get the time, make sure you make the most of it.
7. Have 'me' time
Juggling children and work means very little time for yourself. (If you've been a working parent you know how true this is.) To make sure you are not frustrated or depleted, reserve time for yourself. Read a book, plan a hobby, or just take a walk – but do something for yourself, by yourself.
Sometimes, so much responsibility can make you feel low. Make sure you keep these points in mind so that you can be an excellent multi-tasker and follow your dual passions of being an amazing parent and worker.