The Valentine's Dinner That Made News (Recipes Inside)
This is news anchor Jennifer Epstein of Fox 13 Tampa Bay. She's in my home kitchen today (and wearing my chef jacket!) because we just finished filming a news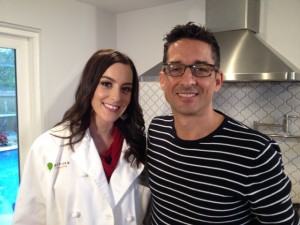 segment about cooking at home on Valentine's Day.
Because you see, Valentine's Day is on Sunday and we thought we would give people tips on how to cook an awesome Valentine's Day dinner while burning fat.
Valentine's Day at home is really smart. Millions of couples usually flock to restaurants and it's a mad house out there.
Stay-date? No waiting in line. No awkward conversation with the other couples sitting 10 inches from you and your sweetie. No unhealthy food either.
Plus [Romantic Frenchman Alert!], it's easier to make the date more personal, more creative, and more romantique, if you know what I mean. Oui, oui, oui!
So I encourage you to cook together (or surprise the other), dim the lights, break out the candles, get some music on (some Barry White may be pushing it but maybe for giggles?), and make it meaningful and personal. This is about both of you.
Meaningful — but simple and easy. Nobody said you have to sweat your romantic behind off in order to make things happen. Au contraire, mon frère! Just follow my two elegant, super easy, resolutely healthy recipes.
Healthy is important, here. First you want to keep going with your weight loss efforts, and second, Valentine's Day is not about pigging out. It's about being in the right mind and body to concentrate on your date.
One recipe is one of my "one-pot" recipes and the other requires no cooking whatsoever to eliminate the stress and the mess in the kitchen; you'll have better things to do than dishwashing at the end of the night.
And I'll tell you. Your partner will forever be grateful for such a romantic effort. Cooking is about giving and sharing the love. Trust me on that. My wife Carissa could have married a doctor or a lawyer and guess what? The smart girl chose a chef! What I mean is, making it special for your loved one will be appreciated more than you know.
So what are these two miracle V-Day recipes?
The first is a Roasted Rack of Lamb with Dijon Mustard Sauce and Charred Vegetables. It's elegant and fitting for the occasion. Rack of lamb is very mild and not gamey, but if you are not willing to try it, you can substitute pork tenderloin or even salmon. Click on the image for the recipe.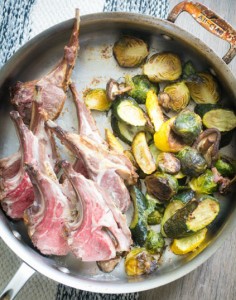 The other is a dessert that stays away from the classic (snooze!) strawberries and chocolate. Citrus fruits are healthy and in full season, and this Valentine's Day Citrus Salad with Champagne is simple, colorful, delicious, yet brings elegance and conviviality (you can enjoy the leftover Champagne together!). Click on the image for the recipe.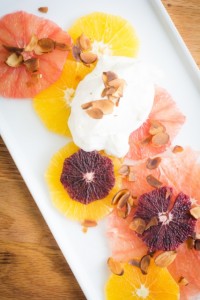 (And be sure to check out my article on the fat-torching benefits of citrus. I also give you a quick tutorial on the best way to segment your citrus fruits.)
If you'd like, reach out to me on my Facebook page. I'll be glad to answer any questions you might have about these recipes or about cooking at home for Valentine's day.
As for Carissa and I, we are having a date… with all of our children! The grandparents are not in town to babysit, so we're all going to Orlando, where we rented a large suite with a kitchenette. I'll be cooking these two recipes for her once the kids go to bed.