Here in Florida, we know it's winter once people start wearing socks with their flip-flops. And this week, we all got our socks out.
Under such extreme temperatures 😉 we also make winter comfort foods. Foods like stews, casseroles, braised chicken, and hearty winter soups.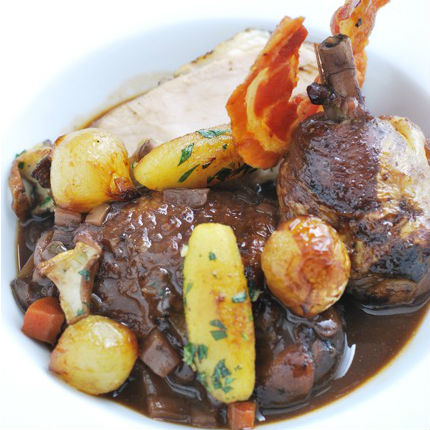 Today I want to introduce you to an awesome recipe. The French call it "coq au vin," but it's nothing more than chicken cooked in a rich wine sauce.
If you're watching your weight, you probably think this is out of reach. But it's not. At least it's not if you follow my simple trick to de-fatten a stew to make it completely lean.
Chef Tip Alert – When you make a stew for your loving family on a cold winter day, place the stew in the fridge overnight after it has cooked. The next day, remove the solidified fat that has come to the surface before reheating and serving. They won't notice the difference and you'll save a TON of calories.
Braised Chicken in Red Wine Sauce
Prep time: 15 minutes | Cook time: 30-45 minutes | Yield: 6 servings
Ingredients:
6 chicken thighs
3 oz. of bacon, cooked and diced
2 carrots, unpeeled and sliced
2 celery stalks
1 onion, chopped
2 medium-sized rutabaga, peeled and diced
½ pound white mushrooms, cleaned, and quartered
1/2 bottle red wine
2 cups of chicken stock
2 tbsps chopped fresh thyme (optional)
1 bay leaf (optional)
1 parsley sprig (optional)
5 peeled garlic cloves, chopped
2 tbsps tomato paste
¼ cup coconut flour
2 tbsps extra-virgin olive oil
Salt and freshly ground black pepper to taste
Preparation:
Season the chicken pieces with salt and pepper.
Heat up a large cast iron Dutch oven over high heat. Add 2 tablespoons of olive oil, and continue to heat until the oil is very hot but before it begins to smoke. Quickly brown the chicken on all sides, cooking thighs in batches to avoid overcrowding and to ensure even cooking. Do not worry about the rendered fat as it will be taken off the next day, once it has come to the surface and solidified.
Once the thighs are brown, add the diced bacon, carrots, celery, and onions. Add to the Dutch oven and stir.
Add the coconut flour, tomato paste and cook for a minute over medium-high heat.
Add ½ bottle of red wine and cook for one minute.
Finally, add the stock, herbs, mushrooms, rutabaga, garlic, salt and pepper, and simmer the stew for 30 to 45 minutes.
Once fully cooked, chill the stew for 2 hours at room temperature, then place in your refrigerator overnight.
The next day, remove the solidified fat that has come to the surface and reheat.
To serve: In a large "pasta" bowl, place 2 or 3 pieces of chicken. Spoon some sauce and vegetables over the chicken. Serve at once.