Awesome Avocados: the Versatile Fruit (Recipes Included)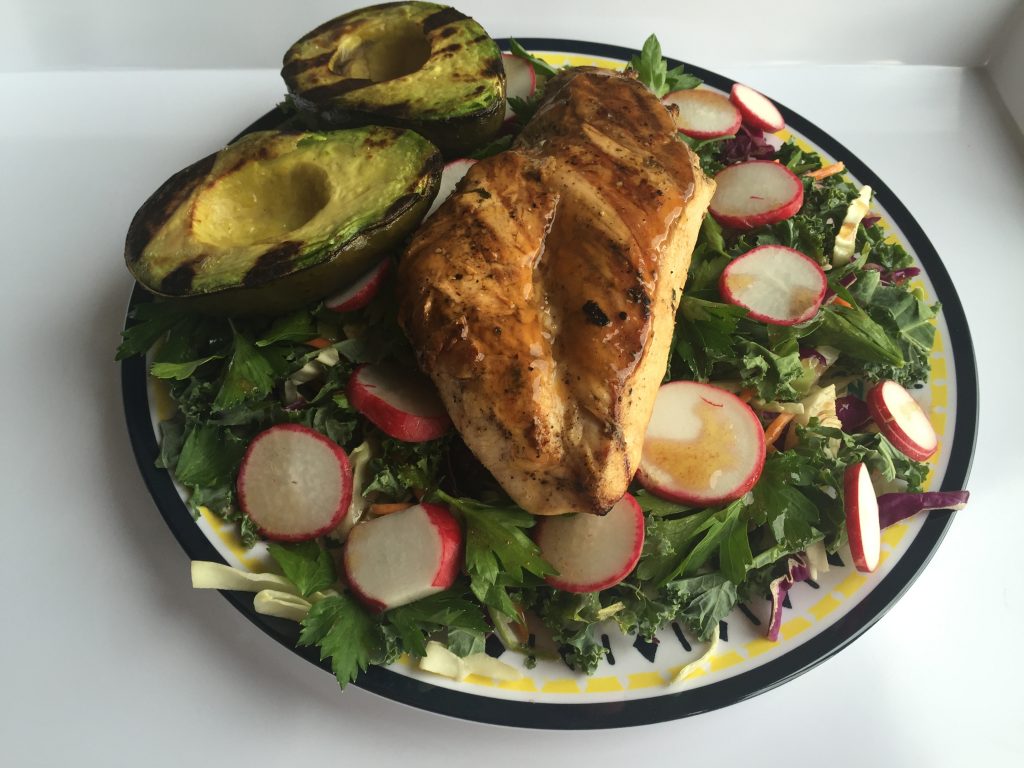 The avocado fruit is so incredibly versatile. If I could choose only one source of fat for the rest of my life it would have to be avocado. 
Not only are avocados adaptable in a hundred different ways, they are delicious and unbelievably beneficial to health. Avocados are an excellent source of:
Vitamins E and K and many minerals, like potassium and magnesium
Carotenoids that fight inflammation
Healthy fats, which help absorb the aforementioned vitamins and carotenoids
Satiety – fiber-rich avocados keep you feeling satisfied
Support for the liver's efforts to remove toxins from the body
There are so many new and exciting ways avocados are being used, but here are some of my new favorites for you to try out:
Avocado Ice Cream
Prep time: 2 minutes  |  Freeze: 3 hours-overnight |  Yield: 1 ½ cups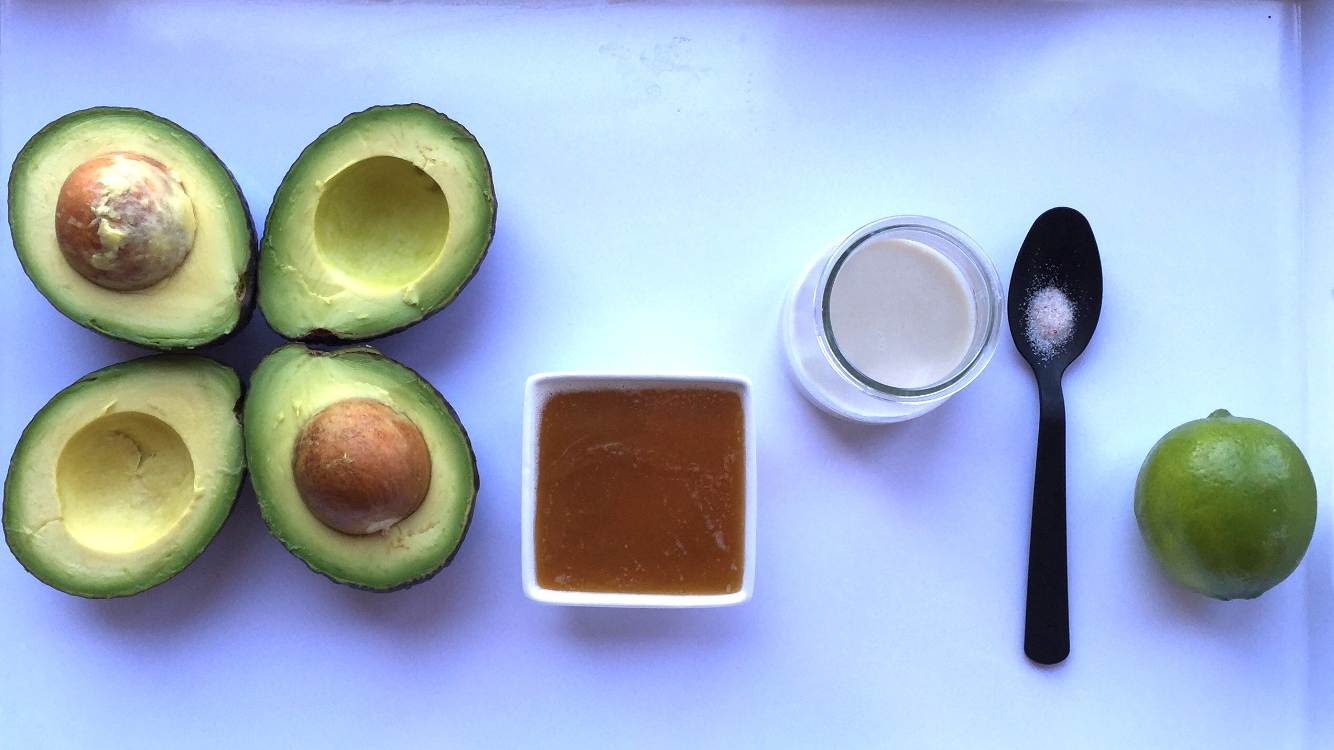 Ingredients:
2 avocados
¼ cup raw honey
¼ cup full-fat coconut milk or other milk
Pinch of sea salt
A squeeze of lime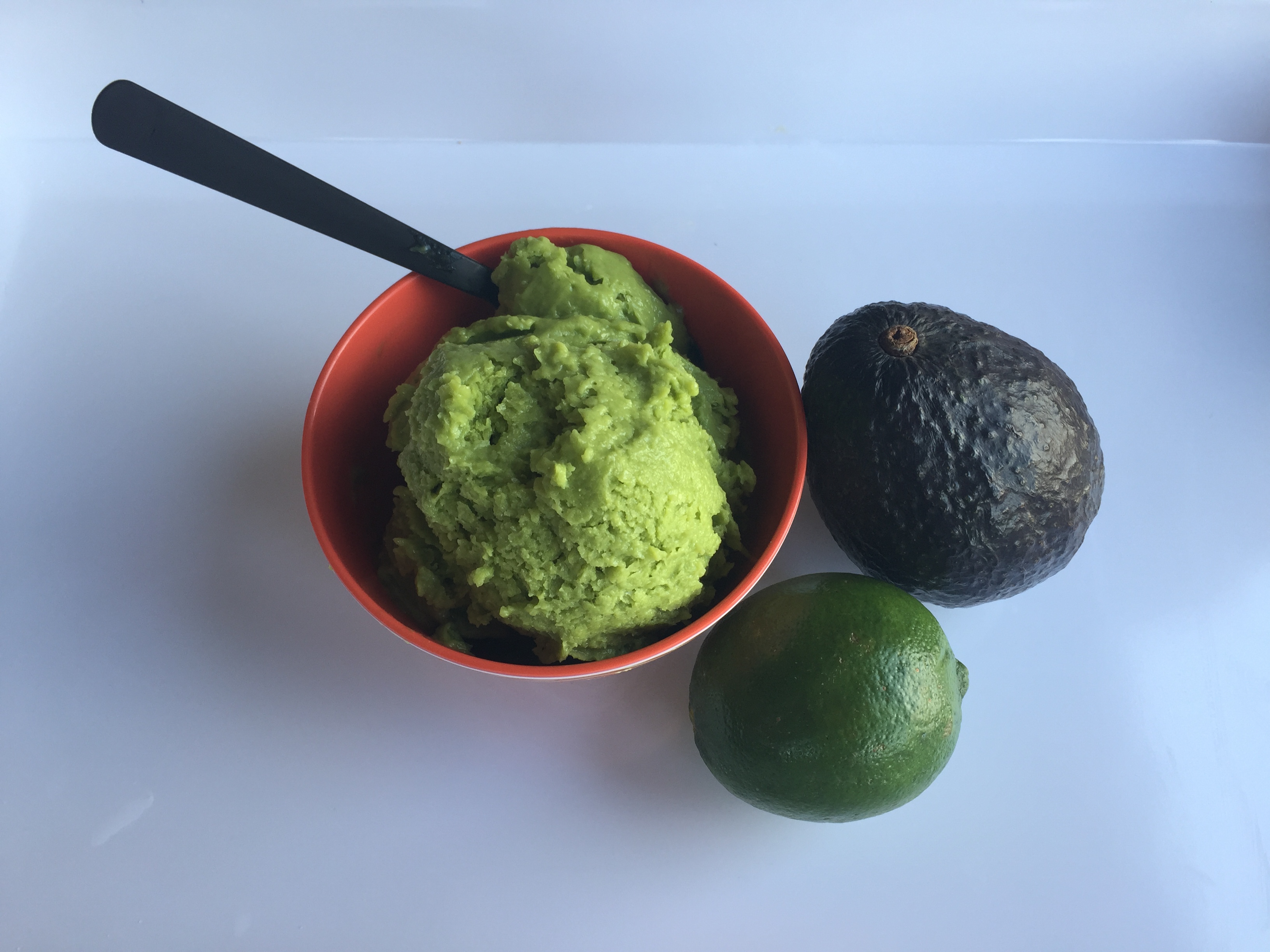 Preparation:
Peel avocados or cut in half and remove the pit, scraping out the flesh.
Smash avocado meat with a fork until no lumps or place in blender.
Add honey to avocado meat; mix thoroughly with a spoon.
Put mixture in blender.
Add coconut or other milk you are using to the mix.
Blend on medium until you get a nice smooth consistency.
Take out and freeze for a minimum of three hours to overnight.
Note: Sometimes the ice cream may be too frozen to eat directly from the freezer, so you may have to let it stand a little while in order for it to soften (about 15 – 30 minutes).
*the original recipe was found on healthextremist.com – many thanks to her great idea!
Avocado-Basil Sauce – Have this for dinner tonight!
Grilled Avocado with Lemon Chicken on Parsley, Kale & Radish Salad
Prep time: 20 minutes  | Cook time: 15-20 minutes |  Yield: 4 servings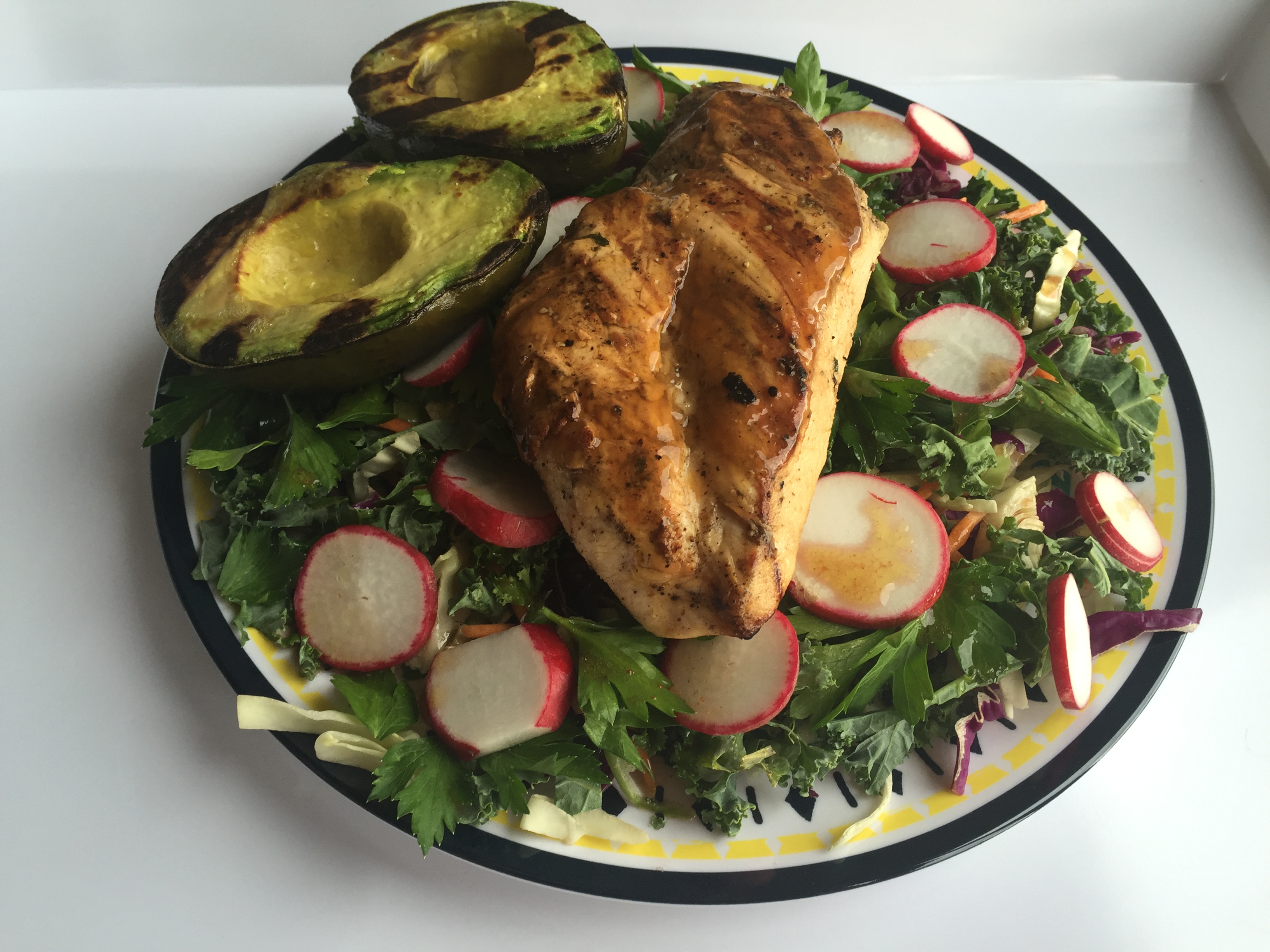 Ingredients:
2 avocados cut in half, seeds removed
4 boneless, skinless chicken breasts
1 bunch kale, leaves torn from the spine into bite-sized pieces
4 radishes, thinly sliced
2 lemons, juiced
5 tbsp olive oil
½ tbsp raw honey
1 tsp sea salt, divided in half
½ tsp black pepper, divided in half
¼ tsp garlic powder
Sprinkle of red pepper flakes
1 bunch fresh Italian parsley, clean, dry and leaves removed from stems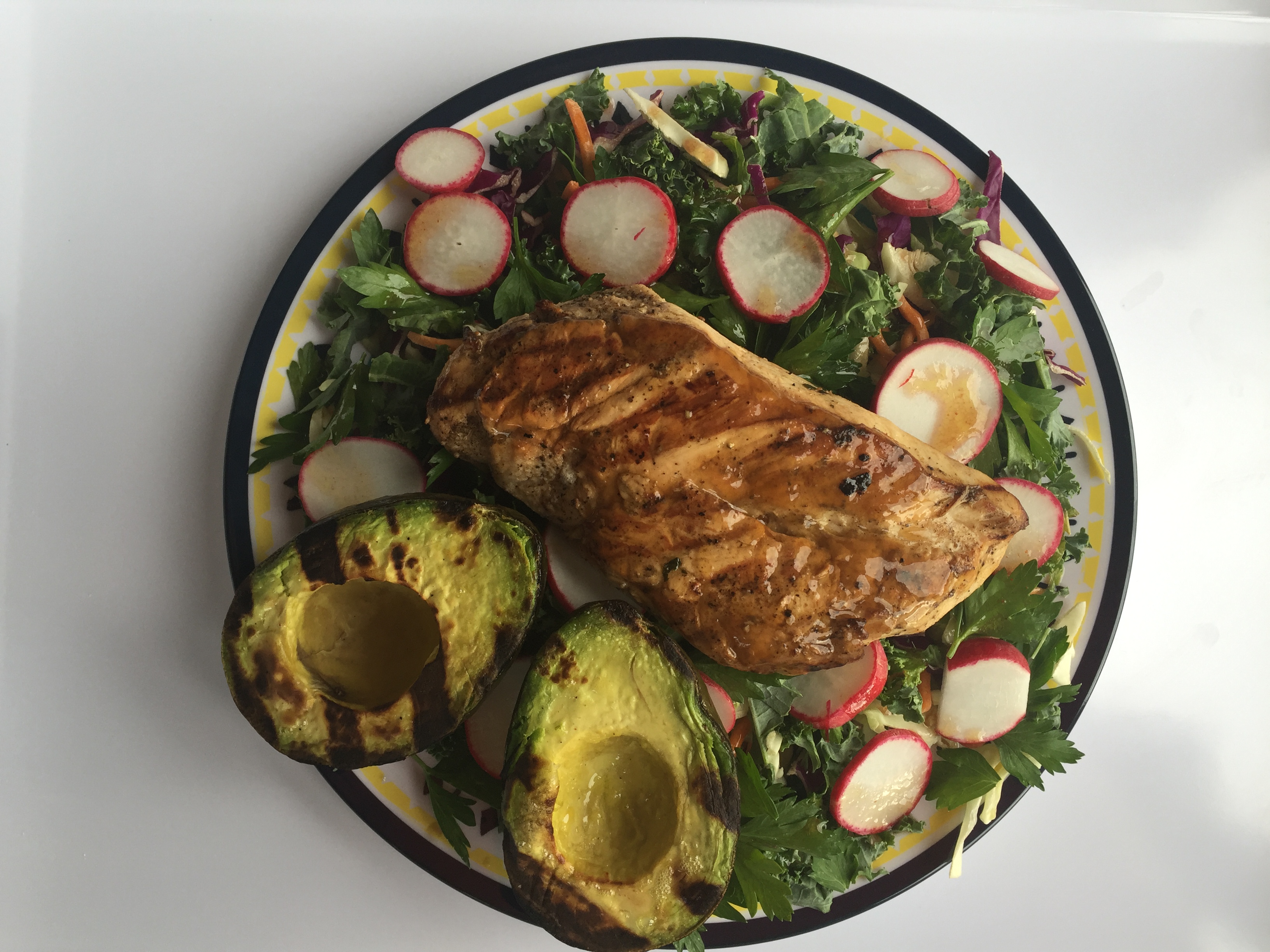 Preparation:
Preheat grill to high heat.
Marinate chicken breasts in juice of 1 lemon, 2 tbsps olive oil, garlic powder, red pepper flakes, half of the sea salt and half of the black pepper.
Prepare the dressing by mixing remaining lemon juice, 2 tbsps olive oil, honey, remaining sea salt, and black pepper in a small glass jar or bowl. Combine well.
In a large bowl, toss dressing onto torn kale leaves, parsley, and sliced radishes. Toss well to coat and marinate kale. Set aside.
Grill the chicken about 4-5 minutes each side or until juices run clear. Remove from heat, cover, and let rest.
Rub cut sides of avocados with 1 tbsp olive oil.
Grill avocados cut side down until charred (2-5 minutes, depending on grill)
Transfer avocados to plate and sprinkle with sea salt and black pepper.
Serve on top of kale radish salad and sliced lemon chicken
Enjoy!
These recipes are a hit in our house… and the list of how avocado can be used makes me think of the famous scene form Forrest Gump where Bubba is listing off all the ways you can prepare shrimp…
Just replace avocado for shrimp — I can hear it now: "You can grill it, puree it, fry it, bake it; They's, um, avocado oil, avocado toast, avocado poached eggs, avocado crème, avocado dressing, avocado soup; deviled avocado eggs, avocado salad, avocado ice cream; you can put it on salads, in shakes, on sandwiches, smear it on burgers, dip chips in it, dollop on tacos…"
See what I mean?
Happy Eating!
In Love & Gratitude,

Missi Holt