It's so amazing to me how food and our own cooking experiences shape our past, fulfill our present, and model our destiny. It doesn't matter if you're a master chef in a 5-star restaurant, an accomplished home baker, or if you barely know how to boil water. Food is an integral part of your life and just like me, you do have a very unique relationship with it. This is why I love to cook.
My cooking experience is of course different from yours and I can't wait to hear about yours. Today I want to let you in on a couple of personal secrets, share my experience as a French chef living in America, and tell you why I love to cook so much.
Growing up in France
I grew up in France — and over there, the French take cooking very, very seriously. It's part of the culture. My family takes it a step further.
For as long as I can remember, my life was filled with September harvests of the grapes, making wine, collecting olives to make estate olive oil, foraging local forests to find wild asparagus, chanterelles, and porcini mushrooms.
When my American wife, Carissa, first came to France, she was shocked to discover how much time the French spent on dinner — either at the table eating the meal, or in the kitchen preparing and cooking it.
In fact, many of our family gatherings revolved around multi-course, outdoor dinners that would easily last 2 to 4 hours. I recall a particularly epic meal that lasted 8 hours. If you're not used to it, it can be overwhelming. I think Carissa initially thought we were insane.
Growing up, we always had a vegetable garden, and I still remember fondly the amazing (and never reproduced) taste of fresh tomatoes, leeks, lettuces of all kinds, zucchini, and eggplants.
Grandma would also forage snails, and prepare them the only way they should be served: stuffed with minced parsley, grass-fed butter, and a ton of garlic.
My grandfather was a hunter and my grandma would cook what he brought back home: wild partridges, pheasants, humongous jackrabbits, and wild boars.
She would cook all that in heirloom cast-iron Le Creuset pots she inherited from her mother, who had inherited them from her own mother.
Wild pheasants first had to be hung by their neck, until their freshly hunted meat would relax, naturally tenderize and, peculiarly, become milder. Once the meat was ready, the pheasant was plucked and thrown into the oven. Different techniques for different times; imagine doing that now!
As kids, we took for granted the wonderful food that was all around us. Looking back, those were incredibly amazing experiences with food and they all contributed to my passion for cooking!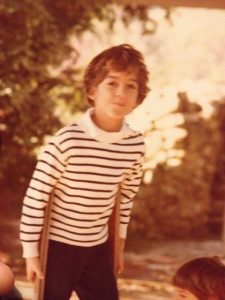 It was because of that flavorful background that I acquired a taste for really good food. I knew as a teenager that I wanted to keep those experiences alive, so I chose to attend Chef School in nearby Marseilles.
I got even more serious about food at that point. It was the mid-1980s, in the height of Nouvelle Cuisine, a cultural food revolution that changed everything for the rest of the world by placing an emphasis on freshness of food and the beauty of its presentation.
I spent six years in Chef School — so long that I often say I have a Ph. D. in cooking! Culinary school was a lot of fun, but it also something of a "boot-camp." Older — and often very impatient — French chefs, would throw 20-lb. pots across the kitchen if one of us miserable sous chefs had the indecency to scorch milk or break a sauce (in non-chef terms that means to let it separate). We learned a lot, and very, very quickly in these conditions, as you can imagine.
Wine-tasting class was quite an experience, too. At the tender age of 16, we were taught to taste, recognize, and appreciate various French wines. After a few glasses of wine — and often completely inebriated — we'd stagger on to math class. Again, different times.
Traveling the world
I survived Chef School, and armed with a small (but efficient) set of cooking techniques, I set sail for England, Spain, South America, and then the USA, cooking my way through different worldly cultures, and more foodie experiences.
And that's another reason why I love cooking so much. My craft has allowed me to travel and find a job wherever I was, by just knocking on restaurant doors wherever I'd settled. What a convenient and fun way to see and experience the world!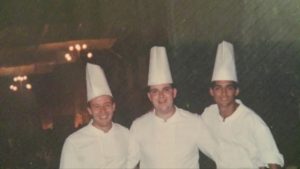 After years of cooking and traveling, I settled in America where I fell in love and married my wife, Carissa. We bought a house, set up a business, and began raising our family here in Tampa Bay, Florida.
Seventeen years later, I'm amazed at the ride it's been. It's so much fun to be a French chef in America. The USA is in a perpetual food boom. So much has been done and learned in 17 years, from the rise of the Food Network, to an abundance of cooking classes and knowledge, to the ever-growing awareness of amazing international and locally produced foods. When I first arrived here, my grocery store had a couple of bottles of olive oils on the shelf. Now, there are so many that it's difficult to choose.
Now, EVERYBODY is interested in food and cooking!
 And I love that. I'm a 45-year-old Frenchman with 30 years of professional cooking experience. Now, besides running my high-end catering business in Tampa, I enjoy helping people cook, and sharing my knowledge and passion for the great craft of cooking.
It really feels like I was born to do this. I have accumulated so much cooking knowledge that it only seems natural to share it through my cookbooks and cooking classes.
Teaching others how to cook and sharing my knowledge is my purpose. Giving people the tools they need to be a chef in their own house. Showing my students, readers, as well as all five of my own children, the secrets of cooking, and the benefits of eating well.
And of course, my philosophy is always to Eat More, Burn More by cooking and eating great, healthy food. Good food and health go hand in hand.
And healthy cooking and eating really are not that difficult. As I always say, with a set of a dozen easy techniques, anybody can learn how to cook, and change their eating habits for the better — forever.
When I reflect on my life, cooking and food have given me countless amazing experiences. Over the years, I cooked on HSN and the Food Network, I served Heads of State and dignitaries, prime-time celebrities, I wrote two cookbooks and, thanks to the Internet, I am able to touch the lives of thousands of people.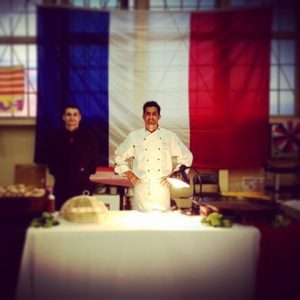 Cooking with the senses
Sure, cooking for my clients, readers, celebrities, or even my family, is really cool. I love it. But nothing compares to the actual love of the craft. Cooking is about everything that happens behind the scenes and really engaging your senses.
When you create a dish (whether you follow a recipe or not), you experience the smell of garlic, the sizzle in the skillet, and you see phenomenal transformations occurring before your eyes. The turkey is roasting, browning, and becoming deliciously crispy. Water changes from flat and peaceful to boiling and steaming. You cry when you peel an onion. You feel a sense of accomplishment and pride when you create an amazing dish. Even the simple act of peeling a carrot, no matter how many times you've done it, can bring sensory joy as you feel the texture of the ingredients that bring your dish to life.
The great Thomas Keller, one of America's best chefs, has said many times that there is nothing he likes more than peeling, cutting, dicing, and slicing food.
There is something therapeutic about stirring, kneading, and rolling… And all of this plays a part in why I love to cook.
Now I want to know why YOU love to cook. Reach out to me by email, or post on my Facebook page. I'd love to connect with you and learn about who you are, and why cooking is important to you.
To Your Love of Food and Cooking,