What You Need to Know Today: September 21
Good afternoon, Early Risers!
Here's what you need to know
TECH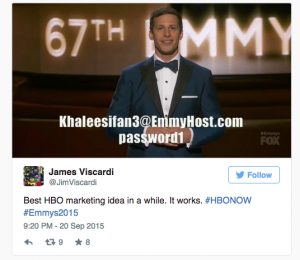 "Gotta have a number in there, throw 'em off the scent," said Andy Samberg after sharing a functioning HBO Now login and password at last night's Emmy Awards. The joke was a reference to HBO CEO Richard Plepler's comment that he doesn't care if users share their HBO account passwords. This type of Guerilla marketing we saw last night should not surprise anyone. Well-known brands and artists (think: Drake) use tactics like this all the time to create buzz. Here are 26 of the best Guerilla marketing campaigns of all-time.
This way, kids can learn and do research…
Excuse me. Did you say "learn"?
Learn, yeah.
Next.
Mr. Mars…
…let me introduce you to…
…Major…
…Chip Hazard,
leader of the Commando Elite.
Do you remember what 1998 movie this was from? (hint:Tommy Lee Jones played Chip Hazard). When I heard the news that Mattel toys created a Barbie doll that uses Artificial Intelligence (A.I.) software, my first reaction was that's creepy. And it turns out I'm not alone — check this out. But, initial reactions are rarely good predictors of an idea's success. Some of today's billion-dollar ideas seemed easy to dismiss. Keep reading and you'll find out what companies I'm talking about…
CAREER
The waiter's secret. "The story has it that when a large group of academics descended upon the restaurant, the waiter stood and calmly nodded as each new item was added to their complicated order. He wrote nothing down, but when he returned with the food his memory had been flawless. The academics left, still talking about the prodigious feat; but when one of them hurried back to retrieve something he'd left behind, the waiter had no recollection of him. How could the waiter have suddenly become so absent-minded?" Sound familiar? This story — retold in Willpower, a book by Roy Baumeister and John Tierney — explains the important difference between multi-taskers and uni-taskers. Most productivity gurus today will tell you multi-tasking is evil. Here's the truth.
+ The most common mistakes first time entrepreneurs make.
Billion-dollar company checklist. "Once companies reach the billion-dollar club, their basic idea and value proposition seem obvious, but this was not always the case in their early days. Our analysis discovered that many billion-dollar companies have ideas that were easy to dismiss at first. How many people really ride in black cars? Who really wants to watch live video streaming of people playing video games? Why does anyone care about yet another cloud backup and sync service? Photo messages…that disappear?!?! How many people are interested in renting a couch in someone's home? Airbnb co-founder Brian Chesky has discussed this openly: When we came to the Valley, no one even wanted to invest in Airbnb. One of the reasons was they thought the idea was crazy. People thought I'd never stay in a stranger's home. That's creepy." Easy-to-dismiss Ideas are just 1 of the 5 key traits that determine whether or not a company has billion-dollar potential.
LIFESTYLE
Kickstarter changed its brand. When most people think of branding they think of coffee mugs with company logos. But branding is much more than that. Sure, when changes want to be made to the company logo, it's branding that says yay or nay. But it's also branding who decides whether a new product line will be adopted or not. Branding's role is to set strategic vision for a company. Kickstarter announced yesterday it will no longer be Kickstarter Inc., it will now be addressed as Kickstarter PBC (Public Benefit Corporation). What this really means is Kickstarter is narrowing its niche — a good thing. By setting clear-cut rules of what the company will and will not do, they will attract more ideal users that fit their brand's vision.
Heads Up! Elite Daily has a show coming. I'm skeptical about this one. "The voice of Gen Y," Elite Daily has a new show premiering September 28 on Go90 (remember I covered Go90 here?). Elite Daily says, "This isn't gossip or boring entertainment news like which Kardashian is getting a colonic because you don't care about that and neither do we. We're exploring social norms and thought-provoking topics in a unique and entertaining way." As much as I'd like to believe this will be true. I can't help but think they'll be covering "thought-provoking" topics like this. Watch with caution…
Want to be featured in The Daily Brief? Email us at daily@earlytorise.com.
#NOWYOUKNOW
The Walt Disney Company is among the lead investors in virtual-reality startup JauntVR's $66 million Series C round of funding. It's the latest evidence that Hollywood wants in on VR before the technology is widely available, says Fast Company.
Did a friend send you The Daily Brief? Click here to sign-up.
Check out what you missed in the last Daily Brief here.